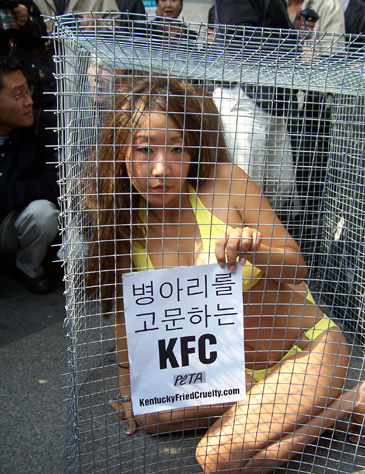 Ms. Christina Cho of PETA Asia-Pacific is on street in Seoul in their protest against animal rights abuses.
Seoul — Wearing nothing but yellow bikinis and heels and holding signs that read, "KFC Tortures Chicks," two sexy US members of PETA Asia-Pacific — Brandi Valladolid from Scottsdale, Arizona and Christina Cho from San Francisco — protested against KFC suppliers' abusive treatment of chickens in factory farms and slaughterhouses at a local KFC restaurant:Date: Monday, Oct. 24, 2005
Time: 12 noon sharp
Place: KFC Seosomoon, Taepyeong-ro 2-ga 361-1 Jung-gu (at Exit No. 1 of City Hall Subway station — one block from Deoksu Palace)Why are these women baring all to expose KFC cruelty? The more than 850 million chickens killed each year for KFC are drugged and bred to grow so large that many become crippled from the weight of their massive upper bodies, and they have their throats slit and are often burned to death in scalding tanks — all while they are still conscious.An undercover investigation at one KFC "Supplier of the Year" slaughterhouse revealed that workers were stomping on live birds, tearing their heads off, spitting tobacco in their eyes, and spray-painting their faces. KFC ignored recommendations for animal welfare improvements made by members of its own advisory panel, five of whom have since resigned after being ignored for years.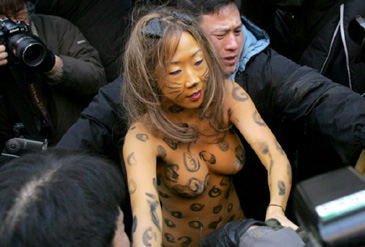 Ms. Christina Cho of PETA Asia-Pacific animal rights group is on street in Seoul.
Former KFC advisor Adele Douglass told the Chicago Tribune that KFC "never had any meetings. They never asked any advice, and then they touted to the press that they had this animal-welfare advisory committee. I felt like I was being used."PETA's "Kentucky Fried Cruelty" Campaign has had high-profile support from more than a dozen international celebrities, including His Holiness the Dalai Lama, rock stars Sir Paul McCartney, Jet, and the Black Eyed Peas, and actor Pamela Anderson."KFC stands for cruelty in our book," says PETA member Christina Cho. "More than 850 million chickens are killed each year for KFC in the cruelest ways imaginable, yet KFC has refused to do anything whatsoever to eliminate the worst abuses that these animals suffer."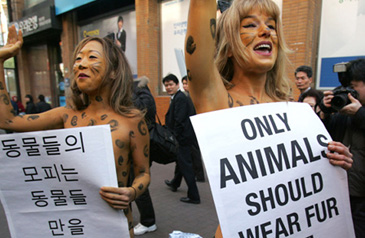 Ms. Brandi Valladolid (right) and Ms. Christina Cho, PETA Asia-Pacific members, are on street in Seoul in their protest against animal rights abuses.
For more information, please visit PETA's Web site KentuckyFriedCruelty.com.For details please contact Ms. Christina Cho at 019-677-8315 or Email her at Korea@peta.org