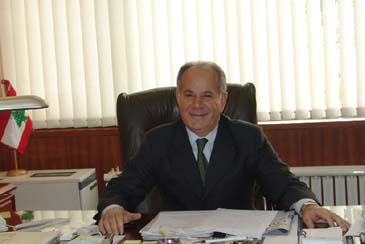 Amb. Hussein Rammal of Lebanon at work in his office
Lebanon's top envoy to Korea Mr. Hussein Rammal shared some of his thoughts and impressions of Korea in a recent interview he had with The Seoul Times on the occasion of Lebanon's nationl day "Independence Day." Lebanon and Korea established diplomatic relations in 1981 and the Lebanese Embassy opened over a decade later in 1994. The third Ambassador to have served here since then, Mr. Rammal described how both diplomatic and economic ties between the two countries have developed swiftly. Lebanon is a small nation bordering the Mediterranean Sea, nestled between Israel and Syria. After achieving its independence from the French Administration on 22nd November 1943., a civil war rocked the country between 1975 and 1991. As such Lebanon, like South Korea, is very much a nation emerging from a turbulent past attempting to become a fully-fledged, economically successful member of the global community. Not entirely well known to Korean people, Lebanon is becoming more widely recognized here. " Koreans certainly seem to be becoming more aware of and educated about Lebanon"Mr. Rammal said "however most travel between our two countries remains confined to business travelers"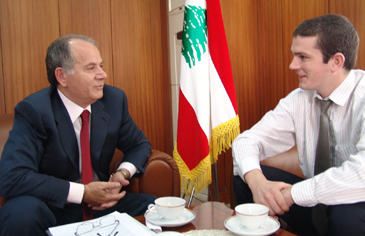 Amb. Hussein Rammal of Lebanon is interviewed by Peter McCrossan, staff reporter of The Seoul Times in the residence.
Mr. Rammal grew up in a small town in southern Lebanon. His father was involved in local politics, perhaps providing inspiration for his future career. Keen to stress the difference between involvement in politics and involvement in the diplomatic corps, Mr. Rammal explained how his role is " primarily to serve as a representative of the Lebanese people and of President Emile Lahoud"a portrait of whom adorns his office wall. Beginning his career at the tender age of 19 with the Lebanese Ministry of National Education and Fine Arts in 1967, Mr. Rammal only afterwards completed his University studies in Political Science and International Relations. " Perhaps I was too young starting out" he joked. Prior to his posting in Korea he has served as diplomat to Egypt, Jordan, Paris and as anbassador to Venezuela, returning intermittently to serve in The Ministry of Foreign Affairs back in Beirut. Speaking on economic ties between Korea and Lebanon Mr. Rammal referred to the success of major Korean companies." Korea's influence in Lebanon is quite apparent" he stated, " almost every home has products or appliances from Samsung or LG for example." At present however trade is pretty much one way in that while Lebanese imports of Korean products continue to grow, Korea does not really import much from Lebanon. Mr. Rammal hopes that in the future this trend may change and that imports between the two countries might expand to different areas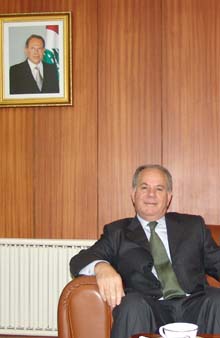 Ambassador Hussein Rammal of Lebanon explains about his country during the interview held at the Lebanese Embassy in Donginggo-dong, Yongsang-gu, Seoul, Korea.
Mr. Rammal spoke of his respect and admiration for the Korean people. In comparison to Lebanon where the average working day lasts from eight in the morning until two in the afternoon, the seemingly 24 hour work ethic which exists in Korea initially surprised him " I'm constantly amazed by energy of Koreans" he explained " especially women in Korean society play such an important and wide ranging role" Despite having quite a demanding schedule, Mr. Rammal has had some opportunities to travel and explore the country outside of Seoul. The Korean Ministry for Culture and Tourism organizes monthly excursions for foreign diplomats and he spoke fondly of trips to Jeju-do and Gyeong-ju. " Korea is a beautiful country" he said " It has a lot to offer both scenically and culturally." Mr. Rammal's wife has almost as full a schedule as her husband. Involved with numerous societies including The Red Cross she is always busy with something according to Mr. Rammal. Of their three children, their eldest son is working for Morgan Stanley in London after he earned his MBA degree. Their other son is working for HSBC in Paris while their daughter is studying International Law at the Sorbonne.The following is the full text of the interview with the ambassador.
Q1: The Lebanese Embassy in Seoul celebrated it's 10th anniversary last year. How, in your opinion, have relations between South Korea and Lebanon matured in this time?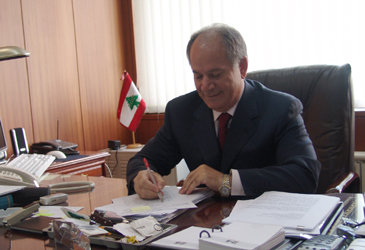 Amb. Hussein Rammal of Lebanon at work in his office
A1:
First, I would like to express my gratitude to the Seoul Times for giving me this opportunity to explain the relations between Lebanon and Korea on the occasion of the National Day of Lebanon, 22 nd of November. For the last 10 years, the relations of the two countries have become very close and the Ministry of Foreign Affairs of Lebanon and the Ministry of Foreign Affairs and Trade of Korea are preparing a memorandum of understanding to be signed soon which could be another step towards the exchange of political, economical, technical and cultural ideas.
Q2: On what area of bilateral diplomatic relations have you focused on most during your tenure in Seoul?
A2:
Mostly, I have focused on the cultural area which, I think, is a very good way to introduce Lebanon to Korea and to know Korea much better. For example, last year there was an event called "the Arab Cultural Night" and the Lebanese traditional folk dance troupe participated in this event. It was a very nice opportunity to introduce the Lebanese culture well to the Korean People.
Q3: I understand the volume of trade between Korea and Lebanon has increased in recent years. What exactly is the trade volume between the two nations and how do you think it will grow in the future?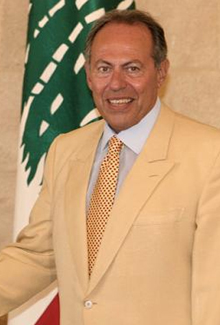 His Excellency Gen. Emile Lahoud, Lebanese president
A3:
The volume of trade between the two countries has increased and become very active recent years. But it is only in a unilateral way. Lebanon is only importing goods from Korea and Korea is only exporting goods to Lebanon. Many kinds of Korean products such as electronic appliances, automobiles are very successful in Lebanon. I hope, in the future, that the trade between the two countries could extend to the more various fields like agriculture, technology and information and communication.
Q4: Lebanon is perhaps not well known to Korean people yet. However, I am sure it is a very attractive country to visit. For one thing, Lebanon is famous for it's varied landscape and climate, whereby at times it is possible to ski in the mountains in the morning and swim at the beach in the afternoon. Are there many Korean people visiting your country? Could you explain about human exchanges between your country and Korea?
A4:
It is true that Lebanon is not well known to the most of Korean people, though Lebanon is a world-famous tourist attraction. Only some Koreans visit Lebanon, usually for the business purposes. Lebanon is located in the center of the Middle-East, the crossroad of the east and the west. It is also famous as its historic places, the remains of ancient civilization. Therefore, I am trying to promote Lebanon as an attractive tourist place to the Korean people.
Q5: The Lebanese economy is based primarily on the services sector whereas that of Korea relies more on industry. In what ways do you think each country can best compliment each other in terms of imports, exports and the exchange of education and technologies?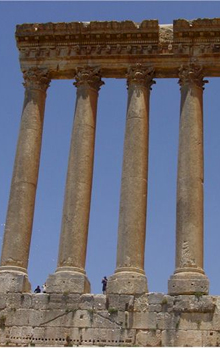 Temple of Jupiter, Baalbeck, Lebanon
A5:
Yes, Lebanon is based primarily on the services sector. But, I think Lebanon is a very attractive country for the foreign investors as there is a secret banking system to make the business activities easy. Lebanon is open to investors with less regulations and no tax, which is very convenient environment for the investors.
Q6: People say that Korea has successfully thrown off it's old image as the "Hermit Kingdom" and achieved its goal of becoming an industrialized country. Yet, foreigners complain about hurdles and inconveniences in Korean society. What do you thing Korea needs to do for her to become a truly international country?
A6:
I think Korea is an international country already, a country well-known to the world as the 12 th economic power in the world. Now, Korea participates more in the affairs of the international communities, raises its voice and increasingly plays the important roles comparing to the past. I think Korea became an industrialized country and is a perfect example to the many developing countries. I don't see any hurdles or inconveniences in Korean society.
Q7: What is your opinion on the current state of affairs between North and South Korea? Do you think the current agreements being tabled at the six-party talks are going to bear fruit in the long run?
A7:
I hope that the agreements made at the six-party talks will bear fruits and bring the peace and stability on the Korean Peninsular. I set a high value on the Korean government which makes efforts to resolve this problem in a peaceful way.
Q8: What do you make of the recent pull out of Israeli settlers and troops from the Gaza Strip. Do you believe it will set the stage for eventual peace in the region?
A8:
I hope there will be a peaceful result. And I think also that on the base of the resolution No. 242, No. 338 and No. 194 of United Nations, the Palestine must establish an independent nation and the refugees of the Palestinian people must come back their home.
Q9: Do you find more similarities or differences between the people and cultures of Lebanon and Korea?
A9:
There are many similarities between Lebanon and Korea. We also think family is very important and show our respects to the seniors as Koreans do.
Q10: What is you most cherished memory of your time in Korea to date?
A10:
I am enjoying the life here in Korea and still finding the new aspects of Korea. I hope to know all the Korean culture well while I am staying in Korea.
Q11: Please tell me about your family. Have they adapted well to relocating in Korea?
A11:
Now, only my wife lives with me in Korea. My children live in London and Paris and they often visit us in Korea. My wife does many activities here in Korea as a wife of the Ambassador with the wives of heads of Mission and a member of Garden Club and Red Cross.