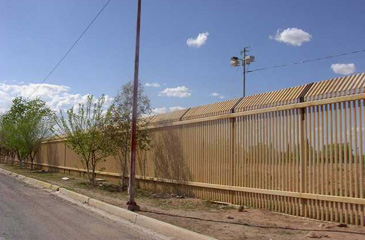 U.S. border with Mexico
Reaction to a proposal from U.S. Rep. Duncan Hunter to build a 2,000-mile border fence from the Pacific Ocean to the Gulf of Mexico ranged from praise to ridicule.The proposal is part of a bill that Hunter announced he plans to introduce in the House of Representatives. The bill will call for building a reinforced, two-layer fence, separated by a 100-yard gap, along the entire length of the U.S. border with Mexico. It would include additional physical barriers, powerful lighting and sensors to detect illegal border crossers.
"Enforcement of our immigration system must be our first priority," a news release from Hunter's office stated Thursday. "This Act ... is a no nonsense approach to reform that makes us more secure and best serves our national interest."But critics are calling the proposal a significant threat to the environment, a misguided proposal that doesn't address the root causes of illegal immigration, and a threat to the civil rights of border residents.Among other provisions, the proposed legislation also calls for hiring an additional 10,000 U.S. Border Patrol agents, 1,250 immigration investigators, 250 immigration judges and 2,000 workplace investigators.Hunter, R-El Cajon, who represents Ramona, Poway and other parts of northeast San Diego County, is a long-standing proponent of strengthening the border and increasing enforcement of immigration laws.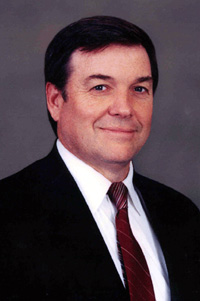 U.S. Rep. Duncan Hunter
A spokesman for Hunter said Thursday that the bill should be introduced to Congress by early next week, adding that the cost of the enforcement measures has not yet been determined."Whatever this costs, it is going to save us money in the end," said Joe Kasper, Hunter's communications director.The conservative group Let Freedom Ring that is promoting a border fence estimates that the fence alone would cost about $8 billion, according to an Associated Press report.Calling the proposal "another one of Hunter's harebrained ideas," a local migrant advocate said Thursday that the fence will do nothing to address the nation's need for cheap labor."A hermetically sealed border ... would be astronomically expensive and (ineffective), considering our heavy reliance on undocumented labor for an increasingly diverse range of labor-intensive industries," said Claudia Smith, border policy director for the California Rural Legal Assistance Foundation, which defends the rights of the state's farmworkers and rural poor. "It runs counter to our economic reality."Kasper disagreed with Smith's contention that the existing fence is ineffective."Ask anybody in the San Diego community if the fence isn't working," Kasper said.Along some portions of the border, "there is nothing separating us from Mexico other than a painted yellow line," he added.The fence would be a continuation of the existing 14-mile fence that runs inland from the Pacific Ocean along the U.S. border with Mexico, Kasper said. In September, Department of Homeland Security Director Michael Chertoff announced that he would waive environmental legal requirements that have blocked five miles of improvements to the fence.The announcement ignited a firestorm of criticism from environmentalists who said the improvements would require filling in canyons and flattening hilltops in some environmentally sensitive areas.A spokesman for the San Diego branch of the Audubon Society said Thursday that stretching the fence to the Gulf of Mexico will simply continue the environmental destruction along the entire border and "will be a serious problem.""It will interrupt migratory routes for animals and some species won't survive," said the society's conservation chairman, Jim Peugh.Kasper said the congressman recognizes the environmental concerns and that building the fence "will be done as environmentally friendly as possible," he said."But unfortunately, we have to take the necessary action to reduce illegal immigration," he added.A U.S. Border Patrol agent who works out of the Temecula station said Thursday that it's gratifying to know people are speaking out about the problem of illegal immigration and that elected officials are listening to their complaints.But he said the measures in the bill mean nothing without the money to make them happen."Unless they give us the equipment and the vehicles that we need to do the job, then it is just another bill with no funding," said Ron Zermeno, who also serves as the vice president of the local chapter of the National Border Patrol Council, the union representing rank-and-file Border Patrol agents.The president of the council's chapter, Chris Bauder, said hiring more agents and building more fences are temporary fixes because smugglers will always figure out ways to get people into the United States. Comparing the country's demand for cheap labor to a pot of gold that is there for the taking, Bauder said the focus must be on enforcement of labor laws and the elimination of illegal labor."The obvious thing to do would be to secure the pot of gold and then you don't need a fence or anything else," he said.Del Mar resident and anti-illegal immigration activist Helen Drysdale said Thursday that she agrees with the idea of hiring more Border Patrol agents."They need all the help they can get — they are terribly understaffed," Drysdale said.She said she also supports a provision in the measure that would empower police departments to enforce immigration laws.Drysdale said she is sick and tired of going to Encinitas and seeing large numbers of day laborers standing around on street corners, and that she is sure many of them are illegal immigrants."We have to do something, because we are being overrun," she said. "With 55 men standing on a corner, they cannot all be legal. Common sense tells you that."An advocate for the rights of undocumented immigrants said he hopes Hunter's bill is stopped by other members of Congress."Hunter is really out there," said Christian Ramirez, the San Diego office director of American Friends Service Committee."As long as we have folks (who are products) of an unjust economic system in nations that are sending migrants north, and as long as we have willing employers in the U.S., you will not be able to stop this flow —— even with a 2,000-mile-long fence," he said.Increasing law enforcement on the border will also pose a risk to human rights violations of border residents, Ramirez added."If you increase the presence of law enforcement without clear checks and balances, you are creating a state of siege for border residents," he said. "This is not a war zone and we simply cannot allow that to occur in a democratic society."
Contact staff writer William Finn Bennett at (760) 740-5426, or wbennett@nctimes.com.