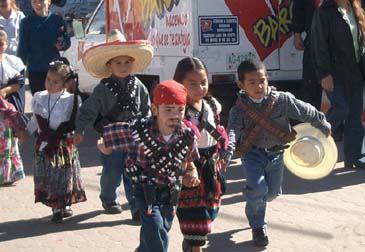 Kids of Mexican origin on parade
The Dallas Independent School District is two-thirds Hispanic. That means Spanish fluency is an important skill for school officials. Recently the school board acknowledged this much when it adopted a policy which requires principals to learn Spanish if their school has 50 percent or more students who are limited English speakers.
The new measure gives principals one year to enroll in Spanish classes and three years to become proficient. Does a bilingual principal help students learn? There is little doubt that fluency in Spanish is a definite asset when 50 percent of your students are not proficient in English. Principals who speak Spanish can communicate directly with students as they interact about challenging situations. Language skills break down communication barriers. Hearing a principal speak Spanish has a very strong psychological impact for students with limited English skills. If the principal does not speak Spanish and the student does not speak English, interpreters may be used. Yet, things inevitably get lost in translation. The inability to speak Spanish also means lack of cultural insights.Thus a monolingual principal may understand the facts but may lack an understanding of the motivation which can often be explained with knowledge of the culture. Understanding this "hidden" meaning can prevent problems. Spanish fluency also means that principals can communicate directly with parents. Parents who receive information directly from the principal will heed the advice much more readily than if it came via the interpreter.
It¹s a smart business practice to get to know customers. The Dallas school board¹s measure to push for Spanish fluency reflects what other segments of society are doing as they adjust to demographic changes. That's why companies in the US often prefer bilingual employees who can communicate with Spanish-speaking customers. Companies understand that bilingualism means increased sales. Schools do not operate with the idea of financial profits. Education "profits" are not measured in dollars and cents, but the same principle about knowing the "customers" also applies to education. Politicians have figured it out also. Remember George Bush sprinkling his speeches with Spanish phrases in the presidential elections? Other politicians are doing the same thing. New York City Mayor Michael Bloomberg kicked off his re-election campaign with television ads in Spanish. Bloomberg has also been studying the language and is using it in his speeches because he knows it will help him connect with the more than 2 million Hispanics in New York City. The use of Spanish or other foreign languages by government agencies, businesses, or educators angers some Americans. Some become frustrated at the request of pushing 1 for English and 2 for Spanish, which many companies ask you to do when you call them. The mere presence of languages other than English causes concern. Some view other languages in the US as a threat to English hegemony and the American way of life. These fears have little basis in reality. Immigrants in the past learned English and integrated into the American system. Immigrants of today are doing the same thing. They know very well that English is the key to integration and the key to opportunities in the US. Lack of fluency in English means being condemned to a life of menial work. English is not just king in the US but in fact in the rest of the world and those who come to the US know it long before they set foot in our country. However, English alone is not enough. In an educational setting with significant Spanish-speaking students, it makes sense that not just the principal but other school officials learn some Spanish. If principals become bilingual, they set the tone for other employees at the school. That will not be a magic bullet to solve all educational challenges facing schools. But it¹s certainly a very good step in the right direction.