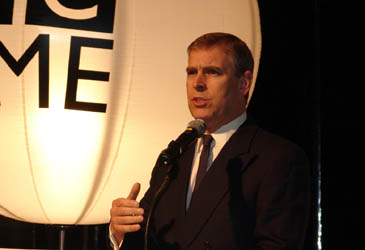 Prince Edward, The Duke of York
His Royal Highness Prince Edward, The Duke of York, made a speech to key members of British commerce and industry at the British Chamber of Commerce in Korea (BCCK) Awards luncheon held at Grand Hyatt Seoul Hotel on Nov. 15, 2005.
In his speech, The Duke, acting in his capacity as the United Kingdom's special representative for International Trade and Investment highlighted the importance of the UK's business relationship with South Korea.
The relationship and business climate remains good, following a very successful state visit by President Roh Moo-Hyun to the UK last year, as indicated by the bilateral trade for 2004 (that) was over 9 billion US dollars, with 5.9 billion US dollars of Korean exports to Britain and 3.8 billion dollars of British exports coming to Korea, up 40 percent on the previous year.
He also pointed out to the audience of British and Korean businessmen and diplomats, including Mr. Warwick Morris, British ambassador to Seoul, that the UK attaches great importance to this bilateral trade and that the UK is the largest foreign investor into Korea this year.
He added that traffic is not always one way. He mentioned over 130 Korean investments having been made in Britain. Around one third of all Korean investments in the EU are in the UK.
HRH visited Seoul as part of his official four-day visit to South Korea . During his stay in the nation Prince Andrew focused on developing the strong business links between the UK and South Korea in his meetings with local politicians and business leaders.
The Duke had meetings with President Roh Moo-Hyun, Minister of Information and Communications Chin Dae-Je, Governor Yoon Jeung-Hyun of the Financial Supervisory Commission, and Seoul Mayor Lee Myung-Bak.
For details or inquiries please contact British Embassy, Press & Public Affairs Section, 4 Chung-dong, Chung-gu, Seoul, 100-120 (Zip Code) Tel: 02-3210-5500 Fas: 02- 720-4928