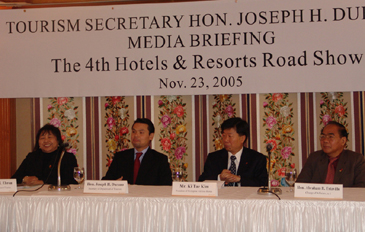 DOT Secretary Joseph Durano (second from left) in press conference in Seoul along with other VIPs
As Koreans are clinching to the top slot of tourist arrivals in the Philippines, virtually edging out traditional tourist rivals like the Americans and Japanese, the Philippine Department of Tourism (DOT) has no plan to rest on its laurels having had achieved its ambitious tourism target.While DOT is basking on its impressive achievement, it made a solid vow to keep bringing in more Koreans to the Philippines — without turning back.
DOT Secretary Joseph Durano is back in Seoul for the third time this year to put on media spotlight the 4th Hotels and Resorts Road Show.At the Lotte Hotel in downtown Seoul on Nov. 23, 2005, Sec. Durano met the press to present about 20 hotel and resort facilities strategically located in various destinations in the Philippines offering not only convenient accommodation, but top-class leisure facilities and unique sightseeing itineraries.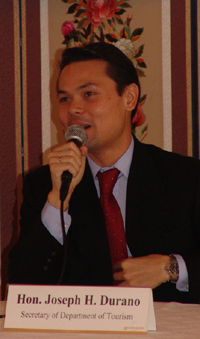 DOT Secretary Joseph Durano
About 38 Filipino representatives joined him to introduce their hotels and resorts-making it the biggest road show delegation so far aimed at solidifying joint and sustained promotional activities to lure a significant number of South Korean visitors to the tropical and idyllic islands.
With the impressive Korean tourist arrivals in the Philippines, Durano stressed, "This road show is an effort to increase further the number of Korean tourists in the Philippines who have already overtaken the Americans and Japanese guests in number." The success of the show will also determine the continuation of more road shows next year.
Earlier this year, DOT targeted to bring in to the tropical islands about 500,000 Korean guests. Durano admitted it was like "shooting for the stars" underscoring the fact that the goal sounded very ambitious. However, this early, he expressed confidence that " we might even surpass the 500,000 target this year."
"We are very happy the way Koreans are coming to the Philippines," he said. From January to September this year, Korean market share in the Philippines recorded a significant 18. 3 percent, representing an impressive growth rate of 28.5 percent from the same period last year-a figure that doubles world's outbound tourist traffic growth rate.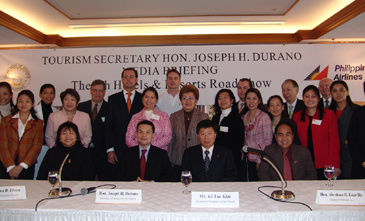 DOT Secretary Joseph Durano (second from left in frot row) poses with other delagation members in a Seoul press conference.
Most of hotel and resort representatives come from Manila, Palawan, Cebu, and Davao with each having something to boasts of, albeit each has something in common as far as market segment target is concerned. They are all angling up for honeymooners, holiday-makers, incentive tours, families, and upscale market segment.
With the trend towards discovering new destinations and to present new experience for visitors in line with the "Feel the Philippines" tourism slogan, world-class facilities have been dramatically growing to catch up with the influx of visitors.
One aspect of the road show was to project the Philippines as a wellness destination taking advantage of the "well-being" craze in Korea, a trend focusing on healthy lifestyle.
The Badian Island Resort & Spa, located in Cebu in the Visayan region, boasts a huge spa village catered to the upscale market segment. Besides, the spot where it is located is perfect not only for total body and mind relaxation, but offers a sightseeing place for dolphins nearby.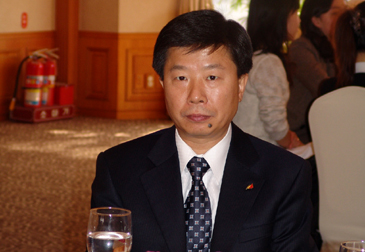 President Kim Ki-Tae of Philippine Airlines Korea & Australia GSA
Hartwig Scholtz, chaiman of Badian resort explained that the resort offers premium spa service which includes three kinds of facilities: a sea water spa, a Western-inspired spa, and the typically Asian spa. The resort's Sauna and Thalasso uses sea water for a healthy spa experience, while the Wellness-Baehaus is a European-inspired spa that utilizes various natural baths.Take a bath for 30 minutes using herbal bath, guava bath, pandan bath, or Cleopatra bath, for example. But there are more. Take a double treat for an hour and soak your whole body with Tropical Fruit Treat, or Royal Blossom, Cleopatra's Sweet Delight, or the Essence of Earth Bath.There are other services like foot massage or try that Delight Sampler Touch for total rejuvenation. Mr. Scholtz also highlighted the Asian spa which has combined Chinese, Thai, Indonesia, and indigenous Filipino beauty and health spa tradition, including the 'Hilot" massage using virgin coconut oil.
Durano stressed that a visit to a Philippine spa underscores complete Filipino hospitality experiences demonstrated by the way masseurs give that caring massage to clients using indigenous Philippine virgin and essential oils and tropical fruit extracts.
Club Paradise, located in Dimakya Island in Palawan, or El Rio y Mar, equally brags spa specialties. El Rio has the Island Spa which exploits the amazing nature of its environment to render special rejuvenation. Set amid the beautiful island of Dimakya, the Island Spa is a "sanctuary where the music of the waves, the sound of nature, burning incense and essential oils induce serenity and holistic retreat."
El Rio offers a great selection of wellness treatment and packages based on client's preferences ranging from Western and Eastern-inspired therapies. The spa uses organic and proudly Filipino made extracts mixed and blended into unique scents and remedies. A signature product is the Island Spa Virgin Coconut Oil which is highly recommended for deeply body relaxation.
You cannot discriminate the other hotel and resort owners when it comes to beauty and rejuvenation tours. They all flaunt what they have. And although Koreans can brag their numerous hot springs, sea water pools, mud pools, and the ubiquitous bath houses, Philippine spa experience can open a new and wider world to beauty secrets combining western and eastern methods, plus that valuable and unique Filipino experience.
Chi, the spa at Shangri-La Mactan Island Resort in Cebu, which opened in June this year draws inspiration from the origin of the Shangri-La legend set amidst the Himalayan landscape. Both traditional Chinese and Himalayan healing philosophies are the basis for founding the spa. Chi's extensive treatment offers over 35 menu therapies for body, facial, and massage. Signature products include Chi Balance, Yin-Yang Couple's Massage, Himalayan Healing Stone Massage, and Mountain Champa Rub. Chi's Filipino product includes 'Hilot' with Barako coffee Bean Scrub and Tropical Linen and Leaf Wrap.
If you stay in Manila, the nation's capital and largest metropolitan city, the Westin Philippine Plaza which stands at the heart of Manila Bay, is a perfect choice for a weary traveler to quickly rejuvenate body, mind, and spirit.
A 611-room hotel resort, Philippine Plaza's prime concern is health and wellness. The Sports Club and Spa is open 24 hours a day where guests can have a soothing massage and quick workout any time. The Spa offers a whole plethora of treatments ranging from facial, body scrub, and massage. Outdoor is the Balinese baruga hut which offers an alternative spot to get a soothing massage while the sea breeze gently serenades.
Rose H. Libongco, the resort's marketing director said Philippine Plaza has become Koreans' favorite resort hotel wherein they make a record-breaking number, the highest among hotel guests besting arrivals from the U.S., Japan, and china who come in second, third, and fourth, respectively.
With a multi-million dollar renovation project, the resort will emerge as Sofitel Philippine Plaza in 2007 after Accor has been awarded the management contract, the largest-ever expansion of the Accor's five-star luxury brand in the Asia-Pacific region.
The delegates include the Westin Philippine Plaza, Makati Shangri-La Hotel, Diamond Hotel, Badian Island Resort, Mactan Shangri-La Island Resort & Spa, Alegre Beach Resort, Maribago & Sumilon Blue Water, Hilton Cebu Resort & Spa, Philippine Island Divers, Bohol Beach Club, Pearl Farm Beach Resort, El Nido Resort, Dos Palmas Arreceffi Island Resort, Club Paradise, Boracay Regency Beach Resort, Patio Pacific Boracay, Southeast Asian Air, El Rioy Mar Resort, Marco Polo Davao, and Pinatubo Spa Town.