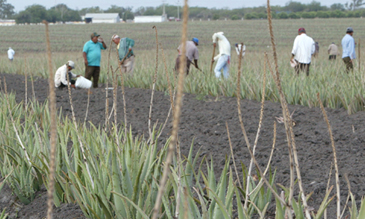 Mexican workers working in the field in the United States
Although there are about 11 million unauthorized immigrants in the US, more are needed to keep the American economy going. That's the conclusion of major agricultural interests.Shortages of workers, for example, exist in California where growers have a hard time finding enough people to harvest crops.The problem is particularly severe in California's Central Valley where billions of dollars can be lost if certain crops are not harvested at the right time.Raisin growers are particularly hit because many agricultural workers moved to do construction work which pays better and offers more long-term employment.Picking fruits or vegetable usually pays the minimum wage or barely higher. Construction work pays about $ 10-12 an hour.Growers have been honest about admitting that they depend on illegal workers. That, of course, would seem to attract the attention of the US Border Patrol. Yet, although raids occasionally occur, they almost never do in agricultural sites. Even the Border Patrol in a way tacitly approves of undocumented workers.Occasionally, raids in agricultural sites occur but they are quickly stopped as it happened in Georgia some time ago.When immigration officials raided a field of sweet Vidalia onions, growers complained to their elected officials. No more raids.
Shortages of workers in agriculture are explained in part by the "success" of the Border Patrol.The crackdown at the easy entry points has pushed undocumented workers to attempt getting into the US from isolated places, particularly in Arizona.That has generated a growth industry in the smuggling "business." The result has been a significant expense to make it across the border.In addition, those who make it across the border now stay in the US instead of moving back and forth as they were doing when going across the border was easy.Given the shortages of workers, growers have been looking to the government for help in obtaining more employees. It has resulted in a bill in Congress called AgJobs, which would reward undocumented workers who work in agriculture for 18 months.Those individuals could be granted temporary residency together with their families. In addition, for those who worked longer in agriculture the opportunity of a green card and permanent legal residency would become a reality.Since agriculture is not the only sector of the American economy needing workers, a significant amount of talk has occurred about the need of a guest-worker program.President George W. Bush proposed such a plan and legislation to deal comprehensively with the issue of immigration has been introduced in Congress. A promising bill by Senators Edward Kennedy (D-Massachusetts) and John McCain (R-Arizona) was introduced in May of this year.Yet, a lot of opposition from the conservative elements of the GOP exists. The main sticking point seems to be how to deal with the estimated 11 million unauthorized residents living in the US. Of these, 3.5 million are US-born kids whose parents have no legal papers to stay in the US. Do you deport the parents leaving the kids in the country? Can you deport all of these people?Hopefully some kind of compromise will be reached which will end up in a guest-worker program for people outside the US. At the same time some mechanism to regularize the status for those already in the US without legal papers and no criminal backgrounds would be developed.The American economy depends on an adequate supply of workers. Yet, it's not just about jobs and how to satisfy the needs of companies.
The US is a country of immigrants and sensitivity must be used in our way of dealing with those who seek a better life for themselves and their kids. Every American has done just that. Some did it through their ancestors generations ago and some others are doing it now. That's what makes the US is great place to live