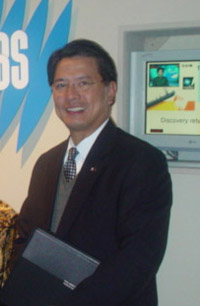 Philippine Mr. Peter B. Favila,
trade and industry secretary of the Philippines
The Association of Southeast Asian Nations (ASEAN) is expected to sign a free trade agreement with South Korea at a leaders' summit to be held Dec. 12-14, 2005 Philippine Trade and Industry Secretary Peter Favila said.Leaders of the 10-member ASEAN will meet in Kuala Lumpur to wrap up a free trade area (FTA) accord with South Korea after entering into a similar agreement with China, Favila said.The ASEAN is also expected to wrap up FTA negotiations with India, he added.The ASEAN-Korea FTA will encompass a framework agreement on comprehensive economic cooperation, a trade-in-goods agreement, and an agreement on a mechanism for dispute settlement, he said.The trade-on-goods agreement will cover 28 percent of Philippine exports to South Korea that are currently subject to duties.It will also allow the Philippines, along with Brunei, Indonesia, Malaysia, Singapore and Thailand, to have accelerated access to the South Korean market.The trade-in-goods agreement will include a set of "rules of origin" that will determine what products are to be covered by an agreement. The rules of origin will be negotiated next year and enforced in mid-2006, Favila said.Favila said the comprehensive economic cooperation between the ASEAN and South Korea would cover not only merchandise but also services and investments.A framework agreement on comprehensive cooperation "commits the parties to liberalize their services and investment sectors to one another and commits them to complete the negotiations on these by end-2006," he said."We stand to gain from the liberalization of trade with Korea," Favila said.The ASEAN-Korea FTA will provide that by 2010 South Korea will remove all tariffs on 90-percent of its tariff lines and the Philippines, along with Brunei, Indonesia, Malaysia, Singapore and Thailand will remove all tariffs on 85-percent of all their tariff lines. However, Favila said, Seoul had given leeway for Manila to comply with its commitments to remove duties by 2012.Favila also said that with the FTA the Philippines could increase service exports and get more investments from South Korea. "As we protect their capital, we expect more Korean investments to come in, particularly in shipbuilding and power, sectors which our investment promotions are focusing on," he said.The ASEAN also includes Laos, Vietnam, Cambodia, and Myanmar.
The above article is from Asian Journal.