JOHANNESBURG — In line with its strategy to link Abu Dhabi to the world's most important commercial and cultural centers, Etihad Airways - the national airline of the United Arab Emirates started it flights & services to Johannesburg with effect from 1 December 2005.
The company panning to increase its flights to Johannesburg up to 5 weekly because of high demand with all the flights almost full, Etihad Airways officials said.Johannesburg joins Cairo as the airline's second destination on the African continent, highlighting Etihad's commitment to take advantage of the expanding business, holiday, and cargo traffic to and from Africa. The new service will provide the only non-stop link between Southern Africa's commercial capital and the capital of the United Arab Emirates, allowing for convenient connections to Etihad destinations within and beyond the Middle East. According to Nick Howarth, Etihad's Head of Corporate Planning and Strategy, the company realized that Eastern and Asian markets have demonstrated strong demand for a international airline that can take them into the South African market for business and leisure. "Etihad Airways is determined to challenge the traditional ways of the aviation industry and take a fresh look at how best we can serve our valued guests, as well as our cargo business customers," added Howarth.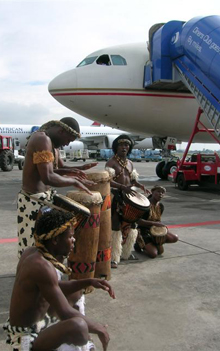 The South African embassy in Abu Dhabi has recently reported that South Africa's exports to the UAE have increased from R1.6 billion in 2002 to R2.6 billion in 2004. Exports during the first quarter of 2005 stand at R800 million.
"South Africa enjoys a strong and growing economic relationship with the UAE, and we applaud Etihad Airways' prudent decision to begin passenger and cargo flights to Johannesburg, one of our largest cities and centre of our commercial enterprise. But we also welcome the region's growing base of holiday makers. The total number of business and holiday travelers who spend a minimum of 48 hours in the UAE has far surpassed the 40,000 persons mark annually," said H.E. Dikang Moopeloa, South African Ambassador to the United Arab Emirates.The South African Ambassador added that the announcement of an additional premium air carrier serving the South Africa - UAE route is particularly good news for more than 5,000 economically active South African nationals currently living in the UAE. Etihad Airways, a company committed to profitability across all lines of its business operations, has identified several key reasons behind its decision to launch the twice-weekly, direct flights to Johannesburg, chief among them being the economic upturn South Africa has seen over the last several years.

With sound fiscal and monetary policy at the heart of its jobs creation program, South Africa has rapidly become one of the UAE's leading trading partners, quickly joining the ranks of the United States, the United Kingdom, Germany, Japan, and India."Trade volumes are increasing between the Gulf and the African continent, and Etihad's Crystal Cargo is set to take on a considerable portion of the world's growing air cargo volume. We have the facilities and necessary network infrastructure to expand our service offering to customers from China and the Indian subcontinent to Johannesburg and African points beyond," said Ingo Roessler, Vice President for Cargo, Etihad Airways' Crystal Cargo. Inbound tourism has been another key consideration factored into the planning of the Johannesburg service, given the potential for inbound tourists from the Asian and Middle East markets to contribute significantly to the South African economy and tourism infrastructure. "South Africa is rich with holiday opportunities for every lifestyle; we expect that a substantial number of Etihad guests flying to Johannesburg will be doing so en route to holiday destinations that our team has tailored for them," said Nick Wood, General Manager of Etihad Holidays. "We are already in discussions with the leading resort and safari destination properties in South Africa, and a comprehensive programme of holidays will be launched in the run up to the commencement of services," added Wood.

Etihad will fly nonstop from Abu Dhabi to Johannesburg on Thursdays and Saturdays. Flight EY 603 will depart Abu Dhabi at 01:30, arriving in Johannesburg at 07:55, in time for connections throughout the region. Flight EY 604 will depart Johannesburg at 09:50, arriving in Abu Dhabi at 20:00.Guests will fly on a luxuriously appointed Airbus A340-300 configured to host 10 Diamond guests, 30 Pearl guests, and 225 Coral guests.