San Quentin State Prison in California
Stanley 'Tookie' Williams, 51, convicted of killing four people in 1979, was executed by lethal injection at San Quentin Prison on Dec. 13, 2005.Action movie-star-turned California Gov. Arnold Schwarzenegger had denied a last minute application for clemency. The appeal was the last in a long line of attempts which even made their way to the US Supreme Court, but to no avail. The decision raises questions about the serious interest of the American Government in encouraging prisoners to change their ways and attempt reformation.Thousands of people had gathered outside San Quentin Prison in California ahead of the executionSince his imprisonment on death row Williams had always maintained his innocence and his case proved especially controversial due to his supposed reformation. He had written many books renouncing gang violence and the gang lifestyle and had devoted most of his time in recent years to trying to turn young people worldwide away from crime.Opponents of his appeals for clemency maintained that although he renounced the gang lifestyle in theory, he had not accepted responsiblity for his supposed crimes. They also point to the fact that ultimately he was responsible for founding a gang which has been implicated in thousands of murders in the Los Angeles area.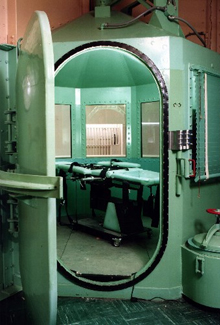 San Quentin State Prison is California's only death row with a gas chamber.
Williams founded the notorious Crips gang in Los Angeles and was found guilty by jury of four murders relating to two seperate robberies.He was convicted of murdering a convenience store clerk and, days later, three people at a motel. Although denying committing the crimes not all opinion supported him. Former aquaintances recall Williams bragging about the killings in the Compton neighbourhood of Los Angeles, the Crips gangs' home turf.Several Hollywood figures including actor Jamie Foxx and rapper Snoop Dogg along with the Reverend Jesse Jackson had taken up his cause lending their support to numerous public rallies and events seeking an overturning of the decision in his case. Many assert that although in theory the law must be upheld, Williams was worth more to the American public alive than dead. Williams had even been nominated for the Nobel Peace Prize on several occasions. Questions remain regarding actual physical evidence linking Williams to the murders for which he was executed. Others yet point to the fact that although they disagree with the death penalty this is a case of the power of"celebrity" and not of the power of "redemption." While many death row inmates have renounced their past in similar fashion not all enjoy such high profile public figures fighting their corner.Whether you are a death penalty advocate or foe some facts are obvious. The American Department of Corrections' mission statement is aimed at rehabilitation and not execution. Stanley " Tookie" Williams, despite failing in his appeals without question has helped change the lives of countless youths and ultimately did more good than harm in the last years of his life.