Sister Jane Ann Cherubin in her Seogbuk-dong office in Seoul
Sister Jane Ann Cherubin has spent decades of sacrificial years, planting love here in South Korea away from her own home in the United States. After devoting her whole life to the needy and the handicapped, Sister Ann now wants to impart her love to the fellow needy folks north of DMZ in the twilight of her life. Ms. Teresa Park, The Seoul Times PR director, recently met Sister Ann in her Seongbuk-dong office to hear about her life and future plan.During her time in South Korea, Sister Ann has been a sister, a mother and a friend to hundreds of needy children around the country. For three decades she has devoted her life to providing the love that is so lacking in the lives of some children, those shunned by society and hidden without hope for a better future. Since her momentous and unusual decision to travel far from her Pittsburgh home to Seoul with the Sisters of Charity Seton Hill order, she has taken countless children out of desperate situations, providing them with bright, loving environments filled with hope and promise. She has been involved with a number of organizations and schools whose clientele are diverse but whose aims are identical: to help and improve the lives of those that most need it.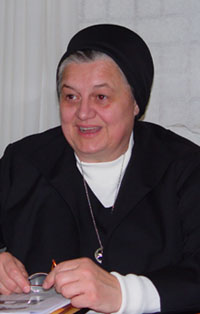 Sister Jane Ann Cherubin
The "Planting Love" foundation, established in 1990, focuses on the education and training of disabled children to achieve this goal. She works relentlessly to better these organizations and improve lives, preaching the power of love and teaching perhaps the most important lesson that anyone can learn; that every single person is important and filled with human dignity.
Her message is clear through her actions, and her efforts have not gone unnoticed. Even former US President Bill Clinton recognized her achievements in 1993 with a thank you letter, and she was awarded the Gold Order of Humanity Merit by the Republic of Korea National Red Cross in 2002 for her outstanding services to the cause of humanity and peace.
Since her days at Catholic school in Pittsburgh, she sure has come a long way.The following are the questions and answers with Sister Ann:
Q1: On behalf of The Seoul Times, I am deeply grateful for decades of your selfless devotion to Korean children with disabilities. I know you first came here in 1976. What made you choose to come to Korea when there are many other places waiting for your help? And when and why did you decide to become a sister?
A1:
I grew up in Catholic schools, yet the decision to become a sister was a momentous one when I met a nun-teacher. My older sister had considered the option and then had been dissuaded by my parents to wait a few years and then later changed her mind and got married. When I told my decision to my parents, my parents also asked me to wait until my graduation, expecting my mind to be changed like my sister's. But when I was a senior in high school, the idea to be a sister stuck and wouldn't go away. After graduation, I became a member of the Sisters of Charity and met a Korean sister there. That's why I came to Korea. At first, my father didn't want me to go to Korea. But one day in 1974, he happened to see a tape recorder made in Korea in a store and changed his mind. Finally, he consented to my going to Seoul. At that time we, sisters, were usually allowed to visit our family after six years of working at the designated place. But after two years I seized an opportunity to go back home, taking eight Korean orphans to America to be adopted by their foster-parents. On the flight I tried hard to teach the kids the most important English expression: "I love you, Mom." I thought that this was the best phrase for them to be loved by their stepmothers.
Sister Jane Ann Cherubin (right) being interviewed by Ms. Teresa Park, PR director of The Seoul Times.
Q2: In the 1970s, Korea underwent lots of political and economic difficulties. When was your most difficult time or what was the hardest thing you went through? How did you overcome the cultural differences? Also, could you tell me some of the interesting episodes if you have had any?
A2:
Actually, I don't know about the politics. The biggest problem at that time was there were too many student demonstrations. I couldn't go out. I was so shocked to see such a big tank passing by just in front of me. Then I felt the freedom was most important and I respected the people who fought for it. The students were so brave to fight for that. The funny episode was when the members of the charity wanted to throw a party for me in the celebration of my 100th day in Korea. As all the members were so busy, there was no one to go to the store to buy ramyon for the quick lunch. An ajumma, the working lady in the charity kitchen, gave me a written note: "Please give me five ramyons" and asked me to go to the store and show the note to the shop owner. When I did that the shop owner thought me so lovely that she gave me one more ramyon free. After that, whenever they needed ramyon they asked me to go there again.
Q3: You have been helping the disabled children improve their lives through training and education after establishing the "Planting Love" foundation in 1990. Could you briefly tell me the plans and activities of the foundation? And how do you raise the necessary fund for the foundation?
A3:
The foundation is run mostly by the donations. Students also participate in money making, running the bakery with the goods they make and so on. For example, in the celebration of the 15th Anniversary of Planting Love this year, a poem collection came out that was written by the students in both schools – Eunhye (Grace) School in Gwangju, South Jeolla Province and St. Mary School in Chungju, North Chungcheong Province. The poems are still on sale now. Fortunately many people showed much interest in the Planting Love and donated not only money but also many precious goods to our activities.
Q4: Could you please tell me all the activities you are involved in currently?
A4:
Now I am working for the Eunhye School where children with physical challenges are waiting for my help. I am also involved in St. Mary School for children with visual impairments. The Sunflower House, shelter for young women who have run away from home, is also being run by the Sisters of Charity.
Sister Jane Ann Cherubin (second from right) poses with Chairman David Kim of Monarisa (left), General Manager Bernhard Brender of Millennium Seoul Hilton, and Andre Kim, a local fashion designer at a Planting Love charity event.
Q5: Although Koreans' attitude about donations has been improving in recent years, donation culture in Korea is still very poor compared with the United States. What do you think of the Korean donation culture? In which direction do you think the local donation culture should go?
A5:
The donating culture is getting better nowadays. Korean people are now moving away from the family-centered culture toward society-oriented one. I think it's very important for the parents to educate their children from an early age. Kids have to be taught to do something for the needy people in our community.
Q6: We, the Korean people in general, have a long way to go when it comes to our attitude and awareness of handicapped people, even though we have improved a lot. What do you think Korean society and Korean people should do about our attitude toward the disabled people?
A6:
I'd like to ask them not to treat them with sympathy. Just meet them as they are. Everybody has weak points, and misfortunes can happen to them at any time. Disabled people should be treated in the same way as those with stomach or liver ailments. This attitude and thinking should be educated from the early ages.
Q7:What was the most important event in you life? What gives you the most joy?
A7:
I think the two most important events in my life were when I entered the Sisters of Charity of Seton Hill and then when I came to Korea. In both instances I felt a calling and when I finally decided I experienced a deep peace. Both of these decisions have changed my life and have encouraged me to grow. But then again, in reality I do not think of these choices as extraordinary decisions, because in my life they consist of what is ordinary for me. I have received the most joy in life from the people I know. I enjoy being with people who are good and give life not only to me but also to others. I find myself rejoicing when I see someone do something nice for another person. In my work in development and with the disabled here in Korea I have met many wonderful people, not only from Korea but also from other countries. They have all had a great impact on my life and continue to give me the encouragement I need.
Q8: What, do you think, are the strong points of Korean people in general and vice-versa? Could you compare the characters of Korean people to those of Americans?
A8:
The strong point is that Koreans have a lot of jeong (being warm-hearted or compassionate). I believe that is the merit of Korean people. On the other hand, their problem is that they put too much priority on the best school, best company, best goods, and so on. For instance, kids here in Korea are dying for best-brand items including clothes and shoes. But I believe that they should be raised with some restrictions as well as freedom.
Q9: Lastly, lots of Korean people respect you and want you to stay here in Korea for a long time. Could you tell me your plans in the future?
A9:
I want to go to North Korea to help the Northerners who are undergoing serious difficulties. I would like to serve in China as well. However, when I want to go to China, the language problem could be a barrier for me. If it is God's will, I don't mind wherever I go or whatever I do.