Colonel and Mrs. Oleksandr Shemet poses with Charge de affairs Valerii Aleksandruk in Ukrainian Armed Forces Day reception.
A legion of both local and foreign military attaches serving in South Korea gathered in a Seoul hotel in celebration of the Ukrainian Armed Forces Day.Ukrainian Embassy in Seoul hosted a reception for over 100 foreign military officers and their wives gathered at the Grand Ballroom of Grand Hilton Hotel in Hongeun-dong, Seodaemun-gu, Seoul on Dec. 19, 2005.The standing buffet, which kicked off at 6:30 p.m. on the day, lasted about two hours. It was hosted by Colonel and Mrs. Oleksandr Shemet of the Ukrainian Embassy in Seoul.The Ukrainian Embassy headed by its charge de affairs Dr. Valerii Aleksandruk, counsellor and deputy head of mission, has been serving as its charges de affairs since Oct. 31, 2005.
Col. Oleksandr Shemet of the Ukrainian Embassy in Seoul
Among scores of the high-ranking brass hats were
Col. Kurt F. Mcpherson, USAF air attache, Col. John Moug, defence attache of Australian Embassy, and Sen. Col. Nguyen Huu Tieu, defence attache of Vietnamese Embassy.Also present were many local military officers who included Lt. Col. Cho Sung-Ho, chief of Foreign Liaison Office, Republic of Korea (ROK) Air Force.The Ukrainian Armed Forces Day,which falls on Dec. 6, 2005, is celebrated at its diplomatic missions around the world as well as in Ukraine.
Facts about Ukraine
Sandwiched between Russia and Europe, Ukraine gained independence after the collapse of the Soviet Union in 1991. Western Ukraine has close historical ties with Europe, particularly Poland. Both Orthodoxy and the Uniate (Greek Catholic) faith have many followers there. Ukrainian nationalist sentiment is traditionally strongest in the westernmost parts of the country which became part of Ukraine only when the Soviet Union expanded after World War II.
Colonel and Mrs. Oleksandr Shemet poses, and Charge de affairs Valerii Aleksandruk poses with guests in Ukrainian Armed Forces Day reception held in a Seoul hotel Dec. 19, 2005.
Overview
A significant minority of the population of Ukraine are Russians or use Russian as their first language. Russian influence is particularly strong in the industrialised east of the country, where the Orthodox religion is predominant, as well as in Crimea, an autonomous republic on the Black Sea which was part of Russia until 1954. The Russian Black Sea Fleet has its base there. Crimea is also the homeland of the Crimean Tatars whom Stalin accused of collaborating with the Nazis and deported to Central Asia in 1944. Over 250,000 have returned since the late 1980s. In 1932-1933 Stalin's programme of enforced agricultural collectivization brought famine and death to millions in Ukraine, the bread basket of the USSR. Not until the twilight years of the Soviet Union did details of the extent of the suffering begin fully to emerge. News of another Soviet-era calamity, the 1986 accident at the Chernobyl nuclear power station, rang alarm bells around the world immediately. About 8% of Ukraine's territory was contaminated as were large areas in neighbouring Belarus. Millions continue to suffer as a result.
Colonel and Mrs. Oleksandr Shemet of the Ukrainian Embassy poses with guests in its Armed Forces Day reception in Seoul.
Independence
The country's first president after independence, former Communist Party official Leonid Kravchuk, presided over a period of economic decline and runaway inflation. He was narrowly defeated in the 1994 presidential election by Leonid Kuchma. The economy at first continued to fare badly under President Kuchma who became embroiled in a series of stand-offs with parliament and failed to push ahead with economic reforms. Corruption was a major problem and investors were wary. The new millennium brought economic growth for the first time, with rising industrial output, improving exports and falling inflation. By the end of 2004, Russia was the country's largest trading partner although Ukraine was also building partnership with the West. In May 2002 it announced the intention to seek Nato membership. It sent peacekeepers to Iraq as part of the stabilisation force there, and also contributed troops to peacekeeping operations in Kosovo. Population: 47.8 million (UN, 2005)
Capital: Kiev
Area: 603,700 sq km (233,090 sq miles)
Major languages: Ukrainian (official), Russian
Major religion: Christianity
Life expectancy: 65 years (men), 75 years (women) (UN)
Monetary unit: 1 hryvnya = 100 kopiykas
Main exports: Military equipment, metals, pipes, machinery, petroleum products, textiles, agricultural products
GNI per capita: US $1,260 (World Bank, 2005)
Internet domain: .ua
International dialling code: +380
President: Viktor Yushchenko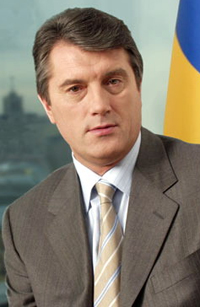 Ukrainian President
Viktor Yushchenko
Viktor Yushchenko was sworn in in early 2005. His path to the presidency was not smooth. When he lost elections in late 2004 to the candidate backed by outgoing president Leonid Kuchma, Mr Yushchenko and his supporters took to the streets in huge numbers protesting that the vote had been rigged. After 10 days of peaceful but dramatic demonstrations dubbed the Orange Revolution a rerun was ordered. Mr Yushchenko won. He is regarded as a pro-Western liberal reformer and says he aims to see Ukraine integrated into the EU and Nato. At the same time, he stresses Russia's role as an important strategic partner. The optimism that followed the Orange Revolution has faded for many Ukrainians. Economic growth has slowed and prices have risen. One of Mr Yushchenko's key pledges was to fight corruption. In a country where business and politics remain closely entwined this has turned out to be tricky. Mr Yushchenko himself has faced allegations of cronyism. Nine months after he took office, a high-profile row erupted involving corruption allegations against his in-fighting entourage. Several key officials resigned. The president sacked the government of Yulia Tymoshenko, a key ally in the Orange Revolution. Her government had become embroiled in wrangling over privatisation. Mr Yushchenko became seriously ill in the run-up to the 2004 elections, suffering severe facial disfigurement. Doctors later confirmed that he had been poisoned with dioxins. An investigation is continuing. Mr Yushchenko was born in north-east Ukraine in 1954. He is an economist and banker by training. He served as prime minister under Leonid Kuchma between 1999 and 2001 when he was credited with steering through successful economic reforms.
Prime minister: Yuri Yekhanurov
Yuri Yekhanurov, a long-time ally of the president and Mr Yushchenko's choice for the post, succeeded the dismissed prime minister Yulia Tymoshenko in late September 2005. The 57-year-old economist was confirmed as prime minister, at the second attempt, by a vote in parliament. Foreign minister: Boris Tarasyuk
Finance minister: Viktor Pynzenyk
Interior minister: Yuri Lutsenko
For details call the press officer, Andrii Nikolaienko at the Ukranian Embassy in Seoul at 82-2-790-5696.