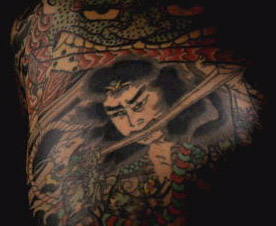 Tokyo, Oct. 24, 2003 — David Beckham has a secret. A dark, horrible and until today, hidden secret. Unbeknownst to many here in Asia, Becks has several tattoos. And so, the part-time footballer, full-time demigod and media darling of almost every nation on the planet can, by way of those tattoos, be properly and justifiably identified as an underworld member. Back in reality however, whilst the only things in the above paragraph that could be considered trustworthy are the comments concerning his being a footballer and having tattoos, Beckham, as divine as he may well be in the eyes of many, is not now, has probably never been and hopefully will never be a member of any underworld gang. Irrespective of this most obvious of comments and the obviously mistaken comment linking Beckham's tattoos to gang membership this, in the year 2003, is still the way many non-demigods sporting tattoos are viewed in much of northeast Asia.A mentality set in concrete and presented as a prime example of such limited acceptance of different cultures is evident in those Japanese companies that use Beckham in their commercials yet present him 'sans' tattoos, whilst on the same channels the British company Vodafone shows him as he is and how he himself chooses to be - with tattoos. None of which equate him with gang membership but all of which make him an individual capable of making his own choices like any adult should be free to do.Beckham shares his decision to colour his skin with the Celts of old, the Maori of more recent times and the Japanese of antiquity. The modern day distrust of those with tattoos in modern Japan and the rest of Asia's northeast corner is therefore and as it stands, bizarre at best and downright ignorant at its worst.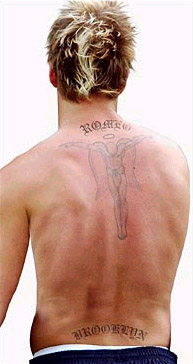 Although the word 'tattoo' itself is of Polynesian origin, the culture of tattooing is one that since earliest times has been truly global. A point enforced by the fact that whether tattoos are seen as purely decorative, as is often the case in the Western hemisphere, or whether they are utilized in showing rebellion against the norms of society to achieve a sense of not belonging; the original reasoning behind the Japanese underworld's relatively recent use of 'skin art' which is ironic in that in attempting to 'not belong' the opposite is all but the case in modern Japan. The tattoo is without doubt, one of mankind's oldest yet most current forms of artwork.The stereotypical view of many Japanese that tattoos ('irezumi' in Japanese) = gangster types therefore makes it a subject comparable to and as murky as the unacknowledged and ignored former existence of the nation's social outcasts known as 'eta' or 'burakumin.' A class now said to be extinct and so ignored — on the surface.In brief though, irezumi, as your Japanese/English dictionary will inaccurately tell you are tattoos. This is wrong. Black and white, plain and simple — wrong. Translated from the English, tattoos would be better termed using the Japanese language word 'horimono' which, for some reason, is a word some newer dictionaries fail to include as they also fail to include burakumin or eta. This in itself being another subject entirely is, in but one short sentence, a rather questionable method of looking at undesirable subjects with eyes so tightly shut that, given time, the method in question could merely serve to 'dumb down' the knowledge of future generations when looking at these subjects historically or otherwise.Horimono, the translation more in line with what tattoos stand for, are and always have been, in modern form originated when carvers and engravers in Edo (now Tokyo) exchanged wood for skin and chippings for blood during the artistically liberal Edo era (1603-1867). Of several famous tattooists active at the time, one named Horiuno, born in 1843, headed his generation in the field of skin decoration. Working well into old age in a career that spanned 50 years, he first gave colour to skin when he was 20.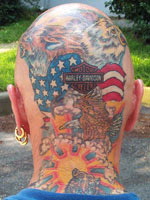 In a period itself coinciding with the downfall of the 'Bakufu' military shogunate, and its reintroduction of the Emperor as supreme head of the Japanese people and the introduction of the camera into a Japanese society, until that time whose pictorial records were primarily limited to woodblock prints, Horiuno, by being in the right place at the right time effectively and effortlessly secured his own small niche in the history books by merely being the target of those looking at using the new 'soul removing' box to capture forever the Japan of old, the Japan of change and the Japan of opportunity as those first Europeans and Americans thought this 'new land'. Irezumi, on the other hand, are quite simply the marks traditionally used to brand criminals in the Japan of yesteryear. That old girlfriend's name on your arm may, to some extent, make you feel less than intelligent if you later split-up, but it doesn't make you a criminal and is thus not an 'irezumi.' Trying to correct this misconception though is often like banging your head against a 120 million strong brick wall. After all, who is telling the truth — the "made in Nippon" dictionary or the tattooed aliens claiming non-membership of underworld groups from lands afar?Historically speaking however, the Japanese, regardless of what the average man in the street claims, have been tattooing themselves, their slaves and their criminals for thousands of years and hundreds of generations. Relics of the (Western B.C.) Jomon period indicate tattooing to have been widespread and surely not everyone was a baddie. Early Chinese records indicate that chaps across the water were tattooed all over and especially around the lips and on the face. Even Lafcadio Hearn, (a.k.a. Koizumi Yakumo), a world renowned Japanologist who, by way of Europe and the U.S., arrived, married, taught, naturalized and died in Japan and who knew the land better than most of its natives refers to the mass tattooing of slaves being used as a form of indicating ownership in the Japan of centuries past. A practice said to have been continued up until the early Meiji Period (1868-1912) in southern Kyushu at least according to Hearn. Domestic records apparently confirm this by showing criminals to have had 'irezumi' bands forcefully applied to their wrists: 1 crime = 1 Band, 2 crimes = 2 bands etc., and, on special occasions, dogs on their foreheads. Breed unspecified.Such practices not falling under the auspices of art and falling victim to traditional Confucian values regarding the sanctity of the body were probably a prime reason then that an average uneducated townsman, when sat in his local public bath somewhere in deepest Edo, got confused when faced with his neighbor's horimono(ed) back or arms. He put two and two together, came up with seven (compulsory education started in the Meiji era), and from that moment on saw formerly good old neighborly Tanaka-san as probable criminal Tanaka-san.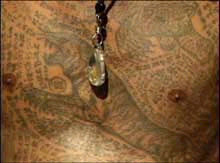 Not having been brought up to question that which has always been thought true, arguably another side effect of Confucianism's long standing and resultant influences still so visible today, closet criminal Tanaka-san was now exposed by the unquestioning attitude of the gullible yet tradition following Mr. Unquestioning, Blindly Accepting and Awe-inspiringly 'Normal' whose spouse, offspring and friends now knew 'the truth.' Opinions continued unchanged that tatts = crims and thus here we are today — opinions unchanged. Supported by some of his nation's lexicologists who do not indicate otherwise in all modern dictionaries, the by now late Mr. Normal rests in peace, assured that all mini-Normals, their offspring and future generations have been properly educated as to the 'fair and proper' legitimate reasons some sports clubs, hot springs and public baths continue to post blind bans on tattooed individuals being permitted to use their facilities — decisions made ignorant of the cultural, religious, sporting or just plain decorative reasons. Millions of people in today's world choose to have such images adorn their bodies and will, for eternity, continue to do so.