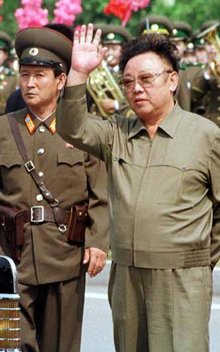 North Korean leader Kim Jong-Il (right) waves his hand accompanied by his military band in Pyongyang.
Calling North Korea nasty names is easy and satisfying. Negotiating is hard and frustrating. So for four years, the Bush administration put more creative energy into name-calling than into serious talks. The main result was that the North moved four years further along toward being able to threaten its neighbors with nuclear weapons.
Then last summer, Washington toned down its language and tried the harder road of diplomacy. The result, in September, was a breakthrough accord in which North Korea committed itself in principle to dismantling its nuclear weapons programs, returning to the Nuclear Nonproliferation Treaty, and admitting international nuclear inspectors. It was a deservedly proud moment for Secretary of State Condoleezza Rice and her top Asian deputy, Christopher Hill, whose toughness and diplomatic professionalism helped secure acceptable terms.
Unfortunately, things have been going downhill ever since, and both sides are to blame. North Korea landed the first blow 24 hours after the deal was announced by claiming the right to acquire a civilian power reactor even before it dismantled its nuclear weapons programs. The next month, Washington imposed new sanctions under the Patriot Act against North Korean companies it said had been involved in money laundering and counterfeiting - a perfectly legitimate step if the charges are accurate - and then declined to negotiate with North Korea about lifting those sanctions.
North Korea struck back by boycotting the next round of the nuclear talks and complaining that its concessions on nuclear weapons had been poorly rewarded. Then Washington matched that show of childish petulance by getting back into the name-calling game, with the new American ambassador to South Korea labeling the North a "criminal regime." That may be accurate, but it is not the sort of thing diplomats say publicly when their countries are engaged in delicate diplomacy. The ambassador's remarks also went down badly with his South Korean hosts, whose top priority is encouraging North-South dialogue.
The North can afford to take its time over resolving the nuclear issue, wasting diplomatic energy on disruptive and bullying tactics. The United States cannot afford that luxury. It makes little sense for the Bush administration to return to name-calling or to rule out high-level talks on the Patriot Act sanctions.
The window that briefly opened for diplomacy after John Bolton moved from nonproliferation issues to the United Nations is once again in danger of being slammed shut, reportedly at the urging of Vice President Dick Cheney and Bolton's successor in the nonproliferation job, Robert Joseph. The United States is said to believe that its new hard line will give it more leverage if and when nuclear talks resume. Instead, those talks are once again grinding toward an indefinite stalemate.
That's not just disappointing. It is extremely dangerous. No one disputes that North Korea is unpredictable. No one disputes that it has the means to build nuclear weapons. The world cannot afford to let the chance of holding the North to its September promise be lost in the shouting.
The above article is from The New York Times.