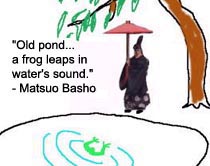 Tokyo — How much has Japan changed in the last 100 years? How much have you, the reader, changed in the past five or 10 years? The answer to both questions probably lies somewhere between significantly and drastically. Times change, people change and life moves on are common enough phrases applicable it would seem to every single thing on the planet — with the apparent exception of 'Haiku.' In England around the start of the 17th century a gentleman by the name of William Shakespeare was starting to make a name for himself. At that time, and in the years when his popularity peaked, who would ever have guessed that the writings of a man guilty of vandalizing his school desk around the age of 12 and of using what are now termed 'recreational' drugs as an adult would one day be modernized and used as teaching aids in almost every school in the English-speaking world — and with the aid of translation, even further afield? How many of those he performed to could have imagined his plays being acted out by world famous actors on then, yet to be invented televisions in air-conditioned homes? Whilst reasoning for such popularity takes those willing to consider it down many avenues of thought, how many of the world's English-language professionals could seriously deny that the main reason Shakespeare is still with us and his works still read is at least partly down to the modernization his work has undergone over the centuries in order to fit in and apply to the society of the day? Such theories and their subsequent answers and related opinions are countless and unanswerable in anything short of book form but it is this lack of modernization in its entirety which, I believe, will list the Japanese Haiku alongside the CD in the year 2500. If, as the saying goes, "death comes to all" why worry about the demise of such a unique, oblique and subtle form of poetry? Why not let the sands of time slip silently into oblivion and take with them the myths, stories and history of Haiku? Because to do so would be a crime! Inexcusable and unforgivable — a heinous act. A presence in the heart of every person the world over who has read or even composed Haiku emerges in images craving words yet understandable without. The few words a Haiku contain do themselves contain meaning far beyond the limits their number would seem to portray. Problems encountered in everyday life seem almost inconsequential when reading a blindingly simple yet amazingly in-depth and thought-provoking account of a single tree shedding a single leaf with the onset of autumn. To attempt to put into words an interpretation of one reader would be almost sacrilegious.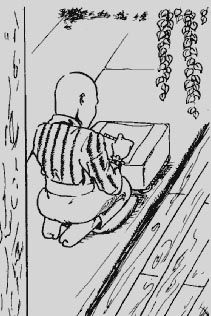 Haiku are personal and what you, the individual, take from them could be as unique as your fingerprint. A different side of the question which can be addressed though, is to ask if a Haiku really is just a poem of limited syllables and lines, (three lines with the number of syllables being somewhat loosely fixed at five, seven, five) featuring a subject that must be related to nature and a tense that must never vary form the present with the related question of, if so, do these rules over-regulate and prove too inflexible to enable Haiku to retain its place amongst the more popular styles of modern and adapted older style poetic forms of today's English Lit classes? Having been around in a longer and significantly more flexible form (known as Choka and Waka) since the 6th or 7th centuries Haiku in its modern form really came into existence in the Meiji era with the composition and reading of Haiku being a popular form of entertainment with Japan's ruling classes. Unfortunately this initial association with the elite of Japanese society meant that unlike Shakespeare in England, Haiku did not spread as a form of literary entertainment to all and sundry. Subsequently, this somewhat limited circle of Haiku composers, teachers and students remained relatively small in number. Nowadays however, although Haiku are appreciated by a much broader spectrum of Japanese society, from early morning TV watchers to newspaper readers crammed onto the morning rush hour trains, the fact remains that the rather restrictive origins and historical limitations forced on Haiku have essentially prevented it from digging in and becoming as much a part of Japanese literary teachings as Shakespeare is in the English, and often non-English speaking world. To the great majority of Japanese and foreigners (both in Japan and abroad), therefore, Haiku are little more than a form of poetry occasionally seen on TV, in the arts pages of the Sunday newspaper or on the bottom shelf of the library literature section — gathering dust. The first impression of those who do listen to or read Haiku is often a mixture of puzzlement and confusion as to why these short three-line poems are so highly respected. And it is at the time of first reading Haiku that your present, future and eternal feelings regarding its form are formed; with the majority of non-Japanese deeming the Haiku as something uniquely oriental and to some extent impossible to comprehend in translated form. This puzzlement and difficulty of understanding is a view shared also by Japanese, although perhaps less frequently revealed as to deny a liking for anything traditionally Japanese is often seen by others of the same nationality as permitting a chink in the national armor to be exposed to the not fully comprehending outside world.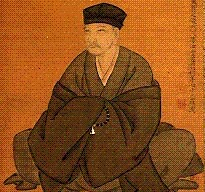 Matsuo Basho (1644~1694)
Having then made the decision to look deeper into this art how many potential Haiku composers are intimidated by its age-old rules and regulations? How popular would Haiku be with these rules relaxed and the ability to encompass non-nature related subjects in their writing? Perhaps it is worth noting that even Matsuo Basho — (the poet and traveler many consider the founding father and most famous Haiku writer in Japanese literary history) didn't always play by the rules. So, with all of the aforementioned in mind where does the future lie for the Japanese Haiku, its composers and readers? Is there a future without a certain relaxing of the longstanding rules? The answers to these questions are as confusing and varied as your own understanding of the first Haiku you ever read although some feeling of understanding can be found not by reading and studying the numerous Haiku related books found in the bookstores but by immersing yourself in the same surroundings as did the hermit-like, traveling poet many suspected of being involved in the subversive world of information gathering and distribution more commonly known as spying. Matsuo Basho, the name almost synonymous with Haiku and the most widely recognized name in the world of Japanese poetry is remembered today in a small, relatively unknown Tokyo museum far from the teeming crowds of Ueno, Shibuya and Ginza. Having secluded himself in the Fukagawa district of eastern-Edo (modern Tokyo) in mid to later life it is on the site of his original home with its grass walls and Japanese-type banana tree by the gate — all long, long since gone, that one feels truly at one with Haiku — and at one with the peace and seclusion needed to fully, and properly consider the future or non-so of this dying artform.