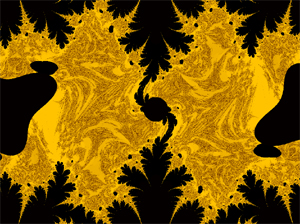 Tokyo, Nov. 27, 2003 — In the winter of 1703, following the revenge killing of a court official who had disgraced and caused the self inflicted death of the local lord to whom they owed allegiance, over 40 samurai willingly, happily even, slit open their own bellies and followed their master to the afterlife.In what was to become the single most famous display of samurai ethics in the 265 year reign of the Tokugawa Shogunate, the story of the '47 Samurai' was to become synonymous with loyalty to one's superiors and disregard for self gratification.In 2003 the story of the '47' is as alive and famous as it was when it first appeared on the kabuki stages of Kyoto and Edo (now Tokyo) mere weeks after the events the plays depict took place for real. However, unbeknownst to most Japanese, Japanologists and casual readers alike is the simple fact that although it is often referred to as the Tale of the Forty-seven Samurai the number 47 is but a myth. Men did die as I have already said but not 47 men. There were never as many as 47.Therefore the following fiction based on long forgotten and dust covered facts will go some but not all the way to replacing the myth of centuries past with reality. Whether you choose to build upon these facts wrapped in fiction is up to you. I have a feeling you will.This is the journal of one of my ancestors. A man unknown by all bar the deepest scholars of the events to which he refers. The following was probably written just before his death in the mid-16th century: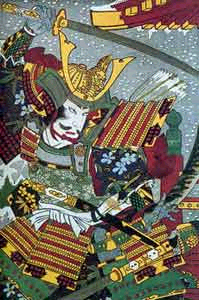 It was over 50 years ago now and as I write these words the snow falls softly as it fell on that long ago night upon the roof and gardens of the mansion of the disgraced and now long dead Lord Kira Kouzu no Suke the same night we were sent to end his life of corruption and self-indulgence. I say we though should say I for I alone of the fighting men held not the samurai rank but was a commoner then and will so, soon, die. My use of 'we' therefore but reflects my feeling of the brotherhood that overrode our differences in status.Of the men at the house that night just I and one other remain alive today. He was then a servant of Chikamatsu Kanroku, is named Jinzaburo and continues to this day to tend the gravestones of the fallen. He may soon tend mine. Yet, to let my life pass without passing on the chain of events that unfolded in the eyes of one of its participants would be to rob both my clan and descendants of an insight not yet released by the authorities and continually so often misrepresented upon the stages of Edo and the capital of Kyoto.With that my story:As a boy, I was left on a mountain path; unwanted and so unattended by parents I never knew; a couple whose names and fate I know not to this day. Taken in by Hyo-emon of a village in Hitachi province (currently Ibaraki Prefecture). I was, at that time named Sutekichi until my adopted father deemed me man enough to take the name of Teraoka Hei-emon Nobuyuki and big enough to join the ranks of Lord Asano Takumino kami's retainers. Under my new name I worked hard, starved with my brothers when the harvests failed and fought by their sides when called upon to do so.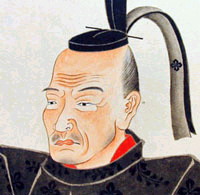 Rising to the rank of chief of the common foot soldiers in my late 20s I was then, am today as I write, ready to lay down my life at a moment's notice in the service of Lord Asano or of his family. During his life this service and honor was not to be afforded one so low as myself and with my own death approaching like a slow wind on the Kanto most likely never will.Following our Lord's famed humiliation in the castle of the Shogun in Edo he was forced into the act of ritual disembowelment having drawn his sword on the cursed Kira in an action punishable by the instant spilling of bowels and death. In the months following all our lands were taken and redistributed, families starved and the clan fell into disarray. Masterless and seemingly headless we wandered. Many led a life of crime, others swore new allegiances. I did neither. And it came to pass that some time later our new leader, Lord Asano's favored vassal Oishi Kuranosuke enacted a plan that would, in the dark of winter avenge our clan's fall from grace. At the time though, I was refused a part in this plan. Biding my time I searched for and took an opportunity at proving my worth by discovering and diffusing an attempt at subterfuge of our own clandestine intentions. By way of the capture and sending on to the next realm of one our enemy's legion of spies sent to discover just such plans I was eventually accepted by Oishi. Not fully equal to the brothers I mentioned prior but proud nonetheless to serve both them and our departed Lord Asano's memory in any way I could.The night we stormed the mansion of Kira, removed his head and regrouped in the Sengaku-ji Temple grounds, alongside my brothers I entered a flank in the West wing of the mansion. Taking care not to start any fires that would harm the neighbors two defenders fell beneath my feet and began their journey across the Sanzu river. And as quickly as it had began it seemed over. We retreated.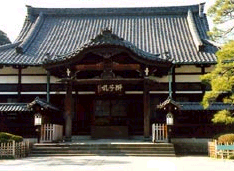 For myself though, that was where the pain began as I was to suffer more than can now or will ever, when you read this, be imagined. After reuniting at Sengaku-ji I was sent on a mission by Oishi back along the Tokkaido to an area called Akikuni. Taking many weeks to reach, by the time I returned from the land nearer to Kyushu than to Edo my colleagues had all departed by way of their own hand to serve Lord Asano. Making myself known to the bakufu I requested permission to follow my brothers but to no avail. My loyalty being rewarded in gold I had no choice but to live the remainder of my life in prayer seeking the comfort of those I alone perhaps see as having gone ahead to care for our lord in his next life; a task I one day hope to join again.Yet for you my ancestors of your own 'modern times' I ask but one thing - comprehension. Comprehension of our duty to our clans, to our Lord. I will die soon, a man of many years, polluted by knowledge yet until that last breath of air emits from my chest I shall pray for and remember them all for as it is sung, so it is written: One by one, only the good die young.