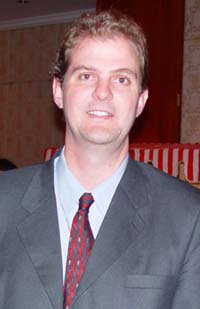 Dr. Peter M. Beck, director of the Northeast Asia Project at the International Crisis Group
WASHINGTON — As the Bush administration strengthens ties in Asia as part of a hedging strategy to contain fast-rising China, it has allowed a key relationship in the region to fray: its half-century-old alliance with South Korea. Strong ties with Seoul have never been more pressing, regional experts say, and the administration plans to launch a diplomatic initiative to breathe new life into a relationship that, much like an unhappy marriage, has soured over the years as the partners drift apart. "There's no question, if the alliance isn't managed properly, it could easily fall apart," said Peter Beck, the Seoul-based director of the International Crisis Group, a privately financed conflict-prevention organization, who also serves as an advisor to South Korea's Ministry of Unification. The region includes emerging powerhouse China; unpredictable, nuclear-armed North Korea; and nations with unresolved historical enmities that add to the area's volatility. But as the White House devotes its energies to expanding its alliance with Japan, building new bridges to India and even nurturing a budding relationship with Vietnam, ties with Seoul have languished. Against this backdrop, Secretary of State Condoleezza Rice is scheduled to meet Thursday in Washington with a South Korean delegation for the inaugural session of a dialogue officially called a "strategic consultation." The meeting has no fixed agenda and has been billed as a chance to explore the broader relationship and priorities of both countries. "The idea basically is to see where we're heading and what we can do to strengthen the alliance," said Mira Sun, spokeswoman for South Korean President Roh Moo-hyun.Few expect the talks to produce a quick turnaround.In the increasingly strained political atmosphere, the Pentagon has already pulled out nearly a quarter of the roughly 37,000 U.S. troops once stationed in South Korea and, by mutual consent, repositioned some of those remaining well south of the frontier with North Korea. Officials in Seoul have expressed their distaste for a decades-old arrangement that puts South Korean troops under the command of a U.S. general during times of war, and Pentagon officials seem more than willing to make changes in the future. In fact, Pentagon officials say they look forward to the day when Seoul's military can assume a larger role on the Korean peninsula, and insist that the South is "pushing on an open door" when it demands more control over its own security. "We've been clear that we are ready to move as rapidly as the Koreans want to, but have insisted that if they desire to take the leading position in the alliance, they must put the capabilities in place required to assume that role," Deputy Undersecretary of Defense Richard Lawless said in an interview.It is unclear to what extent the U.S. actions are determined by the need to stay ahead of increasingly anti-American public opinion in South Korea or whether the moves are driven more by other factors, including a simple desire to create distance from a difficult ally."Part of me thinks [the Americans are] doing this to show the South Koreans they need us," said Kurt Campbell, a top Asia specialist at the Pentagon during the Clinton administration who is now at the Washington-based Center for Strategic and International Studies. Another reason, he said, "is that we need forces elsewhere. A third is that they've just had it with the South Koreans." Problems in the U.S.-South Korea alliance are magnified by administration steps to upgrade ties with another important East Asia ally: Japan. After successful deployments of Japanese military units to the Arabian Sea to support the U.S. military operations in Afghanistan and last year for peacekeeping duty in southern Iraq, Pentagon officials talk enthusiastically about expanding the alliance to include regional and other global responsibilities. For years, Japanese troops were limited solely to the defense of Japan. Farther west, the administration is rapidly expanding ties with India, forgiving New Delhi's past violations of the Nuclear Nonproliferation Treaty and forging an atomic energy agreement amid lofty rhetoric of deeper cooperation between two large democracies. U.S. defense officials have also achieved an opening with Vietnam, albeit on a far more modest scale, limited to such tasks as offering English-language training for Vietnamese military officers. And President Bush even made a special stop in Mongolia in November, just a month after Defense Secretary Donald H. Rumsfeld paid a visit to China's northern neighbor. A Pentagon report last summer warned that China might have long-term ambitions to extend its power across Asia and that Chinese leaders "may be tempted to resort to force or coercion more quickly to press diplomatic advantage, advance security interests or resolve disputes." Even in the face of an obvious military buildup, Pentagon officials worry most about what they don't know about China's defense modernization, and have repeatedly criticized the country for hiding the amount it spends on weapons. "One of our problems is our inability to correctly estimate how they budget, where they spend their money and how they account for what they spend," said a senior Defense Department official, speaking on condition of anonymity because he was not authorized to comment publicly on the issue. The official said the United States has a history of "underestimating and misestimating China's ability to develop and deploy new capabilities." As concern over Beijing has grown, a variety of factors have loosened U.S.-South Korean ties. Economically, America's importance to South Korea has diminished. Today, China is Seoul's largest trading partner and biggest single source for private direct investment. Politically, China also has emerged as a major regional player at a time America's attention at the highest levels is focused in the Middle East.When the U.S. does act in the region, its actions have often added to the problems between the two allies. One of the administration's first significant foreign policy moves after assuming office in 2001 was to end American backing for Seoul's policy of rapprochement with the communist North. Fallout from the U.S.-led invasion of Iraq also rippled through South Korea. A January 2004 poll by Seoul-based Research & Research indicated that South Koreans considered the United States a greater threat than North Korea.Hang Sung Joo, acting president of Korea University in Seoul and a former foreign minister, spoke of an easing of U.S.-South Korean tensions in the two years since Roh won election on an anti-American-flavored platform, but he said he remained unsure about the alliance's future."It will be several years before we know whether it will survive and thrive, or will get worse," he said in an interview. Although South Korea is the third-largest contributor of military forces to the U.S.-led military coalition in Iraq, some Koreans complain they are unappreciated and that Washington has consistently underplayed their contribution. Seoul's plan to withdraw one-third of its 3,200 troops from Iraq was made public in November while Bush was in South Korea for an annual summit of Asia-Pacific nations. The news not only caught American officials by surprise, but also seemed timed to inflict maximum embarrassment on Bush."Both sides have taken steps that are really almost aimed at the heart, at hurting the other side's feelings," said Campbell, of the Center for Strategic and International Studies.The decline of America's image in South Korea is also attributable to the passing of an older generation that was grateful for America's Korean War sacrifices. The new generation is more self-assured, strongly nationalistic and skeptical of the long-held view that South Korea's stability stems from the security of its alliance with the U.S. Many new leaders believe that South Korea's destiny is to become a "balancing" power between large and wary neighbors and that it can be achieved only through reunification with the North. For them, it is a dream in which the U.S. is more often than not seen as an obstacle.The result is added tension and mutual resentment. A senior State Department official preparing for this week's dialogue played down the extent of the differences. "The alliance was never as good as people now remember it in retrospect, and it's not as bad now as they believe it is," said the official, speaking on condition of anonymity in keeping with agency rules. "In the last 30 to 40 years, we've always had tough negotiations with the Koreans." But supporters of the alliance in Korea, such as opposition party legislator Park Jin, remain worried."I think we have to go back to the core of why Korea maintains its alliance with the United States," he said. "It's about freedom, human rights and democracy. Those are the core values on which the alliance should continue. If you forget that, then I think Korea could lose its friend across the Pacific."
Times staff writer Barbara Demick in Seoul contributed to this report.The above article is from The Los Angeles Times.