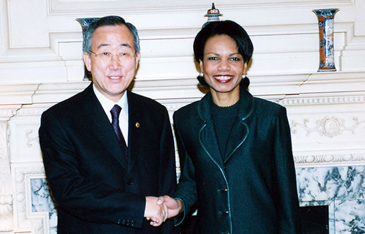 US State Secretary Condoleezza Rice meets with South Korean Foreign Minister Ban Ki-Moon.
The following are the questions and answers between US State Secretary Condoleezza Rice and South Korean Foreign Minister Ban Ki-Moon before their high-level talks on bilateral strategic alliance in Washington DC.
QUESTION:
Madame Secretary, anything new on Iran? And what about North Korea's latest antics as well?
SECRETARY RICE:
First of all, on Iran, we've been very clear that we believe that the time has come for a referral of Iran to the Security Council. The Iranians have been given every opportunity to find a way to a solution, a negotiated solution that would give the international community confidence that Iran does not seek a nuclear weapon. And they have not taken those opportunities. And I'm working with my EU colleagues. We will discuss this issue as well because we share an interest in and a dedication to stopping the spread or the proliferation of nuclear weapons. In that regard, our work in the six-party talks is extremely important on North Korea and we both urge the North Koreans to come back to the talks without conditions because North Korea also is being told by the international community that it has to be a Korean Peninsula that is free of nuclear weapons and that North Korea must dismantle its nuclear programs. Do you wish to say anything, Minister?
FOREIGN MINISTER BAN:
I want to thank you very much, Madame Secretary. The Korean Government is also very much concerned about Iranian Government decision to restart development and research activities to enrich uranium. And I had a telephone conversation with Secretary Rice a few days ago expressing our concern. And in fact, I had a meeting with Iranian Vice Foreign Minister a few days ago in Seoul and we expressed our deep concern and urged them not to do that. We will closely cooperate with European Union and American Government in this regard. As a country which has North Korean nuclear issue, we have no other choice but to express our deep concern. At this time, our preference is still that this Iranian issue should be resolved through negotiation if there is any rooms left. As far as North Korean nuclear issue, I will discuss in depth with Secretary Rice to overcome this current impasse situation so that we'll be able to discuss about this implementation process of the Joint Statement which was adopted September 19th last year. We need to look at closely what Chairman Kim Jong-il of North Korea discussed with Chinese leaders recently and we take note of what Chairman Kim Jong-il said that he would reaffirm the commitment to denuclearize the Korean Peninsula and also commit to resolve North Korean nuclear issue peacefully through dialogue, particularly through six-party talks. We will discuss this matter very closely with Secretary Rice and we hope that we'll have early resumption of the six-party process.
QUESTION:
Sir, does South Korea support a referral of Iran to the United Nations Security Council?
FOREIGN MINISTER BAN:
We will closely consult with this matter. If there is no other choice, but we will support the referral of this issue to Security Council.
SECRETARY RICE:
Thank you. We need to get to work. We also — I should just mention the Minister is really here because we have a Strategic Dialogue between South Korea and the United States. This is one of our regular meetings of that Strategic Dialogue, so we have many other issues to discuss, and if you'll let us, we'll go and do that.
FOREIGN MINISTER BAN:
I'm very much pleased together with Secretary Rice to launch the first Korea-U.S. Strategic Dialogue for the Strategic Consultation for Allied Partnership. We are now going to elevate the level of our alliance to new level toward comprehensive and dynamic alliance between our two countries.
SECRETARY RICE:
Thank you very much.