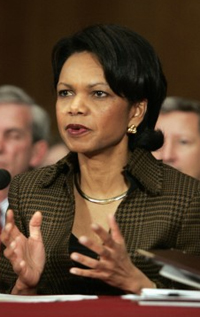 US Secretary of State Condoleezza Rice
It has been an amazing transformation. In the first Bush administration, Condoleezza Rice was known as the "warrior princess."As national security adviser, she was seen as a leading hawk and architect of the Iraq war. But Ms Rice has now become the smiling face of American diplomacy. She is the stylish pin-up of the Republican Party and the poster child of African-American success. Opinion polls suggest a majority of Americans think that she is doing a good job as their most senior diplomat, in stark contrast to the president's own approval ratings, which have slumped to about 40%. No surprise then that the question is seriously being asked in Washington: "Could Condi run for president in 2008?"
Condi vs. Blondie
The book has already been written by President Clinton's former political adviser, Dick Morris.In Condi versus Hillary, he argues that Ms Rice is the logical choice for the Republicans to challenge Senator Hillary Clinton - still the favourite to win the Democratic Party nomination. Mr Morris says the US will be fascinated by a contest between a woman who has come to public prominence on the coat-tails of her husband -Mrs Clinton - and Ms Rice, who has fought her way to the top against the odds. There is little doubt as to where Mr Morris' sympathies lie. Blondie is still slightly ahead of Condi in the polls, but the US secretary of state is keeping pace with other potential Republican contenders such as Senator John McCain and former New York Mayor Rudy Giuliani. Of course, this is still fantasy politics though, as no-one has yet declared themselves for the 2008 race. What is more, Ms Rice has repeatedly ruled herself out, saying she has "never run for anything," and: "I don't know how many times to say no."
Grassroots campaign
That has not deterred Republican supporters who hope to persuade Ms Rice to run. The "Condinistas" want to draft her for the presidential race in 2008, pointing to the way Dwight Eisenhower was eventually persuaded after World War II. They have set up websites where you can sign a petition to "draft" her, buy Condi Rice badges, T-shirts - even lookalike dolls. They have also taken out radio and television adverts. All without the approval of Ms Rice herself, of course. But little is known about Ms Rice's own political views outside the field of foreign affairs.Many Republicans wonder what she thinks on issues such as tax cuts or healthcare. Charles Black, a leading Republican strategist, doubts that she will run. He says he has no idea of her own political agenda and points to the fact that she has never run for office. The little that is known of Ms Rice's political views may stand against her. While her Christian faith is clearly important - she attends church every Sunday - she is believed to be "mildly pro-choice" on abortion. That would hardly endear her to the religious right. And then there are the more obvious disadvantages. There has never been a single black woman president in the history of the United States.
Fairytale
But the idea of Condoleeza Rice as president still manages to strike a chord with the American media and public alike - it would be a fairytale in keeping with the stories of "from log cabin to the White House." She is seen as the woman who grew up in the segregated South and yet battled her way against prejudice to become an accomplished ice-skater, talented pianist, leading academic and now secretary of state. Her accomplishments are largely down to her own drive and ambition and if she sets her mind to it perhaps one day she could be president. But I would not put my own money on it.
The above article is from BBC.