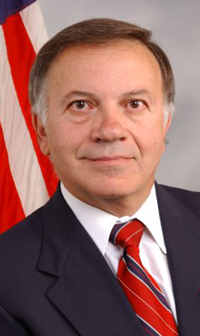 Rep. Tom Tancredo
The US could "take out" the Islamic holy sites if Muslim fundamentalists were to attack us with nuclear weapons. That's how Rep. Tom Tancredo (R-CO) reacted in a July 2005 radio interview to a question about a possible terrorist attack.It was an extreme statement condemned by just about everyone.Tancredo, however, has been reserving most of his extremist positions for the issue of immigration. His stance on the issue has earned him admiration from some who see illegal immigration in simplistic terms of right and wrong. At the same time, Tancredo's extremist positions on the subject have earned him the disapproval of many people, including the GOP leadership, going as high as President George W. Bush.Tancredo wants to militarize the US-Mexico border and deport the estimated 11 million unauthorized immigrants residing in the US.In November of 2005, Tancredo supported Jim Gilchrist, founder of the Minutemen Project, whom President Bush labeled a vigilante group. Gilchrist ran an unsuccessful campaign for a seat in Congress.
Tancredo also wants to take away US citizenship from kids whose parents came to the country illegally.His opposition to illegal immigration is so strong that upon hearing a press report that the son of undocumented workers made the honor roll in a Colorado school, the GOP Congressman wanted to have the family deported.Tancredo opposes the matricula consular, an ID card the Mexican government issues to its citizens living abroad, and which many American institutions accept as valid identification.Because of his extremist ideas, some members of the GOP would like to banish Tancredo from the party.Some fear that his extremism will give Republicans a bad name and continue to push Latino voters into the arms of Democrats.Other Republicans feel that Tancredo just talks loudly but produces nothing concrete to solve the immigration problem.Tancredo does have a history of speaking his mouth off and not keeping promises.Although he campaigned for term limits in Colorado and promised he'd quit the House of Representatives after three terms, he did not do so.He does not care very much about keeping his promises nor does he care about people he antagonizes with his outspoken statements.
To keep his ideas about immigration on the table, he is thinking of a presidential run in 2008. He recognizes he won't win but his goal would be to force people to talk about the immigration issue which he sees as paramount.It'd be easy to dismiss Tancredo as an iconoclast who likes to have a following, albeit a small one. His rhetoric, however, is not without consequences because it provides encouragement to others for extremist actions. Although he did not create the Minutemen Project, Tancredo certainly supported it and helped set up a climate for its founding.In fact, his extremist positions can be dangerous. In 2004, the 92-member Immigration Caucus, chaired by Tancredo, managed to tag on a restrictive immigration measure to the Intelligence Reform Bill.
Tancredo's vehemence against illegal immigration and its dangers was also successful in eliminating language to create a guest worker plan in last year's Border Control Bill which was part of the early draft of the legislation.Although not completely opposed to the idea of a guest worker program, Tancredo sees it as a possibility only after the border has been secured. Yet, he is concerned that a guest worker program might end up in amnesty for undocumented workers already in the US.Asked if he should leave the Republican Party, Tancredo responded he sees no need. He sees himself as a Republican and cares little about the GOP leadership which may be uncomfortable with his presence in the Party.On the question of immigration, Tancredo believes the GOP is with him. He is right. Not a pretty face of the Republican Party. Not exactly the face of the US which prides itself in being a country of immigrants.