A watch-tower in the middle of Philippines' Tanon Strait
This is the second part of a series of articles featuring Philippines tourism in line with the current slogan: "More than the Usual Warmth: Feel the Philippines." About half a million Korean tourists visited the Philippines last year accounting for about 18 percent of the total inbound market share — making Koreans the second largest visitors flocking to this archipelago in the Pacific region.
Retiring abroad? For some good reasons, many active middle-aged Koreans can now consider the benefits of spending old age overseas. Higher cost of living in Korea offers a choice to look for an alternative place that promises a much more affordable lifestyle yet they can still enjoy the same degree of luxury and comfort. From housing to medical and dental care, education of dependents, and endless leisure opportunities to boot — these could be given away all for the good price.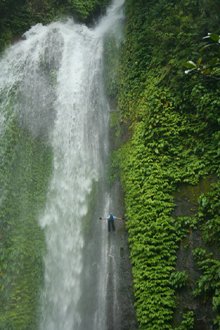 Rappelling down a 45-meter waterfall at Mount Natib near Orani, Bataan, the Philippines
Korea is one of the world's fastest ageing society, and the economically well-offs are now more aware of how to enjoy life. They take overseas trips; however, many are still dreaming of spending longer holidays in the tropics where sunny beaches can perennially provide escape from the biting cold spell of long winter months. Staying overseas indefinitely is no longer an elusive dream. In fact, retirees can now stay overseas for as long as they want. This has been made possible by various foreign retirement programs offered by a number of countries who want rake in profits generated by retiree dollar deposits. Countries in the tropical zone boast of awe-inspiring natural vistas of lush mountains and pristine beaches, luxurious and sprawling golf courses, and diverse cultural entertainment. Not bad. After all, moving into a new destination opens a new chapter wherein one can think again how to live better — or to live life to the fullest. Mr. Kim In-Dok, 60, for instance, savors life as an expatriate retiree in the archipelago of 7,100 islands — the Philippines. As a retired civil engineer, he owns a property in Tagaytay, about 200 km south of Manila, where he lives with his wife in peace and contentment within the environ of lake and mountains — a sharp contrast with the hectic life they used to have in the bustling district of Gangnam in southern Seoul. Their two children are already grown up and are away.
Mr. Kim In-Dok poses with Ms. Erlina P. Lozada of Philippine Retirement Authority and (standing) other ladies.
Mr. Kim and his wife have been living in the Philippines for 15 years — and so far, so good. Being an engineer who was involved in various projects in the Middle East, he got his first encounter with a few Philippine civil engineering projects, including building of roads and highways, in early 1990's. He says he is most comfortable with Filipino hospitality. "Filipinos are basically kind-hearted with sincere personality," he says. Besides, he likes the weather. He shuns himself from the freezing temperature in Korea which, at times, plunges to as low a minus degree Celcius. In Philippines, it's warm and yes, "hot," throughout the year being in the equatorial zone. But living in Tagaytay, the heat is complimented by cool breeze coming from the hills, mountains, and rice fields. Coming to Manila, he gets involved with various social activities. Some of them are organized by the Korean Embassy giving him opportunity to mingle with other Korean expatriates. At times, he serves as a tour guide to arriving Koreans. Depending on the visitors' options, Mr. Kim can pinpoint at a snap of his fingers regions in the Philippines offering specialized attractions.
River houses in Calayo River, the Philippines
If guests are gaga over water sports, he can bring them to snorkeling and scuba diving regions from north to south of the archipelago, probably from Batanes to Tawi-tawi. No need to wonder why Mr. Kim is fascinated with scuba diving. Scuba diving buffs have been exhilarated with the fact that underwater scenes in the Philippines are quite diverse. One website reads: There is a "biodiversity in the undersea sanctuaries in Anilao and Puerto Gallera, historic WW2 wrecks off of Coron Bay in Palawan, or the USS New York nestled under Subic Bay, diving with giant manta rays of Fortune Island, the majestic whale sharks in the ocean off of Sorsogon or the epic journey on a live-aboard to the pristine waters of Tubbataha Reef." If guests are looking for white sand beaches with blue-green waters, he's quite familiar with Boracay like everybody else does or Cebu, for instance. Would he consider taking them to non-traditional and emerging destinations? "Oh, I've been to as far as the white beach in Pagudpud," he mused.
Kayangan Lake near Coron, Palawan, the Philippines
Although the mountainous regions of the Korean peninsula, comprising about 70 percent of the total land area, could be matchless compared to the less mountainous Philippine terrain, Mr. Kim can recommend where to hike like the way he used to when he's in Korea. He could probably recommend to hike Mt. Pulog in the Mountain Province, Mt. Halcon in Mindoro, the Philippines' highest peak — Mt. Apo in Davao, or probably hiking the dormant Taal Volcano which is closer to his home in Tagaytay. Guiding newly arrived retirees is also one of his life's many pleasures. It is when more retirees come to the Philippines that he finds his circle of friends to be getting bigger. Mr. Kim said he and his peers are now building a Korean retiree community for networking. Every now and then, they gather; they dine or spend time for pure pleasure. Mr. Kim is in perfect health. But if his health fails, the Philippines is well-reputed to have one of the world's most qualified medical professionals. Top medical institutions like Makati Medical Center or St. Luke's Medical Center, for example, have doctors and other medical staff who were educated and trained with world-class standards and their facilities do not lag behind well-developed nations. You would surmise that he probably misses kimchi and other spicy Korean food like most Korean do even they are away for only a week. However, "I love sinigang and lechon!" he insists. He says he has learned how to love all kinds of Filipino dishes.
Troupe from Cebu for Philippines Festival
Food is not a big deal though. With the growing population of Korean communities in the Philippines, there have been a growing number of Korean groceries and restaurants sprouting up in the metropolitan areas and major cities. Think of Korea House or Korean Palace along Adriatico St. in Malate, or Shilla chain of restaurants in a number of places. There are more eateries that are constantly changing names along major streets of the metropolis. Kimchi has, likewise, become a common stuff in major groceries, including the retail giant, SM. The English language is another reason why he chose to retire in the Philippines. With only three-and-a-half flight from Incheon to Manila, Mr. Kim has been speaking the language everyday the way he could have been doing in farther places where English is spoken. A total of about 1,305 Korean retirees including their spouses are now in the Philippines, as of end 2005 making Koreans ranked third in retiree registration trailing behind Taiwan with 3,100 and the Peoples Republic of China with 3,017, respectively. Retirees have a wide range of options where to reside—condo unit in the metropolis or suburban areas, subdivision in major cities, farm, beach resort, and country club. Condominium units are located in Makati, Malate, Quezon City, Pasay, Cebu, Laguna, Subic, Batangas, and list is endless. Philippine Retirement Authority (PRA) expressed confidence that more retirees are coming to choose the Philippines. In 2005, annual number of retirees was at its highest marking 584 retirees and a total enrolment of 1,259 Special Resident Retiree's Visa (SRRVisa) holders representing 39 percent increase in principal retirees and 35 percent increase in total enrolment compared to a year earlier. This development has generated foreign exchange into the Philippine economy of about $33.9 million, up $8.2 million or 32 percent higher than 2004. The benefits are many, including multiple re-entry and indefinite stay, travel tax exemptions, business and work upon issuance of Alien Employment Permit (AEP), education of two dependents below 20 years of age, and deposit can be converted into investment after issuance of SRRVisa. Once an application is approved, a retiree is given the SRRVisa, a special non-immigrant resident visa that provides holders with multiple-entry and indefinite stay status in the Philippines. Required dollar time deposit varies according to age. For 35 to 49 years old, a US$ 75,000.00 is required, while those from 50 and above, deposit must be US$ 50,000.00. Retired ambassadors and foreign military personnel are also qualified to enroll in the program for a time deposit of $1,500.00 and $50,000.00, respectively. Former Filipino nationals who have lived overseas and wish to return home are welcome with open arms as well. The are documentation needed in the process including submission of application forms, passports, family records in lieu of birth and marriage certificates, medical and police clearances, photos, and certification of bank dollar account time deposit. Comprehensive application guidelines can be accessed through the PRA website at www.plra.gov.ph PRA has been mandated to attract foreign nationals and former Filipino citizens to retire in the Philippines since 1985. Attached to the Bureau of Investment (BOI), its thrust is to help accelerate socio- economic development by foreign currency reserve through attractive package — "best quality of life to foreign retirees." The agency offers various services to retirees including SRRVisa application and investment and other visa assistance. Its Resident Retiree Service Center (RRSC) helps applicants get SRRVisa with the least possible hassle and to help retirees address their needs upon their arrival. There are other services like free assistance in obtaining medical examination clearance with PRA's accredited clinic, National Bureau of Investigation (NBI) clearance (in lieu of the police clearance from the applicant's home country), extension of temporary visitor's visa, downgrading of other visas to temporary visitor's visa, and status follow-up of remitted dollar deposit. As far is investment is concerned, PRA can assists in pre-processing and evaluation of the application for the conversion of the dollar time deposit into an investment, annotation of the PRA restriction on the title representing the investment, and processing and approval of the investment application. Investment options are wide range— from the purchase of a condominium unit to subscription of shares of stocks in a non-traded Philippine corporation, purchase of shares of stock in existing corporations registered with the Securities and Exchange Commission and selected corporations traded in the Philippine Stock Exchange, long-term lease of a parcel of land or house and lot, construction of a residential unit on a leased parcel of land, and purchase of proprietary shares in golf clubs. The agency also provides assistance in securing a Philippine driver's license, applying for an Alien Employment Permit (AEP), obtaining a Tax Exemption Certificate (TEC) for tax-free importation of household goods and personal effects, extending the validity of the tax-free importation privilege, filing of the TEC with the Bureau of Customs, getting a permit for the importation of pet/s from the Bureau of Animal Industry (BAI), facilitating the enrollment of dependents in any school in the Philippines, and providing free legal advice and assistance on general matters related to the SRRVisa. With the government's full support to the PRA's foreign retiree program, retirees can be sure that when they arrive in the Philippines and decide to stay, they have come to find what they have been looking for — how to spend the rest of their life.Mr. Kim has already made the Philippines him home and he is going to stay without turning back. In fact, "I like Tagaytay better than Gangnam," he professes with a generous smile. He must have been unknowingly echoing what the famous suspense-thriller writer Agatha Christie said: "I have enjoyed greatly the second blooming ... suddenly you find — at the age of 50, say — that a whole new life has opened before you." Mr. Kim was younger than that and he exactly found a new life — richer and fuller — that has opened before him. It's probably an exaggeration, but for sure, he will agree.