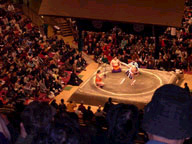 Tokyo, Feb. 5, 2004 — Originally said to have been performed as a test of strength between two mythical gods, Takeminakata and Takemikazuchi, in order to determine the outcome of an early Japanese leadership struggle (Takemikazuchi prevailing) the sport most often associated with the Japanese of old is coming to town this month for the latest 'koen' (tour) in modern form.Scheduled to take place on Feb. 14 and 15 (Saturday and Sunday), 2004 in Seoul and on Feb. 18 (Wednesday), 2004 in Busan is the "Grand Sumo Korea Tournament" in which 42 world sumo titans will clash. The Seoul venue will be Jangchung Gymnasium (02-795-3028) and in Busan it will be held at Sajik Gymnasium (051-504-8001) under the official title of "Ozumo South Korea Koen." The sumo of the early 21st century is much changed and to some extent unrecognizable in part from the early days of fights to the death inside square rings made of rice bales. Initially and primarily used to entertain both the gods and the upper classes of the then emerging Japanese nation, modern sumo is nowadays a sport enjoyed by all, old and young, rich and poor alike; regardless of girth.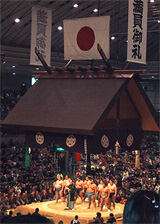 In recent years, the once exciting sight of the sibling duo of Wakanohana and Takanohana squaring off against one of their imported Hawaiian or Samoan fellow Grand Champions of Akebono or Musashimaru has faded into the, albeit recent, depths of nostalgia with the sport now boasting just One 'Yokozuna' or Grand Champion. Foreign born and in the substantial shape of the 23-year-old Mongolian Asashoryu, sumo has a man as often in the headlines in recent months for his seeming rebellion against sumo etiquette as his unrivalled prowess on the 'dohyo.' No Japanese wrestler having been promoted to the rank of Yokozuna since 1998 perhaps thereby a factor upon which many of the old school rest, unfairly perhaps, this often unending criticism of the 68th holder of the sport's supreme rank and his transgressions of said etiquette.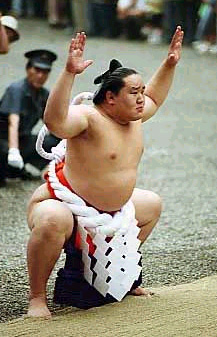 Asashoryu
Back on the 'dohyo' though, with Yokozuna Asashoryu pulling off a perfect 15-0 record in the January Hatsu Basho in Tokyo, a feat achieved once in the proverbial blue moon and only by the very best, wrestlers in what is now sumo's second highest rank of Ozeki, Tokyo native Tochiazuma, the aging duo of Kaio and Musoyama and the throat attacking thruster Chiyotaikai have all been in the spotlight in recent months in their respective yet repeatedly unsuccessful bids to capture the Holy Grail that is the rank of Yokozuna. In part due to their own shortcomings and in greater part due to continually facing the lightning speed and technically superior Mongolian all have thus far failed and none look ready to mount a serious challenge anytime soon. Happily therefore, with the focus in Korea being on entertainment and the promotion of sumo rather than the dour faced seriousness often seen at the tournaments held in Japan, the heat will be off for a few days at least.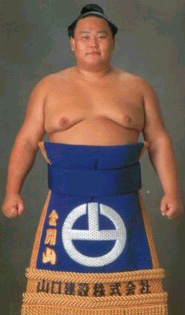 Kinkaiyama
Quite possibly led in spirit if not in rank by the 183.5 cm, 149.5 kg native of Seoul, Kasugao (currently a Juryo (2nd level) ranked wrestler) alongside the Japanese born 184 cm by 164 kg Korean Kinkaiyama (김개산: 金開山) who is ranked in the higher Makunouchi Division the events in both cities should provide fans and casual onlookers alike with more than enough memories to last a lifetime. Whilst both Kasugao and Kinkaiyama admittedly failed to overly impress in the year's first of 6 tournaments the prospect of going 'home' and doing things right in front of thousands of Korean fans will hopefully spur them on and as both men, Kinkaiyama particularly, are more than capable of an upset victory over a higher ranked wrestler the home crowd could well play their part in a sport so often thought played out just between the two competitors. Be there and cheer on your favorite be he Korean, Japanese or from any of the other 11 countries possibly represented in those lucky enough to be selected for the trip because in missing this opportunity you may have to wait years for another chance.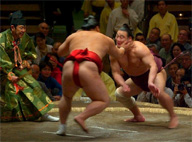 Sumo has been in Japan for over a thousand years to date and will undoubtedly be around for another thousand. Readers of this piece will not be. Therefore, with the increasingly international face of sumo as has appeared of late mixed with the raw talent of some emerging stars from both Japan and nations as widespread as Mongolia, Russia, Georgia and of course South Korea competing amidst the time honored traditions of a one time entertainment of the Japanese gods, there has arguably never been a better time to see this link to ages past.Things have come a long way since William Perry became the first reported foreigner ever to see the sport performed live and further still since Takemikazuchi could lay claim to Japan's 4,000 isles based on the outcome of his victory. Will history happen in Busan or Seoul?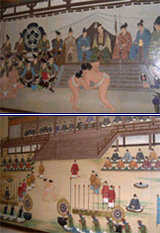 Not sumo history it is fair to say but personal and national histories could be affected — and none in a negative way. With nations so often critical of each other's claims to territory and views of years gone by however, sumo is in as good a position as ever to attempt to cement future ties rather than to sever them, which, at a time of so much confused tension on both sides of the water separating two proud and independent nations is an avenue of friendship more than worth the time it will take to investigate.Tickets can be obtained direct from the venues in Busan and Seoul and for those interested in finding out more about sumo in all its glory a wealth of information is available on
the Japanese Sumo Association's homepage
in English. For tickets or local information visit
Grand Sumo Korea Tournament
official website or call (02)-02-795-3028.