Yoga by the Pool: Yoga at The Farm in San Benito by the poolside
This is the third part of a series of articles featuring Philippines tourism in line with the current slogan: "More than the Usual Warmth: Feel the Philippines." About half a million Korean tourists visited the Philippines last year accounting for about 18 percent of the total inbound market share — making Koreans the second largest visitors flocking to this archipelago in the Pacific region.
The "well-being" sensation, which has been doing the rounds in Korea over the past few years, shows no sign of slowing down sooner or later. Sustained consumer interests in healthy food and organic-based cosmetics, as well as a dramatic surge in the number of sports clubs and spa resorts, are indications that the vogue towards a hedonistic lifestyle is here to stay. Well-being banners have run the show to a nerve-wracking proportion screaming out loud not only at dining outlets underpinning the essential health menu or in cosmetic shops which fanatically endorse natural beauty, but more interestingly, the buzzword has been being carried over to the travel trade business in which enervated travelers are lured to come to exotic "wellness destinations." The spa frenzy is sweeping across the globe. Baby boomers in America are up to making themselves look younger, while fanatics in Oceania are beckoned to bask in pampering. European spa-goers, likewise, sustain their bid for therapeutic indulgence, and more Asians are going back to their roots where old-time traditions pursue healthy living. The Philippine spa industry is no exemption when it comes to the pursuit of health and beauty. The truth is it has joined the bandwagon to claim its rightful place as a wellness paradise. Taking stock of its indigenous traditions and vast natural resources to heal and rejuvenate, going back to pre-historic times, this tropical archipelago has come to assert it has it all. As rich and colorful as its culture and history — a mosaic amalgamation of Spanish, American, and indigenous Asian influences, a spa experience in the islands could lend a blend of this interesting convergence. Many spa treatments in the Philippines offer brands such as Japanese shiatzu, Thai massage, Balinese bath, Turkish bath, Javenese lulur, or Xiamen foot reflexology. Recently, however, a growing number of spa resorts are now pushing to put in the limelight, a unique Filipino brand. The Philippine Spa Association, which was started in 2004, is at the forefront of efforts to solidify and promote this exciting endeavor. Ongoing developments so far have been quite amazing. The Sanctuario Spa, Salon & Organic Cafe, a day spa located in the heart of Malate in the bustling tourist and commercial district of Manila, is among the emerging spas which exemplify these indigenous Filipino packages. Housed in an ancestral home built in the 1940's with a World War II era architectural motif, the journey starts at its doorstep. Mr. Jomar Fleras, president and CEO of Sanctuario, along with assistants, greets guests before handing them the spa menu featuring various treatments.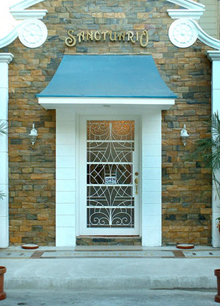 Doorstep of Sanctuario at day

Exploring this "Sanctuary of the Senses," the spa's slogan, the two-story ancestral house structure takes you past its ornate front garden which you pass before entering the spa's main door. Upstairs are treatment rooms while the downstairs is divided into hair and facial saloon, locker rooms, and an organic cafeteria leading to the back outdoor where pools lie under an open sky. Extended to the house are indoor showers and various tubs. On the other side is a Baruga where meditation classes are held. Before the adventure takes off, take a sip of tea at the outdoor cafeteria. Let the senses feast on the aroma of lemon grass tea filling the air. Then, look at the menu: Filipino Traditional Healing treatment offers Hilot Remedial Therapy, Bentosa Cupping, Albularyo Herb Wrap, Albularyo 7-Herbs Bath Treatment, and Dagdagay Tribal Foot Massage. Hilot is an indigenous massage style using virgin coconut oil to soothe muscle pains from head to foot and to enhance blood circulation. Hilot types are varied according to the different regions in rural Philippines. Albularyo, on the other hand, is a local term referring to a "faith-healer" who utilizes various tropical herbs to heal all kinds of diseases, and Dagdagay is a foot reflexology and massage practiced by tribal Filipinos. Office workers and business executives are common guests, as the stiff necks and back pains associated with office work will find remedy here. The rich, the famous, and the ordinary who want to get the latest trend in hairstyle have also come to indulge themselves at the beauty salon. Women in their pre-natal and post-natal period can make a visit as well to get a uterus-directed massage—the same practice used in the countryside when natural birth was the popular method of child birth. There are Island Flavors Body Scrubs like Tsokolate Ahh…, a 2-hour body scrub applying a concoction of choco soap wash, extra virgin coconut oil preparation, native dark chocolate scrub, carabao milk bath, and full body massage with cocoa butter. Kape Barako is another 2-hour treat combining coffee soap wash, organic Batangas barako coffee body scrub, carabao milk bath, and full body massage with cocoa butter. Pulot Gata, another 2-hour beauty regimen, takes you to a goat milk soap wash, coco meat scrub, Palawan honey lathering, coco milk bath, and a full body massage with virgin coconut oil. All concoctions are made up of pure Philippine herbs and fruits ranging from coconut to avocado, papaya, lemon grass, basil, mint, lime, cocoa, tangerine, mary rose, plum, and many more. Take a look at Pampering Packages which can take you to another level of adventure beyond the sphere of indigenous tradition. Try Pure Ecstasy, Siam Indulgence, Balinese Bliss, Nirvana, or Banahaw Mystique. The treatment goes for two to four hours from scalp to hair and facial treatments, body massage, foot reflexology aromatic baths, and other purification and rejuvenation processes. If you're on honeymoon, the private Tantrik Room is waiting. Lovers' Delight will take you to a floral bath in a teakwood tub, a choice of Royale Turkish massage of Javanese Lulur, and will be completed with a sensual aromatic massage and foot spa. Modesty is highly observed here. A customer is given a key and treatment robe and led to the locker room to change garments and to leave personal belongings. Getting rid of the stereotype of a typical "Asian spa," where a guest is stripped naked whether they like it or not, masseurs here are very professional and are sensitive about how to take care of your dignity to ensure utmost comfort. There are massage rooms that are dimly lit as well as an open air hut in which natural aromatic scents fill the air. Sanctuario is a recent addition to the modern day spa in Manila which started its operation about three years ago. Mr. Fleras, a beauty specialist to Filipino stars and celebrities himself, says his motivation to open the business began with the quest to instill the need for a healthy lifestyle in the young, old, and working class. "Many lives are spent away in unhealthy bars; so, why not take your peers to the spa instead?" he says. In Sanctuario, a holistic lifestyle is embraced. Mr. Fleras notes that in order to be healthy, one must also be committed to mental and spiritual awareness and renewal. The endeavor has been paying off. Not only locals have come to taste the state of Nirvana, but foreign guests who are passing through Malate have dropped by. Sanctuario basically caters to the needs of the busy populace in Manila. Those who are seeking an extended period of time of indulgence away from the capital may as well drive to some retreat destinations. A two-and-a-half hours drive from Manila along the South Superhighway leads you to "The Farm" in San Benito in Lipa, Batangas— tagged as the "Hippocrates Health Resort of Asia." Opened on Dec. 4, 2004 on a sprawling 49 hectare section of land and nestled on the foot of Mt. Malarayat, this resort has been garnering prestigious Asian awards including Best Holistic Healing Program, Best New Age Activity, and Best Retreat. Out of the total land area, about nine hectares has been developed and transformed into a health and retreat center set on a breath-taking landscape highlighted by its celebrated labyrinthine garden. It's founder, Mr. Eckard Rempe, an architect-turned-businessman, actually disputes the label "spa" as services and facilities offered at The Farm go beyond what a "spa" can do. He said the resort is more than a beauty salon, and if guests indeed want to be healthy, it takes time. This resort tries to teach people how to slow down. Mr. Rempe says, "good health is not something that is left to chance" underscoring that people need discipline and awareness of how the whole system of the body works in relation to its environment and lifestyle. The Farm has extensive facilities— Salus Per Aqua, accommodation suites, library, amphitheater, garden reception, the Hippocrates Health Institute of Asia, and the 85/15 Gourmet Cuisine restaurant. Most people who come here stay for a week or longer to submerge themselves in an holistic treatment for body, mind, and spirit. Accommodation is superb. There are suites to choose from among the Garden Villas, Palmera Suites, Anahaw Villas or Sulu Terrace Suites— all set on a garden and fully furnished with convenient facilities. Salus per Aqua Spa services include reflexology, Thai massage, deep relaxation massage, therapeutic massage, stone massage, lymphatic drainage, aromatherapy consultation and treatment, cupping, cosmic healing, facials, body scrubs and lulurs, and moxa ventoza. The Hippocarates Health Institute of Asia has integrated medical services like medical consultation and evaluation, therapeutic fitness evaluation and wellness program development, iridology, nutritional consultation, psychoemotional analysis, hydrocolon therapy, and scraping healing therapy. On spiritual development, the resort offers yoga, Tai Chi, Qi Gong, and Zen Meditation. At the Salus Per Aqua, once again, you will revisit the days when life was fresh. Take a seat at the reception lounge to fill the health questionnaire and state the treatment you want. Scribbling awat with the pen, you sense the serenity that envelops the place with only the floral scents and chirping of birds as your companions. Then, your sight will race to the open space facing Mt. Malarayat at a distance. There's a locker room where you change clothes and put on the treatment robe. You can then proceed to the treatment room. Your therapist will be there waiting for you. There are two beds in the treatment room. If your into body scrub and massage, your masseur can start the process with a Batangas chocolate and virgin coconut oil body scrub. Then take a shower before you are sent to soak your body in a tub filled with warm coconut milk diluted in water. You are soaked in the middle of a water lily pond which allows you to listen to the trickle of water flowing down among the rocks. After 30 minutes, you are called to go for the massage. From a line of aromatic oils—lavender, eucalyptus, rosemary, lemon grass, rose, and sandalwood—your therapist will let you smell each vial so that you can choose your scent. Close your eyes as your masseur whispers, "Empty your mind and relax..." The Hilot begins from top to bottom, and rest asssured you will rise up with a refreshing sensation! Well, as Mr. Rempe says, the resort is not all about pampering. It's only a thin slice of the whole healthy lifestyle. The 85/15 Gourmet Cuisine restaurant is the core of how to sustain a healthy lifestyle. All food prepared by chefs are fresh and raw—without cooking. It's the "The Key to Vibrant Living - Eating in Balance with Nature." Diners will find a range of favorite dishes on the menu rich in color, taste, aroma, and texture to fascinate the senses. Fruits, vegetables and herbs, grains, and nuts are soaked blended, dehydrated, and transformed into an amazing culinary offering. The number 85/15 represents the ratio of raw-to-cooked foods provided at every meal. The reason 85 percent of the food is raw, unadulterated state is because raw foods contain enzymes that cooked foods do not. Enzymes are crucial catalysts for every bodily function and are present in a perfect balance in all raw foods provided by nature. Enzymes are destroyed by heating foods above 42 degrees Celsius. The Farm uses specially designed dehydrators that give raw foods the appearance of being cooked without overheating and destroying the enzymes. The soup will be served warm rather than hot in order to preserve these valuable nutritional rejuvenators. Ms. Perla Perle, president of The Farm, says the management is coming up with a new name like V.E.G.A.N., an acronym for Vegetarian Amazingly Nutritious. She said more people need further education about why humans should eat more vegetables. Mr. Perle envisions what The Farm will be 10 years from now. He doesn't want the resort to be just a mere destination of the sick, the weary, or the hedonists. He wants this healthy lifestyle to be converted into a culture that people in the surrounding towns will embrace. He says there are 300 sq.m of land unused and he wants to invite investors to turn it into a golf course or even an expansion of the retreat center. Looking around at the restaurant, there are diners savoring their meals. There are some locals, Caucasians, and Asian tourists—including a herd of Koreans. The well-being fanatics from Seoul and elsewhere in the "Land of the Morning Calm" must have found their way to this exotic tropical wellness destination. Ms. Rempe is optimistic that a number of foreigners who want a retreat will come to find their way to The Farm. The target is not far-fetched. As well-being mania continues, the adventure to look for new and exotic packages goes on.