French Ambassador to Seoul Philipe Thiebaud (5th from right) with honorary committee members at the Franco-Korean Friendship Year opening ceremony in Seoul on Feb. 16, 2006
After 120 years of diplomatic relations, France and Korea are looking to further develop their "global partnership" in politics, economics, culture and sciences — agreed upon by president Roh Moo-Hyun and president Jacques Chirac during the Korean president's visit to Paris in December 2004 — by holding a commemorative series of special cultural, economic and scientific events in both countries. As part of the Franco-Korean Friendship Year the 60 events being held in Korea will run throughout this year and will showcase Korean and French literary, musical, academic, artistic and fashion talents through various exhibitions, concerts and festivals.Science and student fairs will also be held as part of an important emphasis on student exchange and a continuation of cooperative economic and scientific projects. A press conference held at the Korea Press Foundation building and hosted by the French Ambassador to Korea, Philipe Thiebaud on Feb. 16, 2006, began this exciting year of exchange, aimed at bolstering Franco-Korean ties.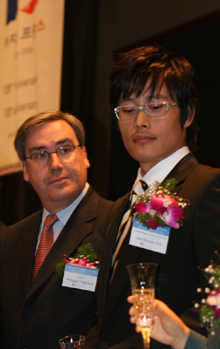 French Ambassador to Seoul Philipe Thiebaud (left) with Korean actor Lee Byung-Hun at Seoul press conference
Honorary members of Korea's 120th anniversary committee, including famous Korean actor Lee Byung-Hun (recently made goodwill ambassador to France) and President Philippe Li of FKCCI (French Chamber of Commerce and Industry in Korea), were also in attendance to introduce some of the highlights from these events. Highlights from the events will include an exhibition of 70 masterpieces from the largest museum in the world - the Louvre Museum, an unprecedented exhibition of 120 works from the Picasso Museum, shows by the world-renown Lyon National Opera and two nights of wild dancing to the rhythms of the finest in French electronica. French movie festivals, hip-hop and fashion shows will also be included in the sumptuous fare. First on the cultural events calendar is a performance by the Lyon National Opera of "Threesome Fugue" at the Goyang cultural complexes in Seoul and Daejeon on March 11, 2006, followed by the opening of the "People of Picasso" exhibition on May 20 at the Seoul Museum of Art. The exhibition will feature 120 masterpieces never before shown in Korea and is sure to impress fans of this outstanding artist's work. A French Science Week starting June 12 will give people the opportunity to attend seminars and conferences featuring significant French scientists and provide a useful forum for Korean and French scientists.
President Philippe Li of FKCCI (French Chamber of Commerce and Industry in Korea) poses with other members.
"The Pantheon of the French Cinema: 1895 – 2006" retrospective held on Sep. 9, 2006 is a must for all Korean movie buffs, as is the two night screening of the 1927 Abel Gance innovative classic "Napolean" on the same night.Two "French Electro Nights" being held in Hongdae and Gangnam at the end of the month, Sep. 29/30, are also a must. Regulars in Hongdae are sure to attend as the party falls on the same night as the ever-popular 'Club Day' in Hongdae. Next, any one remotely interested in art will be given a special treat in October as one of the most exciting exhibitions to come to Korea will open at the National Museum of Korea in Seoul on Oct. 23, 2006. Continuing until March next year the "Masterpieces of Musee du Louvre: 'Landscape in western paintings from the 17th – 19th centuries" will include exceptional works by such illustrious masters as Delacroix, Goya, Ingres, Gericault, Turner and Gerard.
French Ambassador to Seoul Philipe Thiebaud in Seoul
During the same month the National Opera of Korea will perform the hugely popular contemporary Korean work "The Wedding Day," but with a French twist.World-renowned artist Alfredo Arias will provide costumes and decorations as well as directing this ambitious project that runs for three nights at the National Opera of Korea from Oct. 13, 2006. As described by the French Ambassador Philippe Thiebaud, "the richness, the variety and the inventiveness of the coming events" will be well worth the effort.France and Korea began diplomatic relations on June 4, 1886 with the signing of the first Treaty of Friendship and Commerce.For more details about the scheduled events you can visit www.france.or.kr - all information is available in Korean, French and English.