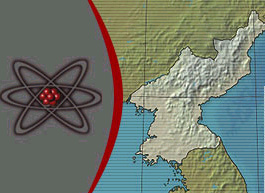 Courtesy CNN
President Bush's warm remarks welcoming Chinese Premier Wen Jiabao to the United States last Tuesday morning carried across the South Lawn of the White House with a light sense of irony. Not very long ago, during the last American presidential elections, George W. Bush had talked about China in terms of a strategic rival.Today, however, relations between China and the United States appear to be better than they have been in decades. Perhaps not since Richard Nixon first visited China in the early 1970s, when the two nations reestablished diplomatic ties, have Washington and Beijing demonstrated such an eagerness to work together.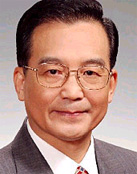 Wen Jiabao
Wen, who was paying his first official visit to the United States since taking office early this year, was welcomed at the White House by a 19-gun salute, making him only the forth foreign dignitary to have been received by George W. Bush with such stateliness. From Bush's remarks, there was little doubt that his administration is anxious to advance a "constructive strategic partnership" with China, which both nations have sought after for the longest time. Previous U.S. administrations complained that building a strategic partnership with China is difficult because, oftentimes in the past, there has been little or no common ground on which the two sides could come together in cooperation or just to air their differences. But times have changed. Wen and Bush had on their agenda last week a host of contentious issues, from bilateral trade, counter-terrorism and the question of Taiwan, to peace and stability on the Korean Peninsula.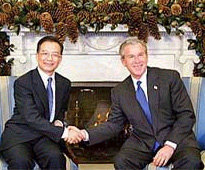 Wen Jiabao meets with G. Bush
North Korea's quest for nuclear weapons proved to be a sticky issue. During his visit to America, Wen told reporters that he does not know if North Korea in fact possesses nuclear weapons, but he reiterated China's stance against a nuclearized Korean Peninsula and for a peaceful reunification of North and South Korea. Wen emphasized his belief that progress is being made in the dialogue to ensure that the Peninsula remains nuclear free. He said that the U.S. and North Korea are now drawing closer than before, and he stressed China's conviction that the best way to reach a peaceful resolution is to continue with six-party talks in Beijing. While Beijing seems eager to play a constructive role in this process, working quietly behind the scenes to pressure North Korea to make concessions, along the way it clearly seeks a quid pro quo return from Washington. The U.S. needs China's help on several fronts. North Korea is one, but the growing U.S. trade deficit with China is another issue that has become a thorny political dilemma for the Bush administration. Washington would like to see China actively adopt short term measures to promote balanced trade and help quiet critics in the U.S. who assert that China's unfair trade and exchange rate policies are causing unprecedented job losses domestically, most prominently in the manufacturing sector.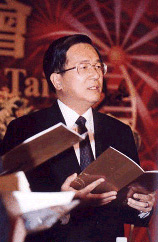 Chen Shui-bian
Beijing, for it's part, wants Washington to help dissuade Taiwan's President Chen Shui-bian from his plan to hold a controversial referendum on China's missile threat, as well as help to resolve on-going U.S.-China trade disputes. China has been making strong efforts to bring the U.S., North Korea and other relevant parties together again for a new round of negotiations in Beijing. Acting as intermediary, it has been playing the diplomatic field with Pyongyang, and also putting pressure on Washington to take what it calls a more "practical and flexible" attitude toward Pyongyang. Some analysts, however, are growing more uneasy over Beijing's approach to North Korea. "China, says retired U.S. Lt. Col. James Zumwalt, only continues to do what many other countries in the region have done for so long—offer Pyongyang rewards for it's irresponsible behavior." Zumwalt served as senior adviser to the assistant secretary of state on human rights and humanitarian affairs under former U.S. President George H. W. Bush. Since 1994, he has made 10 visits to North Korea in an effort to help bridge the differences between the U.S. and the DPRK (North Korea).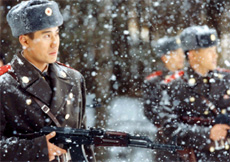 North Korean solders in a drill
"In the past few weeks, China has apparently stepped up its delivery to North Korea of shipments of oil and food to entice them into signing off on the most recent draft communiqu? regarding North Koreas nuclear program concessions, in an effort to get the U.S. to the bargaining table again," said Zumwalt.Zumwalt opposes further appeasement of Pyongyang and South Korea's Sunshine Policy of reconciliation and cooperation with North Korea, which was championed by former South Korean President Kim Dae Jung. Many observers share Zumwalt's belief that such an approach in effect rewards North Korea for acting irresponsibly, allowing it to attract enormous amounts of foreign aid in return for only promising to freeze its nuclear program.That North Korea is still playing a game of brinksmanship or "blackmail" with the United States is borne out by recent rhetoric from Pyongyang. In response to Washington's rejection of Pyongyang's proposed "package" solution, which would grant North Korea energy aid in return for halting its nuclear program, the official KCNA news agency, considered to be the official mouth-piece of Kim Jong-il's regime, said that the United States' "delaying tactics would only result in compelling the DPRK (North Korea) to steadily increase its nuclear deterrent force."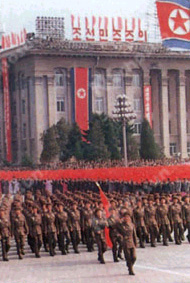 North Korean solders march.
The question now looming on many minds in Washington is: How sincere or able is Beijing to weigh in behind the scenes with Pyongyang? Beijing is beginning to appear more concerned with achieving a quick settlement, something that will undoubtedly prove ineffectual in the long-run, in order to extract a quid pro quo from Washington on the issue of Taiwan.China has long feared an implosion of the North Korean regime, which would bring a flood of refugees to its doorstep and raise the specter of a united Korea aligned with the United States. At the same time, China does not want to see a nuclear-armed North Korea, which would prompt other countries in the region, such as Japan, to embark on their own nuclear arms programs. And it clearly seeks to avoid armed conflict with the United States over North Korea. While China is North Korea's last major patron, a source of critical energy and food aid, Beijing has had no great love affair with Pyongyang, and it is no secret that many North Koreans view Beijing with contempt.Partnering with China to form a united diplomatic and economic front against North Korea is turning out to be more difficult than the Bush administration had imagined only a year ago. Washington has been forced to make some very painful concessions to Beijing. In return, Beijing seems willing or able only to press for further appeasement of Pyongyang. If the road to appeasement continues to be traveled, so the argument goes, any assistance given to North Korea by China or the United States under a "package" deal will more likely than not serve only to prop up Kim Jong-il's brutal, totalitarian regime. After witnessing the sorry fate of Saddam Hussein, a broken man "caught like a rat" hiding in a muddy hole, Kim Jong-il is probably less likely now than ever before to relinquish his fledgling nuclear program which, in the face of continued economic disaster at home, affords him his last remaining hold on power.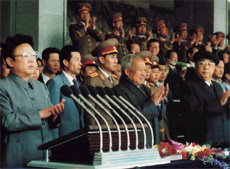 Kim Jong Il (left) addresses people in a gathering while Norodom Shihanouk (center) and Kim Il Sung (right) looks on.
If the United States and China continue to appease Pyongyang in its game of nuclear blackmail, they will surely become implicit in perpetuating what many observers can only describe as "evil"—the stark oppression, widespread famine and vast misery of millions of common people living in North Korean.But this is not a conflict born of ideology. The plight of North Koreans is an affront to both the ideals of communism and democracy alike. Instead, it has become a straightforward matter of regional and international security disturbed by the reckless actions of a leader bent on maintaining control, whatever the price to others. Beijing and Washington's desire to grant concession after concession, to appease Pyongyang, may be deemed the lesser of two evils. It may be impelled by the noblest intentions to seek a peaceful resolution to a crisis that could result in a catastrophe from which no one could possibly benefit—not North Korea, South Korea, the United States or China. But if there is any truth to the old adage that we "sometimes must choose between the lesser of two evils," then another axiom holds equally valid: "the road to hell is paved with good intentions."