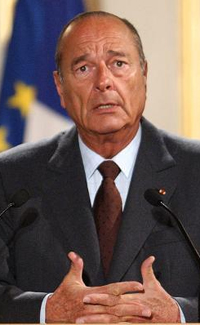 French President Jacques Chirac
President Jacques Chirac said that France was prepared to launch a nuclear strike against any country that sponsors a terrorist attack against French interests. At the same time, he condemned "the temptations by certain countries to obtain nuclear capabilities in contravention of treaties." Their content and timing could hardly have been worse. Chirac's comments came amidst a flurry of diplomatic efforts by France, Britain, Germany and the United States to stop Iran from pursuing contested elements of its nuclear programme. The new tack is new in that it allows France, similar to the United States, a much more flexible reaction that previously concentrated on attacks rather than the threat of mass destruction. It also indicates France's willingness to resort to nuclear weapons to protect allies. What made Chirac's words all the more dangerous is the fact that he included "strategic supplies such as oil reserves" and the "defence of allies" to fall under France's vital interests. France is one of the world's five "officially" recognised nuclear powers and permanent members of the UN Security Council. In this vein, it is in the forefront of a potentially dangerous confrontation with Iran over its alleged ambitions to acquire atomic weapons. Tehran's response is that it is entitled, under the provisions of the non-proliferation treaty, to acquire nuclear technology for peaceful purposes, which it insists is all it seeks. France is obliged under the provisions of the Non-Proliferation Treaty (NPT) to make progress towards disarmament. While Chirac is purposefully remaining vague about the countries he has in mind, the fact that his comments come at a time when Iran's atomic ambitions are at the top of the agenda is no coincidence.
Crisis situation
In a crisis situation with Iran, such a thought is hardly convincing. Who would be in favour of immolating an entire country merely because its leadership is building an atomic bomb behind the backs of the world community? Even if that was the case, Iran still has a long way to go to be able to assemble an atomic device. Chirac's speech was also directed at his European partners. The French president has had some difficult times recently. First, there was the embarrassing debacle that ensued when the French referendum on the European constitution failed. Second, Angela Merkel's election as Germany's new chancellor didn't exactly come at a great time for Chirac. People close to Merkel say she enjoys good relations with Chirac's archrival and would-be successor French Interior Minister Nicolas Sarkozy who is part of a small camp in the French right wing who remain unconvinced of the utility of maintaining France's nuclear arsenal. The message to Tehran, however, is not the only implication of Chirac's speech. The French president is likewise eager to find a new position for France's status as a nuclear power on the international stage. After all, experts believe that France with nuclear weapons will not be able to continue playing much of a role. It will either be forced to become an integral part of a European defence alliance or deepen its ties with the US. France's ability to intimidate is quickly approaching its end. According to Louis Gautier, the strategy expert for the opposition socialists: "our country can no longer play the role of the mini-superpower like it did during the Cold War. France can no longer isolate itself strategically with Europe." This was the first time Chirac, nicknamed "the Bulldozer" by President François Mitterand, had so clearly linked the threat of a nuclear response to a terrorist attack. He stood short of saying whether France would be prepared to use pre-emptive strikes against a country it saw as a potential threat, a posture adopted by the Bush administration after the folly of September 11. It seems ironic in the light of deep differences between the two countries about how to combat terrorism. Chirac's comments generated worldwide comments varying in tone according to country. In Berlin, Chirac's threats prompted widespread criticism in diplomatic circles. The Christian Democrats (CDU) distanced themselves from Chirac's statements. CDU foreign policy experts said that Chirac's statements were not helpful due to the current international community's efforts to prevent countries such as Iran from developing nuclear weapons. The Social Democrats' foreign policy experts said that Chirac had acted rashly. The same experts said: "This is a unilateral declaration on the part of the French President and it is something he ought to have discussed with his European partners."Free Democratic party chief Guido Westerwelle called on Chancellor Angela Merkel to "encourage restraint" from Chirac. Germany's Green Party called on the German government to demand Chirac to retract his threat describing his statements as both "risky" and "irresponsible." No official word was heard from the Bush administration but a spokesman for the Washington based Federation of American Scientists said "That's exactly the kind of message we should not be sending to the Iranians."Disarmament organisations worldwide called Chirac's threats to use nuclear weapons against states that sponsor terrorism "irresponsible." Iran, the country most probably Chirac had in mind when he made his threats, described his remarks as shameful and "unacceptable." "It is shameful for the people of France that their president brandishes atomic weapons on the pretext of fighting terrorism," said the speaker of Iran's right wing parliament. According to the British daily The Guardian on January 21 "? How can countries such as Iran and North Korea be persuaded not to seek the bomb if the "official" nuclear powers flaunt their double standards and issue threats?"
Professor As'ad Abdul Rahman is the Chairman of the Palestinian Encyclopaedia.