Magpies are considered auspicious birds in Korea. Their morning calls are a sign of good news or welcome visitors.
A group of South Korea's police and firemen had to rush to the garden of the residence of a foreign embassy in Seoul for a dead magpie on a peaceful Saturday afternoon.Newly arrived Moroccan Ambassador Ahmed Bourzaim and his wife spotted a dead magpie in their garden in Dongbinggo-dong at around 4 p.m. March 4, 2006.The ambassadorial couple thought it may have been a case of avian influenza (AI), fear of which is sweeping the world. They reported the case to the Yongsan Police Station nearby.Soon policemen and a life-saving team of ABC (atomic, biological, and chemical) weapons specialists in complete protective gear arrived.They collected the dead and dried corpse of a magpie in a plastic container, and sterilized the entire ambassadorial residence as well as the surrounding area.The police also sent the magpie corpse to the National Veterinary Research and Quarantine Service (NVRQS) for thorough AI infection tests.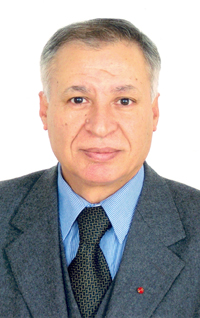 Moroccan Ambassador to Seoul Ahmed Bourzaim
The ambassadorial couple breathed a sigh of relief only after hearing a negative result from the government agency."Preliminary autopsy results revealed no specific AI symptoms," a NVRQS researcher was quoted as saying. "The foreigners may have overreacted to the death of a mere magpie."The autopsy result will be revealed sometime in the middle of this week, said the researcher.Moroccan Ambassador Ahmed Bourzaim took up his post in Seoul on Jan. 10, 2006.Prior to his Seoul mission Amb. Bourzaim served as director general of the African Affairs at Moroccan Ministry of Foreign Affairs and Cooperation from 2001 to 2005.
He has also served in such places as Ukraine, Kazakhstan, Uzbekistan, India, Washington DC, and the Netherlands.From 1990 to 1996 Bourzaim was ambassador to India. He was born in April 2, 1946. He is married and has three children.