Russian Ambassador to Seoul Gleb. A. Ivashentosov (center) talks with members of Korea Editors' Association and other local journalists at a breakfast meeting held Seoul on March 7, 2006.
"The United States should come up with the specific evidence before it says or does anything for North Korea's alleged counterfeiting US dollars," argued Russian Ambassador to Seoul Gleb. A. Ivashentosov in a meeting with senior local journalists.In a dialogue with members of the Korea Editors' Association (KEA) and other local journalists on March 7, 2006, the top Russian envoy said that Russian Federation has no proof or evidence about North Korea's counterfeiting US greenbacks alleged by the US government.He made the remarks while he was answering questions from KEA members at the breakfast meeting held at 7:30 on the day at the National Press Club on the 20th floor of the Korea Press Foundation building downtown Seoul."Those who suspect North Korea should give out evidence for the counterfeiting," Ivashentsov said. "Russian authorities did not secure any evidence or proof and have no information regarding North Korea's counterfeiting."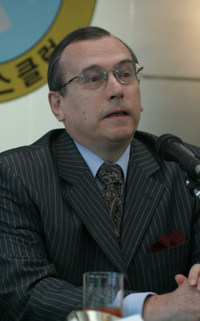 Russian Ambassador to Seoul Gleb. A. Ivashentosov
He said he heard about the North Korea's counterfeiting 100-dollar bills or so called "supernotes" only through hearsay.Asked about the allegation that North Korea's fake US dollars were circulated in Moscow, he said it was only hearsay.He added that rumors like this should not affect the six-party talks on North Korean nuclear issue.The top Russian envoy also said the Russian government does not intend to force North Korea for its alleged human rights violations or abuses."Talking about North Korea's human rights is like meddling in its internal affairs," he said while he was answering a question raised by one of the local journalists.Asked if Russian government would support South Korean Foreign Minister Ban Ki-Moon's bid for UN secretary general, Ivashentosov only said that Moscow supports Asian candidate for the top US job.He emphasized that South Korea needs to get understanding and support from other Asian nations first if Seoul wants to have Ban elected. He stressed the need for an Asian candidate agreed upon by other Asian countries.Regarding China's role in the six-party talks on North Korean nuclear issue, he said that Moscow government recognizes Beijing's active role in the talks and its leverage over North Korea.Before his dialogue with local journalists the Russian ambassador delivered a speech on improving bilateral relations between South Korea and Russia.The breakfast meeting was organized KEA President Moon Chang-Keuk, and attended by scores of KEA members and local journalists.
The above photos were taken by James Jeon, staff reporter of The Seoul Times.