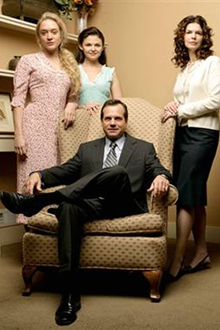 The spouses of HBO's "Big Love"
Imagine "Desperate Housewives" if Bree, Lynette and Gabrielle were all married to Tom. The resulting super-family might be something like the one headed by Bill Henrickson (Bill Paxton) in the new HBO dramedy "Big Love," making its debut Sunday after "The Sopranos."For Bill, a mild-mannered Everyman who lives in Utah (more about that later) and owns a home improvement store, wife No. 1 is Barb (Jeanne Tripplehorn). The others call her "boss lady." Wife No. 2 is Nicki (Chloe Sevigny), who abuses the family budget with her home-shopping habit. No. 3, the youngest, is Margene (Ginnifer Goodwin), who's confident about little except her sexuality.Among them they have seven children and live side by side in new houses in a cul-de-sac in a suburb of Salt Lake City. The three wives and their respective kids share Bill's time on a strict schedule that includes regular family dinners for the whole bunch. When everyone joins hands as Bill prays for his "loving family sealed together through time and all eternity," it's possible to think this polygamy thing might really work.Well, Wisteria Lane looks pleasant, too. Actually, we soon learn, the Henrickson family is dysfunctional times three. For one thing, there's the rivalry among the wives. "Officially, I miss you guys all the same," Bill says when urged by one wife to say he's particularly lonely when he's away from her. And that's not the only pressure on Bill. He also feels compelled to perform sexually (and equally) with each, and by the end of the first episode he's looking into on-line Viagra even though he probably just needs a rest."Big Love" soon proves it's not merely a charming if relatively slight domestic comedy-drama, however. It's also something of a junior "Sopranos," introducing a mysterious, rural "family compound" that smacks of cultism, complete with a creepy "prophet" (Harry Dean Stanton as Roman), blank-faced followers and child brides.Roman is also Bill's father-in-law, Nicki's father, and lent Bill money to open the home store. When the time comes for a new contract, he plays as tough as Tony Soprano. Meanwhile, someone has poisoned Bill's daddy (Bruce Dern), and the main suspect is cranky, crazy Ma (Grace Zabriskie of "Twin Peaks").Executive produced by Tom Hanks and his Playtone partner Gary Goetzman, "Big Love" gets the HBO slot originally intended for the return of "Deadwood," which has been bumped to June. In the early going, "Love" feels like a good fit with the mob drama, and although some "Sopranos" purists are sure to find it silly, the new show is accessible enough to draw viewers "The Sopranos" doesn't.One final note: Although "Big Love" is set in Utah and some characters are Mormons, HBO wants to be particularly clear that Henrickson, his families and Roman's followers at the compound are polygamists but not Mormons."Approximately 20,000 to 40,000 or more people currently practice polygamy in the United States," HBO says in an introduction to the series, citing a 2005 report from the attorneys general of Utah and Arizona. "The Mormon Church officially banned the practice of polygamy in 1890."
The above article is from St. Louis Post-Dispatch.
Mormonism — Polygamy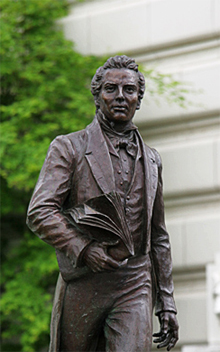 Joseph Smith, founder of Mormonism
Polygamy and the Latter-day Saints
The Church of Jesus Christ of Latter-day Saints renounced polygamy over a century ago and excommunicates anyone who practices it.The reason many people associate Mormonism with polygamy is that the Church did support plural marriage until 1890.Joseph Smith introduced plural marriage early in the history of the Church as the result of a revelation from God. He first wrote about it in 1843, although the revelation had occurred much earlier.Although many justifications were offered for the practice of plural marriage, there was really only one reason for it: God had told the Mormons to do it.It took great courage to introduce this practice, as Smith was aware that it would expose the Church to ferocious attack, as well as putting himself in personal danger.The early Mormons were often unwilling to enter a plural marriage, and many only did so after much prayer and anguish.
1852
The revelation of plural marriage was proclaimed by Brigham Young in 1852, and the practice became more common after that. It was held that a person could only attain the highest level of the celestial kingdom after death if they had been a partner in a plural marriage.Despite this, the popular idea that Victorian Mormon husbands had many wives is untrue. Men rarely had more than three wives. And in fact no more than 5 percent of Mormon adults were ever part of polygamous families.
Persecution
The outside world was unanimously hostile to plural marriage, and new plural marriages were banned by the Church following a revelation to President Wilford Woodruff in 1890.Those who were already in plural marriages were not forced to end them.Plural marriage is currently illegal under Utah's constitution.
The present day
There are said to be over 30,000 people practising polygamy in Utah, Idaho, Montana and Arizona, who either regard themselves as preserving the original Mormon beliefs and customs, or have merely adopted polygamy as a desired way of life and not as part of the teachings of any church.The Utah government has taken recent action against polygamy by raising the age of consent and hiring an investigator to probe "secret societies."But polygamists are now lobbying for their right to practice plural marriage as part of their First Amendment rights.And the Coalition for Religious Freedom and Tolerance went to the state Capitol in January 2002 to demand a constitutional amendment that would legalise polygamy.The most public anti-polygamy action in recent years was the case of Tom Green who was sentenced to five years in prison for bigamy in Utah in August 2001, despite arguing that he was permitted several wives because of his beliefs. (Read the BBC report of the case here.) Mr Green had been excommunicated from the Church of Jesus Christ of Latter-day Saints in 1980.The Church itself has no connection with these people.Polygamy was much in the media spotlight during the Winter Olympics at Salt Lake City in 2002.A new Utah beer was named Polygamy Porter and features a man with several women on the label. The advertising slogan urges buyers to bring some home "for the wives."