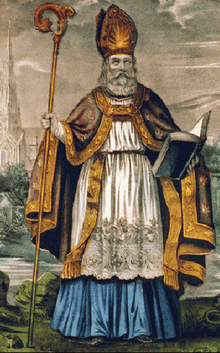 St. Patrick's Day, now celebrated in even the most remote parts of the globe, is a day when everyone can become a little bit Irish. Synonymous with colorful parades and never ending rivers of green beer in the present day, the festival marks the national day of the man purported to have introduced Christianity to Ireland. While this may not be entirely accurate in that other Christians had tried to convert the Irish — St. Patrick did make the biggest impression. He succeeded in converting Ireland's chieftains, their families and thousands of their subjects. Many myths have developed as stories about St Patrick have been passed by word of mouth over hundreds of years. Legend tells us St. Patrick used the three-leafed shamrock to explain the concept of the Trinity to his onlookers. Sort of like an ancient version of powerpoint. It is said that while he was preaching he plucked a shamrock from the grass in order to illustrate the true existence of the Trinity in everyday life. While this story is probably a 17th Century invention, there is no doubt that the Shamrock, Ireland and the color green have now become intrinsically linked. He is also credited with expelling all the snakes from Ireland. Again this is probably not the case.Although there are no snakes in Ireland more probably it was the during the ice age when the country was separated from the rest of Europe, that they fell upon their demise. The man in question, St. Patrick, the patron saint of Ireland, was born in Wales about AD 385. His given name was Maewyn, and he was appointed bishop of Ireland despite some concerns about his scholarly attributes. Born the son of wealthy parents, at age 16 he was captured and sold into slavery by a group of Irish pirates during a raid on his family's estate. During his captivity he endured many hardships and loneliness and this led him to become closer to God and abandon his pagan roots. Escaping from slavery after six years he made his way to Gaul where he studied in the loacal monastery under St. Germain, bishop of Auxerre for a period of twelve years. It was at this time that he became aware that his calling was to convert the pagans of Ireland to Christianity. In his efforts to convert the native people, St.Patrick tried to blend their traditional beliefs with the message of God he was trying to impart. For example he incorporated the sun, a powerful pagan symbol, with the Christian cross. The result was what is now known as a celtic cross . The Celtic Druids, the original pagan priests of the island were quite perturbed by the success Patrick achieved in his mission and he was arrested several times. On his travels throughout the Emerald Isle he established many monasteries and set up schools and churches which would help him in his conversion of the Irish populace to Christianity. He died on March 17 in AD 461 in County Down, where he is reported to be have been buried. That day has been commemorated as St. Patrick's Day ever since. The huge Irish Diaspora helped spread the popularity of the celebration to cities across the world. Some of the biggest parties are held in major US cities such as Chicago and Boston which boast massive Irish American populations.Dying the Chicago river green for the day is now a time honored tradition as are the multitude of pints of green Guinness consumed by revellers globally.
St. Patricks Day in Korea
Seoul along with other Korean cities has marked the festival for the past several years with both a reception party in O'Kims (Westin Chosun Hotel) and a street parade. This years festival includes a stage production of the play 'Waiting for Godot" by Irish author Samuel Beckett which runs from March 17th - April 8th at The Space Theatre, Anguk Station Line 3, Exit 3.Call 02) 794-4624 for reservations. The St. Patricks day parade is scheduled for Sunday, March 19th at 2:30 p.m. commencing at Daehagno (Hyewha Station, #4 Light Blue Line, Exit #2).