A tourist resort in Tunisia
The Tunisian of today, city dweller, rural farmer, inhabitant of the desert or the mountains is proud of his "Tunisian identity," a composite of various civilization influences. Aware of their rich historical heritage, Tunisian people show a genuine interest and definite respect for others as evidenced in their moderation, tolerance and hospitality. Tunisia's beaches and historical sites attract an ever-growing number of tourists to the country each year. Efforts to increase tourist amenities, particularly in the coastal cities, have been successful in attracting large groups of tourists from Europe and elsewhere in the world including Korea.On the occasion of the National Day of Tunisia, which falls on March 20, Ambassador Moncef Baati of the Tunisian Embassy in Seoul makes the following contribution to The Seoul Times. -Ed. Tunisia witnesses political, economic and social achievements during recent years I would like first to extend my thanks to The Seoul Times for giving me this opportunity to address its distinguished readers on the occasion of the National Day of Tunisia, and present my country's political, economic and social achievements during the last few years.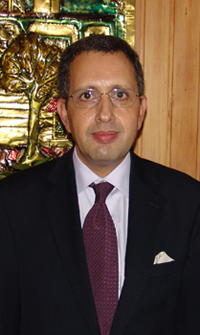 Ambassador Moncef Baati of the Tunisian Embassy in Seoul
Tunisia's strategic location has ensured it a rich history. The Phoenicians, Romans, Vandals, Byzantines, Arabs, Ottomans and French have all succeeded in Tunisia. After 75 years of French colonization and thanks to the struggle of the Tunisian people, Tunisia was formally granted independence in March 20, 1956 and the following year, the country was declared a Republic. Since that time, Tunisia has made major strides on the path of sustainable development, and recorded numerous achievements in the political, economic, social and cultural fields.Tunisian society has witnessed a remarkable evolution in living standards and well-being. This evolution is particularly reflected in the increase of the per capita income and the reduction of the poverty rate to less than 4 percent. We are indeed proud of what has been achieved in the field of human development. In fact, Tunisia ranks among the first ten countries that have managed to improve overall development indicators during the last decade, thanks to the evolution of economic indicators as well as those related to education, training, social security and healthcare.Based on its commitment to ensuring the correlation between the economic and social dimensions, we have managed to guarantee pay increases for several consecutive years, and to widen social security cover to 87 percent of the population in 2004. It reached 89 percent in 2005. Besides, social transfers reached 19.5 percent of the GDP in 2005, and the State budget allocates 54 percent of the total funds for social sectors and fields. The human resources are indeed the wealth of Tunisia, they are the most important asset, and effective tool to achieve progress and well-being. Tunisia is firmly determined to provide them with all due care, to promote their potentialities. This contribute to preserving the gains of the present and provide the requirements to ensure the future.Perhaps one of the most telling indicators regarding Tunisia's development process is the fact that the middle class currently accounts for nearly 80 percent of the population. This is indeed an achievement that Tunisian government will consolidate, relying in this regard on its firm choices and orientations in the field of economic and social development. These choices are based on a fair distribution of wealth among all regions and social categories, and on a contract-based policy ensuring our social stability and reinforcing the foundations of a harmonious and solidarity-based society.If there is a Tunisian model in this regard, it is, in fact, a model based on the correlation and complementarity between the economic and social dimensions of development, and on the sound use of resources and their orientation toward Man's promotion.Tunisia is a place which offers propitious conditions for the building of a knowledge-based economy, and wider opportunities for school and university students. The government has always placed great value on education. More than 20 percent of the Government's budget is annually allocated for education, a figure that is among the highest in the world. Nowadays, almost 100 percent of Tunisian children between the age of sixth and sixteenth enjoy free and compulsory education. The successful model of the Tunisian society consists also in the equal status and effective partnership between man and women. Indeed, Tunisian women, who will celebrate in August of this year the 50th anniversary of the promulgation of the Personal Statute Code, enjoy since Independence their full rights and assume a major role in the development process and in all walks of life. In Tunisia, the schooling rate of six-year-old girls has exceeded 99 percent . Young women constitute 57 percent of university students. And the number of women owning business enterprises has increased to 15,000. Women compose a quarter of the working population and there is a greater presence of women in all occupations. For instance, Tunisian ladies account for 72 percent of pharmacists, 42 percent of medical doctors, 27 percent of judges, 31 percent of lawyers, 13.3 percent of the members of the High Magistracy Council, 40 percent of university professors and 34.4 percent of journalists. As regards political and public life, women's presence has been enlarged: women represent 14 percent of government members and 22.7 percent of members of the Chamber of Deputies. According to a recent study from the United Nations Fund for Population Activities, Tunisia ranks 36th out of 183 nations in terms of women representation in parliamentary life. They also represent 20.6 percent of members of municipal councils since 2000. In HE electoral program, President Ben Ali indicated that he "will work during the coming stage to consecrate women's aspirations, by offering them 30 percent of decision-making and responsibility positions by the end of 2009. In that way, we reinforce their partnership with men in all political, economic, social and cultural fields, and enlarge the scope of this partnership, after we have consecrated their rights and reinforced their presence in constitutional institutions and in other bodies." On the other hand, Tunisia's economy has acquired further strength and invulnerability, and a greater capacity for openness on its international environment. The annual growth rate has, over the last decade, exceeded 5 percent, the fact which has reinforced Tunisia's potential to export which account today 43 percent of the GDP. Tunisia's main exports are manufactured goods eclectic and electronic components, textile and agro-food products, including its internationally renowned olive oil and tasty dates. Tourism, with an average of six millions visitors per year, constitutes also a core driving force for the nation's economic growth. Furthermore, Tunisia became a favorite destination for foreign investors. Ranked first in Africa in the field of competitiveness according to recent report issued by Davos Economic Forum, In addition to its proximity to major markets including Europe, the Middle east and Africa, Tunisia concluded several free trade agreements with neighboring countries, including the E.U which constitutes Tunisia's main trade and economic partner (with more than 70 percent of exchanges). Tunisia has also developed its facilities and legislation, mainly its investment act which offers a wide range of incentives.