South Korean ace Park Chan-Ho
SAN DIEGO — The intense rivalry between Korea and Japan is something that begins early in life. The two Asian countries are considered to have the top two baseball programs year in and year out in that part of the world, and usually it is Japan first and Korea second. But the inaugural World Baseball Classic has been some kind of coming-out party for a Korean team that has reeled off six consecutive wins in the tournament and defeated their archrivals twice along the way. Team Korea hopes to make it three-for-three Saturday when the second of two semifinal games are played at PETCO Park. The Dominican Republic and Cuba clash Saturday afternoon in the first semifinal and the winners play Monday night for the championship. Either way, it will be Asia against the Caribbean for the title. As Korea's Jong Beom Lee pointed out during a press conference Friday morning, the urge to beat Japan in anything anywhere is part of growing up. "We have this rival feeling," he said, "and we have a very deep feeling of that. Since I was little, we always had this, and whenever Korea and Japan were [playing] a game, nobody wanted to lose. There was a very strong will to beat the other team and up to now, Japan has been known as the top team is Asia." Right-handed pitcher Jae Wong Seo, the starter in Saturday's game, agrees with his World Baseball Classic teammate.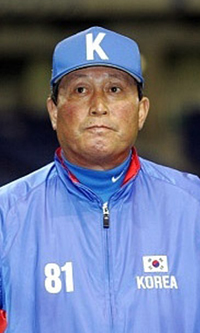 South Korean Manager Kim In-Sik
"Korea and Japan are known to be the top two teams in Asia, and that's why we have very strong rivalry for a long time," Seo said. "It also goes back to our history and tradition.It stems from our parents' generation and us, and also I'm sure that our next generation probably will feel the same. "So whenever we have a game against Japan, we have the strong will to beat Team Japan." Another way of putting it: Korea has a passion for beating Japan and it's obvious. "I've played against the Korean team since the Olympic Games in Atlanta, and since then I've felt very strong about the determination by the Korean team that they don't want to lose to Japan," Team Japan designated hitter Nobuhiko Matsunaka said. "I'm feeling that, as well, in this tournament, against a great team. Once again, I'd like to do my best and defeat [Korea] in this round." Of course, Korea is just as determined to defeat Japan for a third time, which would really be the charm, and advance to Monday night's championship game. "We work harder to beat Japan, and I think because of that — because of our strong will, the zeal to beat the Japan team — maybe there is some hidden power that comes out when we fight against the Japan team," Jong Beom said. There is nothing hidden about the way Korea has played against Japan, or any other team in the Classic, for that matter. The pitchers throw quality strikes, the team defense is as strong as steel, and what the team lacks in power — which mostly comes from first baseman Seung Yeop Lee — it makes up in slapping the ball around to all fields. It is baseball the way the game was meant to be played. Korea is proof that basic fundamentals still count, although there were no guarantees when this three-week event started on March 3 in Tokyo. "We did not expect to be where we are today," manager In Sik Kim acknowledged Friday. "Our goal was to be one of the two qualifiers from our pool. I think it's due to our excellent players, and they played an excellent game each game." The ever-respectful Kim has made it a point throughout the tournament to heap praise on Team Japan, never pontificating wildly on how good it must feel to win both games against their Asian rivals. "Just because we [beat] Japan two times doesn't mean that Korean baseball is much superior than that of Japan," Kim said. "I still think that the Japanese baseball is stronger than Korean baseball." So who has the advantage going into Saturday's game? "That I cannot answer," Kim said. "Japan almost didn't make it to the semifinals, but because of the game last night [Mexico beating Team USA], Japan was able to make it. Maybe they have additional power and energy they did not have before."
Jim Street is a national reporter for MLB.com.