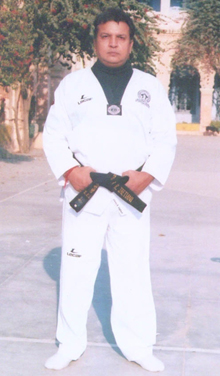 Jimmy R. Jagtiani
Taekwondo is one of the most systematic and scientific Korean traditional martial arts, that teaches more than physical fighting skills. It is a discipline that
shows ways of enhancing our spirit and life through
training our body and mind. Today, it has become a
global sport that has gained an international
reputation, and stands among the official games in the Olympics.Taekwondo is composition of three words of Korean
languages:"TAE" means leg action such as, kick or smash by the foot. (A system of foot techniques)."KWON" means to block strike or smash with fists, (A system of hand techniques)."DO" means an art. (A system of foot, fist and fighting techniques).Thus Taekwondo is the art of striking with kick and
supported by hand techniques and a way of life. It is
the philosophy of body and mind which covert limbs
into weapon against armed or unarmed attacks. It
serves the purpose of Self-defense, Physical Fitness,
Martial Art, Discipline & Sport.Taekwondo transforms a commoner into a rugged fighting machine, its turn most parts of the body into weapon. The fist turn to hammer, the fingertips turn to sharp spearhead, the edge of the palm to the knife blade and the foot can produce effect of steel contact, Taekwondo generates self confidence and martial spirit in a person and develops capacity to handle
advance situation single handed without calling for
help.The Art of Taekwondo was known in the past as
"TAEKKYON," "SUBAK," "KONGSOODO" and later
"TAESOODO" etc, comprising of electrifying Leg & Hand techniques sufficient to immobilize any attacker
evolved by Great Grand Masters of the Korean
Peninsula. The final name "Tae" "Kwon" "Do" was
adopted in the consensus of the Grand Masters of
Modern times, when Korea was free from more than
hundreds years old Japanese occupation in 1945.It will not be out of place to mentioned here that the
Grand Masters of Modern Times and Present Times had named Taekwondo in such a wonderful way, that each and every words of "T" "A" "E" "K" "W" "O" "N" "D" "O" has got its own meaning. The general interpretation of these three concepts can be respectively simplified as under:Concept No. One of T-a-e-k-w-o-n-d-o.
Is focused on practical part, connected with
the necessity of Self Defense, Fight for the
ultimate safety, target and aiming to attain the
stage of beauty in the Art.
T : TECHNIQUES.
All those things which a person needs to know
andpractice in order to make his work perfect in form.A : APPLIED
To put to practical use, to give one's full
attention on actions.E : EFFECTIVE.
Powerful enough to produce the desire effect with
satisfactory result.K : KICK
To strike with the foot, mechanicallyW : WONDERFUL.
Something extraordinary, marvelous.O : OBLIGE.
To force or compel.N : NOTICEABLE.
To attract attention of being noticed.D : DEFENSIVE.
Serving to defend or protect oneself or
preventing from attack.O : ORDER.
A commend, direction or rules, to give an order
for something.Concept No. Two of T-a-e-k-w-o-n-d-o.
It is to spiritual value.T : TOLERANCE.
Tolerate & understand others existence and
company as a sports community.A : ATTITUDE.
Positive to win.E : ENDURANCE.
The ability to endure, hardships & sever
physical conditions.K : KOREA.
Where Taekwondo was born more than five thousand
Years ago.W : WISDOM.
Quality of being wise, knowledge and ability
to use it.O : OBEDIENCE.
The act of obeying or willingness to obey
Master's command.N : NOBLE.
Always prepared to serve the causes of humanity
and stay away from the evil practices.D : DISCIPLINE.
Self-control gained through obedience or through
strict training as way of life.
O : ORGANISED.
To keep the system in order.Concept No. Three of T-a-e-k-w-o-n-d-o.
It contains technical aspect of the discipline to
achieve glory and Dignity.T : TECHNOLOGY.
A branch of knowledge or a branch of studies
which is concerned with collecting of facts.A : ARTISTIC.
Having artistic taste and skill.E : EXTRAORDINARY.
Remarkable.K : KNOWLEDGE.
Intelligent, skill or gain by actual experience.
W : WORTHY
Having sufficient worth of excellenceO : OLYMPIC GAMES.
An exciting Martial Art 's Sport enters the Olympic in
its 83rd IOC Meeting on 17th July 1980,N : NATIONALISM.
Devotion to National interest and unity.D : DIGNITY.
Dignified position as achiever.O : OLYMPIAD.
The ultimate goal's achieved.These three concepts and mentioned above also
incorporates the ultimate goal of the World Taekwondo
Federation, (WTF) and the Kukkiwon of the
rehabilitation of Martial Arts in the 21st Century.
The above story is writte by Jimmy R. Jagtiani, International Master Instructor, WTF. International Referee, WTF. Founder of Tawkwondo in India.