Europe
Tears in Belarus
Five More Years of Dictatorship
By Ronan Thomas
London Correspondent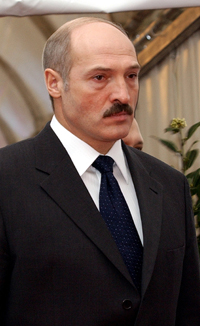 Alexander Lukashenko
With the iron certainty of winter following autumn Alexander Lukashenko, self-styled 'Father' of Belarus was re-elected by a landslide yesterday as President of his country for a third term. Amid international opprobrium, the deep freeze of Stalinist-style repression in this former Soviet republic is now set to continue for the next five years. Mr Lukashenko's almost complete grip on power ensured little prospect of a popular 'colour revolution,' as experienced by Ukraine in 2004, Georgia in November 2003 and Kyrgyzstan in March last year. Last night thousands gathered in the centre of the capital Minsk to protest the result. Further street demonstrations remain a possibility in the week ahead. As with recent elections in Azerbaijan and Kazakhstan, where presidential incumbents Ilham Aliev and Nursultan Nazarbayev deployed formidable state resources and captive medias to ensure comfortable re elections, Sunday's poll cannot be described as free and fair. International monitors, including the Organisation for Security and Cooperation in Europe (OSCE) have reported major flaws in all recent Belarusian elections, suggesting that Lukashenko's internal security forces have been gagging freedom of speech and beating political opponents for the past year. Such is the international criticism of Lukashenko's regime that Western governments have for months broken international diplomatic protocol to call openly for his removal. Today, the OSCE will report serious election irregularities. The EU and US are now considering new sanctions on Belarus.In victory speeches in Minsk last night Mr Lukashenko claimed 82.6% percent of the vote. As expected, his main political rivals, Unified Democratic Opposition leader Alexander Milinkevich, Social Democrat Alexander Kazulin and Liberal Democrat Sergei Gaidukevich gained a mere 6%, 2.3% and 3.5% respectively. Other opposition forces, a combination of, liberals, nationalists, communists and greens all failed to mount an effective challenge. Mr Lukashenko prepared his re-election well in advance. Pushing legislation through a captive Belarusian parliament in 2005, Lukashenko made public protests imprisonable offences and set unlimited presidential terms. Political critics face arrest as a matter of routine – several remain imprisoned and others have disappeared – and independent newspapers closure. Holding a lighted candle in public can result in arrest. The Belarusian government exercises a virtual monopoly over media access. In past weeks Lukashenko's regime has become even more intolerant of opposition, to the point of farce. Protest rallies for election day were banned and dozens of Mr Milinkevich's opposition supporters were arrested. Other leading opposition figures have been targeted: earlier this month Alexander Kazulin was beaten up by internal security officers as Polish photographers took pictures. International election observers from the EU were denied entry from the border with Lithuania together with observers from Georgia and Poland. Police militia recently broke up a demonstration in Minsk's October Square, beating and arresting scores of protesters. In the last week, Mr Lukashenko declared that opposition to his government represented 'terrorism' and that he would crush any attempted 'coups.'Belarus, bordered by the European Union, Russia and Ukraine, and an ex-Soviet nation of 10 million citizens, has been described by the US Government as a festering anomaly in Europe, an unreconstructed 'outpost of tyranny' on an otherwise globalising continent. Travelling through the country, with its communist-era symbols, is like returning thirty years into the Soviet past. Belarus is a country in denial of history. Mr Lukashenko, also labelled by western governments as 'Europe's last dictator,' has led Belarus since 1994 and was re-elected in 2001 and 2004 in suspect polls. Since then, Belarus has been vilified internationally, though not by neighbouring Russia, for its election-rigging, heavy-handed repression and human rights abuses. In response, Mr Lukashenko has turned anti-western rhetoric into an art form and pointed to Belarus' 'stability' in a volatile political region. Political analysts estimate that he can count on the genuine popular support of about 25% of Belarusians. This is despite that fact that average incomes are a mere $250 per month, private sector economic activity is minimal and Belarusians are watched over by a security service still called the KGB. Over the past two years regional and international attention has re-focussed on Belarus not only for its Orwellian authoritarianism but also, increasingly, on its prickly relations with close neighbours Russia and Poland. Relations with Russia remain central to Belarus' fortunes. Since the collapse of the Soviet Union in 1991 and Belarus' emergence as an independent state, she has in fact remained heavily dependent on her larger eastern neighbour, not least in the provision of subsidized gas supplies worth up to $5 billion each year. But fraternal relations have their limits – Russian President Vladimir Putin's personal rapport with Mr Lukashenko is uneven at best. As the 1990s wore on it was hoped in both Moscow and Minsk that both countries might eventually reunite but this has proved elusive. After near neighbour Poland joined the EU in 2004 and, more shockingly, Ukraine's popular 'orange revolution' the same year, President Putin has nevertheless sought to bolster Russian regional strategy by keeping Belarus close. Russian foreign policymakers remain nervous that Poland's EU and NATO entry and Ukraine's westward aspirations constitute a contagion also capable of 'infecting' Belarus – a step too far for the Kremlin. In any case, most ordinary Russians view Belarus as inseparable to Russia proper, the result of the territory's tumultuous history in the 20th century. From the 1930s to the early 1950s Soviet leader Joseph Stalin conducted a series of murderous purges in former Byelorussia ('White Russia') in which tens of thousands were executed or sent to the GULAG camps. During 1941-1945, over 2 million were killed in the territory during the Nazi occupation and eventual Soviet counterattack. At war's end in 1945, modern Belarus was created partly from territory taken from eastern Poland and incorporated into the Soviet Union. The legacy of this latter action lives on controversially. Around 400,000 Belarusians of Polish extraction live in Western Belarus and are the subject of much antipathy in Polish/Belarusian relations. Poland cites abuses of their human rights regularly. It's an old story of mutual suspicion. Polish/Russian relations are traditionally cool, the result of centuries of invasion and particularly the appalling ravages inflicted by the Soviets. Poland views Belarus as firmly in Russia's pocket and Belarus, for Poland, has a history of expropriated territory and exploited ethnic Poles. As if this weren't enough, the issue becomes ever more complex. Some policymakers in Poland and elsewhere assert that alleged growing Russian control of energy supplies in Eastern Europe – as evidenced by the recent gas row between Russia and Ukraine – threatens to make bad local relations even more acrimonious. With Mr Lukashenko's re-election international hopes for increased democracy in Belarus have faltered. And the next worry for the region is coming within a week – parliamentary elections in Ukraine scheduled for March 26. The real extent and survival of that country's orange revolution' will shortly be tested.

Related Articles
Prague Summer
Orange Divorce Partners to Reconcile?
A Dose of Thatcherism for Portugal?
Finland's President Faces Run-off
Last Orders for Britain's Licensing Laws
UK Awaits Bombing Investigation
Lech Kaczynski Elected Poland's President
Reform Postponed in Germany
Echoes of Tsushima Can Still Be Heard



Mr. Ronan Thomas serves as London correspondent for The Seoul Times. He has reported on global affairs from US, East Asia, Russia since 1993. His articles have appeared in such respected publications as the Washington Times, Asia Times Online, and the American Spectator. He graduated in 1989 with a master's degree in Int'l Relations from Cambridge University.