South Korean delegates pose for camera after Malaysia My Second Home seminar held in Kuala Lumpur on March 2,2006 organized by Tourism Malaysia.
Attractive offers are pouring in to entice Koreans to live their dream of a Utopian lifestyle away from the noise and toil exemplified by an all-too-familiar-world. Not just short-time pleasure-seekers are now being beckoned to come and taste something different, but interestingly the invitation is now extended to senior citizens or retirees who want to live somewhere beyond the confines of Korea. Basking in the tropics, although a cliché these days can nonetheless be a reality. You can be the guest to whom maids, drivers, and gardeners serve every possible whim, and on a silver platter. Your wish is their command. Feel like a don. Celebrate the good life and freedom. All these dreams are being given away to fortunate Korean retirees who can see the benefits of spending less, yet enjoying more. The offer underscores valuable rewards after decades of hard work, Confucian responsibilities, and probably self-denial at some point. Malaysia has gone all out in its effort to join the bandwagon and position itself as a second home for Korean retirees.
Spa Village in Malaysia
A six-hour flight away from Korea, Malaysia is situated in the eastern zone with only two hours time difference. As an Asian destination, Malaysia highlights its distinct culture as well as that shared among Asians — friendly, hospitable, family-oriented people that are sure to make Koreans feel at home. The country offers an amazing blend of old and new. Like Korea it has a traditional Asian culture set amid fast-paced economic and technological grandiosity. Malaysia offers both — the luxury of city life and the serenity of nature away from the metropolis. Malaysia is a different world, nonetheless. The Malaysian Tourism Board has been galvanizing campaigns to promote Malaysia as a second home. Recently, it organized the "Malaysia My Second Home" (MM2H) tour for a group of Korean travel trade business leaders and media representatives aimed at boosting the popularity of Malaysia for this purpose. The delegates had a first hand look at the MM2H program in Kuala Lumpur, Penang and Langkawi. A six-day field tour, which ran from March 1-7, 2006. Eleven major Korean travel trade businessmen participated, including US Chung, chairman of Korea Tourism Association; Jon Kim, co-chairman of the Club of Malaysia Friends and concurrently president of Apple Tour Co., Ltd.; Hong Ki-jung, vice president of Mode Tour; and Kim Bong-hyon, president of Hanhwa Tour Mall Co.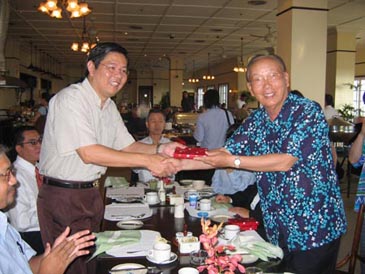 MM2H allows foreigners to stay in Malaysia for about five years, but this can be extended as long as participants fulfill certain criteria. The program invites all people from around the world regardless of age, gender, religion, or ethnicity. So, in a sense, it is more than a retiree program as the Malaysian government entitles everyone to come and savor a life that is "Truly Asia." The benefits are many, including a five-year visit pass and multiple-entry visa renewable every five years, which will eventually give qualified applicants a lifetime's easy access to the country. Beneficiaries can import cars or purchase a new car — tax-free with other tax incentives. Visa holders can invest in and run businesses. The bottom line is those making a deposit will be able to enjoy a luxurious lifestyle at a fraction of the cost spent in your home country. Retirees are an ideal market as Malaysia boasts warm and balmy weather all year round, although there are highland areas and resorts with permanent spring-like weather throughout the country. A neighboring country of other world-class destinations like Singapore, Indonesia, the Philippines, and Thailand, it enjoys one of the highest standards of living in Asia while maintaining low costs for goods and services. The country is also well connected by modern road, rail, air and sea transportation systems. Malaysia maintains an infrastructure on par with developed nations, along with one of the lowest living costs in Asia. Achieved through the government's efficient monitoring of the economy, Malaysia continues to ensure that inflation is kept low at all times, including maintaining the stability of prices for goods and services.
Sultan Abdul Samad Building (Supreme Court)
Interestingly, Koreans can buy a McDonald's standard beef burger for only about 600 won (RM1.95 or US$0.51), two pieces of Kentucky Fried Chicken (KFC) at about 1,400 won (RM4.99 = US$1.31), and a can of Coca-cola in the supermarket only costs around 300 won (RM1.00 = US$0.26). Currently the exchange rate stands at RM3.80 = US$1.00 but is of course subject to minor fluctuations. These facts speaks well for the affordable cost of living in Malaysia when Koreans opt to relocate here. Besides this, there are other benefits and incentives given to foreign retirees such as investment opportunities. What could be more interesting than living in another world that offers diverse sights and sounds. Malaysia interestingly features a convergence of various ethnic groups. With a cacophony of various dialects, Bahasa Melayu is the national language. English is the second language and is widely spoken. Malay culture pre-dominates but there are other cultures that also freely exist. And so, with such diversity, this nation has colorful traditions, which extend from fashion to language and food! Food from all over the world can be found in Malaysia at a very reasonable price. Locally, the best of every culture has blended together in unique combinations to make Malaysia Asia's food paradise. The finest Eastern and Western cuisine are also available in the major cities. Malaysia is also a meeting place of both eastern and western cultures producing a most diverse culinary melting pot. With many Koreans making inroads to Malaysian businesses, food is no problem. Koreans can always locate Korean restaurants in any major shopping malls with dining outlets.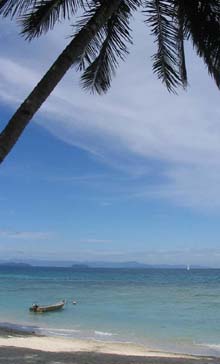 Besar Beach in Malaysia
Heard of Petrona Twin Towers? Genting Highland entertainment paradise? Mt. Kinabalu in Sabah or Niah Caves in Sarawak? Of course, there is much more to see and feel in Malaysia. Petronas Twin Towers in Kuala Lumpur is the world's highest. Kuala Lumpur, the nation's capital, is a cosmopolitan city offering a variety of facilities for business, family entertainment, gourmet restaurants, and shopping galore. Kuala Lumpur dazes visitors with its bewildering range of shopping establishments from modern air-conditioned shopping malls, department stores, handicraft centers, duty-free shops to bazaars and night-markets. For retirees, shopping should not be included in the main itinerary, except if their wives are yet to mellow from being shop-aholics. Malaysia has theme parks, jungle trails, sports, water sports, and golf courses. Its lush forests are some of the world's oldest while its national parks are treasure troves for its rich natural heritage. Malaysia's coastline stretching for over 4,800 kilometers and draws millions of local and international tourists. Beaches, islands, and coral reefs offer a spectacular venue for all various activities — for leisure, water sports, or to simply as a summer getaway. Malaysia has golf courses totaling more than 190 breathtakingly located on high mountains, along the seashore, tropical islands, and even in rain forests, if not in the heart of the cities. Malaysia is also a safe place with one of the world's lowest crime rates. The country also claims to have a very efficient health system. Its public and private education systems are, likewise, considered advanced. There are reputable international schools in all major towns with English as the medium of instruction. There are also private colleges and universities offering twinning programs with other well-known universities and major colleges throughout the world. For retirees, there are quality residences like terrace houses, semi-detached, bungalows, apartments, and condominiums all over the country. There are also some of the finest residences available in tourism zones on beaches, near jungles and in the vicinity of parks, recreational places and city centers. Foreigners are eligible to buy two houses at a cost of not less that RM150, 000 each. For this purpose, they are also eligible for a 60 percent loan from selected financial institutions, subject to qualifications.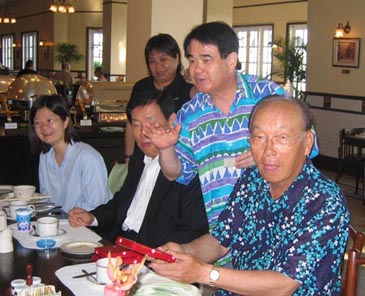 The ruling government of Malaysia is the longest serving freely elected government in the world and represents all groups of people found within the country. The country has long been one of the safest and most politically stable countries in the world by strictly practicing the British system of justice set out in its constitution. This rule of law has enabled the development of an open, democratic society with constitutional guarantees to practice all religions. The MM2H program allows benefactors to get their social visa pass renewed if they fulfill the criteria set forth after the five year initial period. They can also apply for permanent residency after the social visit pass given for a minimum of five years has expired. Applicants for the MM2H program may submit their spouse and children under the age of 18 as dependents. All other persons must be shown to be financially dependent on the applicant to qualify as a dependent. The application process will take less than a month after the One Stop Service has been introduced April 1, 2006. There are two categories of applicants: Above or under 50 years old. Applicants can submit their applications to the Immigration Headquarters in Putrajaya, State Immigration Offices, Malaysia Representative Offices Abroad and Malaysia Tourism Offices.Applicants and their spouse, either one above 50 years of age, have the privilege of choosing either to have a fixed deposit of RM 150,000.00 (for five years) from any bank in Malaysia. Another option is to derive a fixed monthly income of not less than RM 10,000.00 from abroad. The fixed deposit account must be active during the applicant's permitted length of stay under the program. A multiple entry visa is given together with the visit pass of five years period for those nationals who require a visa. Single or individual applicants will have the privilege of choosing either to have a fixed deposit of RM 100,000.00 for five years from any bank in Malaysia or derive a fixed monthly income of not less than RM 7,000.00 from abroad. An applicant below 50 years of age and her/his spouse must posses a fixed deposit of RM 150,000.00 for five years from any bank in Malaysia and derive a fixed monthly income of not less than RM 10,000.00 from abroad.