America
About face: part I
Stem Cells — Changing a Personal Course
From Embryonic Stem Cell Support to Its Opposition
By James P. Kelly
Biotech Writer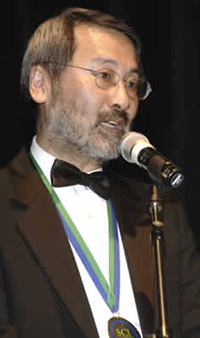 Dr. Wise Young, Ph.D. (current Director of Rutgers Center for Collaborative Neuroscience
Why should the public oppose embryonic stem cell and cloning research? Three days ago I was asked this question because I've often cautioned against unrestricted, publicly-funded embryonic stem cell and cloning research. My initial reply was that I do not oppose embryonic stem cell and cloning research — I oppose any misuse of public funds to promote industry financial agendas cloaked in the guise of "looking for cures." This statement suggests a lack of trust in science and research-related industries. It demands an explanation. But such an explanation must be long and complex since it concerns a personal journey that in 2001 found me writing to President Bush to encourage his support of embryonic stem cell research. However, before explaining how I came to doubt the medical worth of embryonic stem cells and cloning, or why I mistrust the motives for society being pushed in these directions, I'll explain some of what led me to question the claims and goals of science, scientists, and industry. On Sep. 15,1985, America's most prominent spinal cord injury (SCI) researcher, Dr. Wise Young, Ph.D. (current Director of Rutgers Center for Collaborative Neuroscience — named America's leading SCI researcher by Time Magazine) wrote to the U.S. Food and Drug Administration regarding his use of pulsed electromagnetic fields (PEMF) in treating acutely injured cats: "The eventual percentage of cats receiving PEMF at four hours after injury that recovered the ability to walk at four months after spinal cord injury is 78 percent (7/9), compared with zero percent of the sham-treated injured controls." On Sep. 28, 2000 I wrote to Dr. Young on his Internet forum, inquiring into his PEMF research of the eighties. I made this request without mentioning that I had the document quoted above, plus additional PEMF documents of Young's. His reply stunned me: "In cats, we did not see a significant improvement in walking when we applied PEMF after injury." In my opinion, Young's claim that seven of nine animals "recovered the ability to walk" after SCI represented a "significant improvement," especially since none of the "sham" treated animals recovered. There followed several days of discussions. The error was mine, Dr. Young explained, for misunderstanding his denials. However, try as I might, I could not reconcile his explanations of 2000 with his data from the 1980's. Eventually Young admitted that he dropped this very promising and practical line of research in part due to the lack of support from America's National Institute of Health (NIH): "I was also influenced by the fact that we were unable to get funding for these studies from NIH or other sources. At the NIH and other funding agencies, there was and continues to be deep skepticism about the potential effects of electromagnetic fields on regeneration." PEMF may or may not have positive effects on regeneration. However, the results of the studies in question concerned functional outcome after acute SCI. Clinical evidence indicates that PEMF, if properly used, improves regional blood flow. Reduced blood flow due to vasospasms, inflammation, and edema contributes to massive secondary tissue damage during acute SCI. The NIH did have a clinical plan for acute SCI — the use of an anti-inflammatory steroid called methylprednisolone (MP). In his letter to the FDA Young compared his PEMF results to similar tests using MP: "No pharmacological treatment that we have tested to date, including naloxone and methylprednisolone (both of which are in double blind randomized clinical trial in 12 spinal centers around the country), has exhibited this degree of effectiveness in similar animal studies." Young detailed this comparison in a 1984 presentation to the American Association of Neurological Surgeons: "In a separate series, we evaluated for five months the neurophysiological and motor recovery of twenty-seven cats, in three groups: (1) injured controls, (2) injured and PEMF treated, (3) injured and treated with a 30 mg/kg methylprednisolone (MP) IV 45 minutes after injury. Fifty percent of the PEMF treated cats walked independently just four months after injury, compared with one of the untreated cats and one of the MP cats. PEMF cats had significantly larger mean somatosensory evoked potentials and vestibulospinal response amplitudes than MP-treated or control cats." The NIH chose to ignore Young's impressive PEMF findings. Instead, they expanded their clinical testing of MP from twelve to sixteen trauma centers, spending an additional eleven years conducting the trials. Over the past decade dozens of articles in medical journals have questioned whether the use of MP for SCI does any good, while suggesting it places the patient at serious risks. I was not disturbed though that the NIH refusal to consider Young's data may have caused the abandonment of an effective treatment for acute SCI. Although this may have been true, experimental treatments that work in animals often fail in humans. My concern stemmed from the refusal of the NIH to objectively consider the scrupulous data of a respected scientist regarding a catastrophic medical condition, instead choosing to proceed with (and expand) a preferred project that head-to-head tests indicated was inferior. Since 2000, multiple articles from Germany, Sweden, Italy, the U.K, Canada, Turkey, and the U.S. question the worth and safety of MP for acute SCI. Researchers in the U.K. report: "The evidence produced by this systematic review does not support the use of high dose methylprednisolone in acute spinal cord injury to improve neurological recovery. A deleterious effect on early mortality and morbidity cannot be excluded by this evidence." Canadian researchers claim that methyprednisolone use for acute SCI may block positive effects of other treatments. Italian researchers agree. "These findings demonstrate that the non-selective and enduring effects of immunosuppressive therapy with methylprednisolone not only fail to improve neurological outcomes, but can also block the beneficial actions of selective therapies such as the anti-CD11d mAb." Yet, for over a decade this treatment received preferential treatment by America's NIH, while evidence of the superiority of other treatments was ignored or dismissed. On his Internet forum, Dr. Young revealed the importance of NIH research prioritization: "Many scientists will go to great lengths to get funding from the NIH and other organizations, including changing their experiments and even [their] fields to get funding. NIH has had a great influence on science in the United States for this reason." Without funding or NIH support, Young was forced to abandon his seven year 'PEMF for acute SCI' project. Nevertheless, he rose to national scientific prominence for his role in making methylprednisolone the world standard of care for acute SCI. In addition to his present post at Rutgers (at the time of his PEMF work he was an associate professor at New York University) he was named Co-Director of New Jersey's state sponsored stem cell program — which specifically sanctions and supports embryonic stem cell and human cloning research. Today I believe that the global push to commit massive research resources to embryonic stem cell and cloning research will lead to tragic consequences for mankind and Earth. NIH prioritization of these avenues is a major part of this push. However, in 2000 the above experience had little effect on my 'stem cells' views. It was only the first of several that caused me to question the objectivity and ultimate goals of scientists.

Related Articles
Nuclear Betrayal: Sacrificing Koreans for ...
Stem Cell Politics: Divide and Conquer
Stem Cells Veto: A Cause for Hope
Stem Cells — A Changed Personal Course
Stem Cells -- Changing My Personal Course
Stem Cells -- Changing Personal Course
Adult Stem Cell "Failure" -- A Closer Look
Cloning, Stem Cell, and Bioethics: Another Look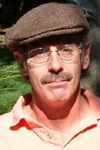 James P. Kelly, who serves as biotech writer for The Seoul Times, is the director of the Cures 1st Foundation, Inc. in the US. As a paralyzed American research advocate, Director Kelly promotes practical research for the sake of treatments and cures. Mr. Kelly has testified on cloning before committees in America's Congress, in debate with actor Christopher Reeve, and most recently on CNN International.