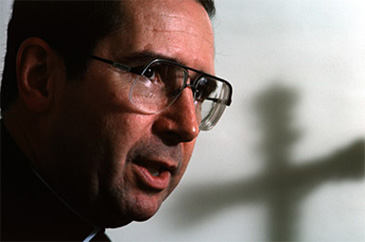 Los Angeles Cardinal Roger M. Mahoney
Josee Kubiak was angry with Los Angeles Cardinal Roger M. Mahoney after the Ash Wednesday service. She had come to church for a religious service and had to listen to Mahoney's speech on the importance of making "room in our hearts" for immigrants.Kubiak's anger came out in the usual anti-immigrant arguments about being "overrun with illegals" who want everything "for free." The Catholic Church should not support them, according to Kubiak, a native of Belgium who immigrated legally to the US in 1952.Mahoney's position on unauthorized immigrants may not be consistent with some Catholics' political views on immigration, but it's certainly a reflection of Jesus Christ's beliefs. In his remarks, Mahoney asked his flock to show Christian charity to undocumented immigrants.Mahoney's comments reflected the thrust of the US Catholic Bishops' campaign called "Justice for Immigrants." It covers five principles which include more visas for immigrants to reduce the delays to reunify families, a guest worker program with a path to residency, better legal processes to guarantee immigrants' rights, legalization of undocumented immigrants, and economic development to reduce the need to emigrate.The Bishops' plan goes against the "Border Enforcement Bill" approved by the House of Representatives in December of 2005.One of the features of the legislation is the change of illegal entry into the US from a violation of civil immigration law into a federal crime. In essence, the estimated 12 million unauthorized immigrants would become felons if the US Senate were to approve the House bill.
The bill would also authorize state and local police to enforce federal immigration laws. In addition, anyone helping unauthorized immigrants to live or remain in the US could be charged with a criminal offense. That means that even churches or charities giving assistance to undocumented workers could become guilty of a crime. In essence, priests would have to ask immigrants for their legal status before giving them communion.If the US Senate were to approve the bill in its present form, it'd become a draconian legislation. Pessimists believe that it's already too late for the US Catholic Bishops' plan to have any influence. Those who see the control of the border as the solution to the immigration dilemma appear to control the agenda.Mahoney's plan is to ask priests to defy the law if the US Senate also approves the Border Enforcement Bill. This would be consistent with the Catholic Church history of sanctuary going back thousands of years. In the US the last example took place in the 1980s when some parishes provided assistance to Salvadoran refugees.It's unlikely that Catholic priests will be prosecuted for helping immigrants because the US Senate will not go along with the House immigration bill which is easily labeled anti-Christian and against the spirit of America as a country of immigrants.Sadly, most of the members of Congress who voted for it would probably call themselves Christians. Yet, they didn't think of asking themselves how Jesus would have dealt with the situation.Mahoney did consider what Jesus would do. He plans to speak more on the issue and will write elected officials like California US Senator Dianne Feinstein who opposes a guest worker program except in the area of agriculture.Cardinal Mahoney has a strong voice as the religious leader of the Archdioceses of Los Angeles, the largest in the nation, with 288 parishes and 5 million members.Yet, Mahoney will be attacked by those who see him as lacking moral authority, pointing to his weak hand in dealing with the Catholic priests' sexual abuse scandal.But Mahoney has a history of fighting for immigrants' rights. He opposed Proposition 187, approved by California voters in 1994, which denied benefits to undocumented workers.
Mahoney lost in that case, but he really won. When you're fighting for the weakest members of society, Christ is standing next to you. The only outcome is victory.