Dr. Frank Schofield
In 1916, Dr. Frank Schofield, a 27-year-old doctor of veterinary medicine from the Univ. of Toronto, went to Korea as a medical missionary to be an instructor in bacteriology and hygiene at Yonsei University in Seoul. While speaking out against Japan's harsh colonialism there, he maintained close ties with underground Korean leaders until he was deported by the Japanese in 1920.
Courtesy Univ. of Guelph Library
The Dr. Schofield Memorial Committee, in conjunction with the Canadian Embassy and Seoul National University, has organized a series of memorial activities to commemorate Dr. Frank Schofield. Events will take place in both Canada and Korea.Dr. Frank Schofield (1889-1970), a Canadian missionary, is best known for his active role in the March 1st Movement. An ardent supporter of the struggle for independence under Japanese occupation, he gathered information about independence fighters and made a photographic record of the movement. As a scholar and teacher, he made a great contribution not only in the field of veterinary science, where he excelled, but also to his students, teaching them their responsibility in the fight for national freedom. Several present-day leaders are counted among his students, including Dr. Chung Un-Chan, president of Seoul National University and Rep. Kim Geun-tae, a member of South Korean parliament of National Assembly and former minister of health and welfare. In October 2004, the Korean community in Canada established the Dr. Schofield Memorial Committee, commemorating his dedication to the Korean people. Since then, the Committee has undertaken a number of meaningful activities, including the creation of a memorial garden in Toronto that will feature a statue of Dr. Schofield (additional information on these projects follows).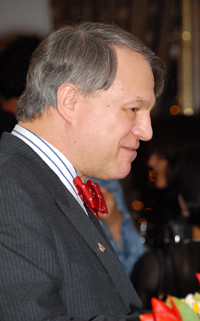 H.E. Marius Grinius, Canadian ambassador to Seoul
"I am delighted that the Korean Community in Toronto has decided to create a memorial statue and garden in remembrance of Dr.Schofield," said H.E. Marius Grinius, Canadian ambassador to Korea."The memorial activities initiated both in Korea and in Canada will help Canadians and Koreans to remember and honour Dr.Schofield's legacy, his fierce love for his adopted people and homeland, his fervent belief in democracy and faith in the universalism of human rights and justice." In addition to the activities taking place in Canada, committee members in Korea will gather to commemorate Dr. Schofield on April 12, the 36th anniversary of his passing.The schedule of events follows: 11:30: Wreath laying at the grave of Dr. Schofield in the Patriot Section of the National Cemetery of Korea. Dr. Schofield is the only westerner buried in this section of the National Cemetery. 12:00: Memorial luncheon hosted by Dr. Chung Un-chan, president of Seoul National University. 16:00: Memorial Lecture in commemoration of Dr.Schofield's academic achievements as a veterinarian by Dr.Anthony C.G. Abrams-Ogg, Associate Professor, Ontario Veterinary College
Venue: Schofield hall, Seoul National University The memorial activities will be attended by committee members including: Dr. Chung Un-chan, president of Seoul National University and Dr.Schofield's adopted grandchild; Rep. Kim Geun-Tae, a lawmaker; H.E. Marius Grinius, Canadian ambassador to Seoul; Lee Sam-Yul, secretary general of UNESCO Korea; and Dr.Yang Il-Suk, Dean of the Veterinary College, Seoul National University, among many others.
Dr. Schofield Memorial Committee & Its Activities
In honour of the late Dr. Schofield, the Dr. Schofield Memorial Committee was established by the Korean Community in Canada in October 2004. The mandate of the committee is to organize a series of activities to commemorate Dr. Schofield's dedication to the Korean people. The committee is composed of 56 members and is governed by a board of directors that includes both Koreans and Korean-Canadians. The committee is currently implementing four projects:
Dr. Schofield Book Publication
In 2005, the committee published a book on Dr. Schofield, aimed at promoting awareness of Korean culture and history, particularly among younger generations of Koreans who emigrated to Canada and first generation Korean-Canadians whose exposure to Korean history may be limited. Two thousand books were published and distributed to the Korean community in Canada.
Memorial Statue
The erection of a statue of Dr. Schofield is a critical component of the overall memorial objectives. Through a generous contribution from the City of Toronto, the committee has secured space to erect the statue at the Toronto Zoo.The committee anticipates launching a public tender for all interested sculptors in May 2006 and plans to unveil the completed work on April 12, 2007, the 37th anniversary of Dr. Schofield's passing.
Memorial Garden
At the recommendation of Toronto authorities, a three-four acre memorial garden will be constructed on the grounds of the Toronto Zoo.The grounds will be professionally landscaped in a traditional Korean garden style. 1919 Rose of Sharon tress, Korea's national flower, will be planted along the perimeter of the garden. Additionally, Korean pine trees and azaleas will be planted. This will be the first public Korean-style garden in Canada.
Dr. Schofield Scholarship
In addition to activities organized by the Memorial Committee, Seoul National University will launch a Dr. Schofield Scholarship in 2006, benefiting one Veterinary College student and one high school student residing in the SNU neighbourhood from 2007 onwards. This scholarship is made possible through the generous contributions of Seoul National University and a personal donation by Dr. Chung Un-chan, President of Seoul National University.
Who Is Dr. Francis William Schofield (1889-1970)
Dr. Francis (Frank) William Schofield is the only westerner buried in the Patriot section of the National Cemetery. He was given this honor for his support of the 1919 Samil Independence Movement. Dr. Schofield was a teacher at Seoul National University and he often encouraged his students to support the Samil Movement. In fact Dr. Schofiled would often lecture his students about the principles of self-determination and constitutional democracy, rather than teach biology. For his vocal support of the Samil Movement, Dr. Schofield is considered by many Koreans to be the '34th man' (as the original Declaration of Independence, signed on March 1, 1919, had 33 signatories). Dr. Schofield was not only an outstanding lecturer and teacher, he was also renowned for his research in animal disease. Born in England, but educated in Canada, Dr. Schofield finished his secondary education in Toronto and then enrolled in the Ontario Veterinary College at the University of Toronto in 1907. In 1910, he graduated at the top of his class of eighty students with a Bachelor of Veterinary Science degree. His academic records were equaled by his competitiveness in sport. Described as a 'competent' tennis player, he left his sickbed insisting on being well enough to play in a tournament. Unfortunately, he was to discover that his illness was the incubation stage of poliomyelitis, a crippling disease that causes paralysis in legs and arms. In 1911, after teaching for four years at the Ontario Veterinary College, Dr. Schofield received his Ph.D. In 1914, along with thousands of other English-speaking Canadians, Dr. Schofield was swept away by the wave of nationalism that engulfed Canada after the outbreak of World War I. Unable to join the Canadian Army because of his crippling disease, however, he decided to become a missionary in Korea. In 1916, Dr. Schofield was commissioned by the Presbyterian Church of Canada to go to Korea. Upon arrival, he was overwhelmed by the oppressive rule of the Japanese. According to his biographer, Lee Jang Nag, "Everything looked poorer than he had anticipated. He thought that there were dark shadows of sorrow on people's faces that only a vanquished people could have." He was also shocked by the Japanese attempts to eradicate Korean culture and language. Dr. Schofield became very interested in recent Korean history and became an ardent supporter of the Samil Independence Movement. He wholeheartedly agreed with Koreans in that their most urgent task was to regain their independence. He not only gathered information about independence fighters both inside and outside Korea, but he also began to solicit support for the independence movement in small towns and villages around Seoul. Unfortunately, these activities attracted attention of the Japanese authorities. In 1919, Dr. Schofield was imprisoned for one year and deported back to Canada.
For a few months after returning to Canada in 1921, Dr. Schofield worked in the Pathology Department of the Toronto Hospital. He then returned to the Ontario Veterinary College where he taught pathology and bacteriology. Between 1921 and 1922, when the Ontario Veterinary College was moved to Guelph, Schofield made several important discoveries. He is credited with finding a cure for what was then known as a 'bleeding disease of cattle.' Schofield also identified a viral infection that decimated the world's mink population in the 1940s. His work earned him a number of national and international awards for research in veterinary medicine. In 1952, he received an honorary doctorate from Ludwig Maximillian University in Munich. Two years later, he was awarded the International Veterinary Congress Prize and the Medal of Saint Eloi from the Canadian Institute of Veterinary Medicine. Upon his retirement in 1955, Dr. Schofield returned to Korea and began teaching at Severance Medical College. In 1959, he became a permanent supporter of the Yoorin and Bongeun Orphanages and the Heungkook Vocational School for Working Boys and Girls. He also resumed Bible lessons for high school and college students. In 1962, Schofield was awarded his second honorary doctor of law degree from the University of Toronto. In 1968, he was awarded the Republic of Korea Medal of National Foundation. Dr. Schofield passed away in April 1970 at the age of 81 and was buried at the National Cemetery.
For further information, please contact Jean Ko (3455-6162) and/or Kyunghwa Ryu (3455-6021) at the Canadian Embassy in Korea.