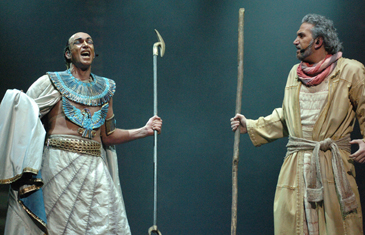 A scene from "Les Dix Commandments"
The French musical "Les Dix Commandments," or "The 10 Commandments," is being staged in Seoul from April 11 to May 9, 2006. The French musical, based on the famous biblical episode about the Exodus of the Jews from Egypt, is now playing at the Gymnastics Gymnasium of Olympic Park, eastern Seoul.The spectacle, directed by Elie Chouraqui, is regarded by many as the greatest of all French musicals with production costs of 7.5 billion won. The show features deep-flavored chansons composed by Pascal Obispo, France's most celebrated music producer. It is being performed by some 50 French dancers and singers.The performance requires one of the largest sets in the history of the musical genre. As one might surmise from the title, the musical tells the tale of Moses and the Exodus from Egypt.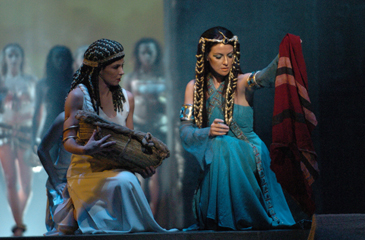 A scene from "Les Dix Commandments"
"Les Dix Commandments" is quite similar to "Notre Dame de Paris," in its style of dynamic choreography and vocalization. "Notre Dame de Paris" was successfully performed last year in its original language by a French troupe. The musical, based on Victor Hugo's classic novel, was the first-ever French musical performed in South Korea.The unique stage production of "Elie Chouraqui" invites spectators to feel like seeing a spectacular movie.Deep-flavored chansons composed by "Pascal Obispo," the most celebrated music producer in France, give a lot higher consummation to the music of musical "Les Dix Commandments."Chouraqui was quoted as saying "Les Dix differentiates itself from Broadway musicals through presenting various aspects of human life such as love, conflict, rage and reconciliation in beautiful melodies."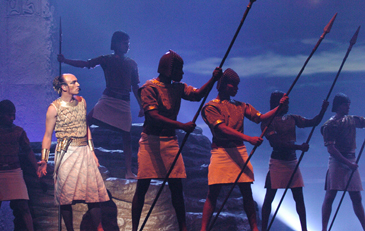 A scene from "Les Dix Commandments"
"Without lines of words, we don't feel any insufficiency in delivering the contents of the play," he added.Sergio Moschetto, who plays Moses, said "Les Dix creates a gigantic world, combining the merits of the movies, theaters and concerts."A musical expert described its performance as a miracle being created in the history of South Korean musical. The Korean performance of "Les Dix Commandments" is the largest stage in the whole world as an indoor scale.What is also impressive is about the cast's costumes and accessories they are wearing. The costumes were made by the world-famous designer "Sonia Rykiel." The flamboyance of the costumes is adding the flavor to the elegance of the must-see French musical.
For details or inquiries please call the PR officer Ms. Park Min-Young at 1544-1555 or call the French Cultural Center at 317-8502~3 or visit its homepage www.france.or.kr/120/.
Details of "Les Dix Commandments"
Address: 88 Bangi-dong, Songpa-gu, Seoul
Information: 410-1114
Ticket Reservation: 1544-1555
Email: heaven8123@hanmail.net
Web Site: http://www.ticketlink.co.kr/ticketlink/theater/index.jsp
How to Get There:
Exit No. 3 of Olympic Park Station, Subway Line 5