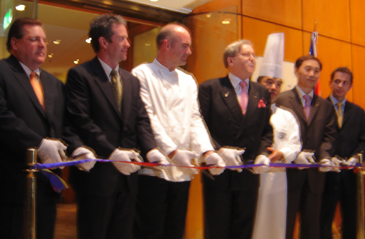 Hilton's General Manager Bernhard Brender (center) cuts a tape with other VIP guests in Millennium Seoul Hilton in central Seoul.
Millennium Seoul Hilton in Seoul is currently presenting contemporary French cuisine at its Seasons French restaurant. For the authentic French taste the hotel invited seasoned guest chef Mark Best from Australia.At 7 p.m. on April 11, 2006, there was an official tape-cutting ceremony for the launching of the French cuisine. Among the VIP guests were President Glen M. Feist of Australia and New Zealand Chamber of Commerce in Korea (ANZCCK), and Minister Geoff Tooth of Australian Embassy in Seoul. Tooth serves as deputy head of mission. Hilton's General Manager Bernhard Brender also attended the ceremony.With more than 15 years of professional experience Chef Mark Best is widely recognized one of the best chefs de cuisine in Australia. Marque Restaurant in Sydney was chosen by Sydney Morning Herald as the best restaurant of its kind in Australia for the three consecutive years.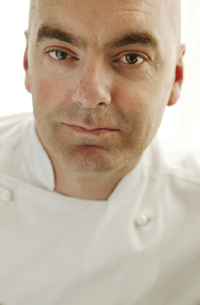 Guest chef Mark Best of the acclaimed Marque Restaurant of Sydney, Australia
In 2006 Mark Best, Marque's head of cooking staff, was selected as "Chef of the Year." Previously, He worked for years under Alain Passard in Paris at the famous Three Michelin Star restaurant, L'Arpege.Best's brand of French cuisine experiments with the art of surprising the palate, while still maintaining traditional values.Best cooks up some of his best, including: Chaud-froid Free Range Egg with Caviar; Almond Jelly with Crab, Almond Gazpacho, Prune Oil and Sweet Corn Custard; Mille-feuille of Smoked Slimy Mackerel and Sesame Salt; Seared Foie Gras with Banyuls Vinegar and Olive Liquorice; Risotto of Calamari and School Prawns with Baby Basil; Slow cooked Squab with Parsnip and Chocolate Tart; Roast 500-day Grain-fed Beef with White Bean and Lemon Puree with Green Dates; and Cocoa Vermicelli with Cherry & Cherry Soup. Prices range from 49,000 to 120,000 won per person.Seasons also offers free of charge unlimited amount of house wine and soft drinks to the customers for 45,000-won lunch and 65,000-won dinner. Seasons has been opening its service on Sundays and other holidays since March 5, 2006.
For reservations or details call the Millennium Seoul Hilton's French restaurant Seasons at 02-317-3060.