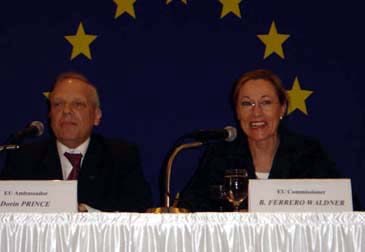 EU Ambassador to Seoul Dorian Prince (left) and EU Commissioner B. Ferrero Waldner at press conference in Seoul
EU Commissioner Benita Ferrero-Waldner formally opened the newly established European Union Centre in Seoul during her official visit to Republic of Korea. The Centre will make a major contribution to fostering greater knowledge and awareness of the European Union, its institutions and its policies in Korea. The inauguration ceremony was held at 5 p.m. on April 20, 2006 at Sochon Convention Hall, Graduate School of International Studies, Seoul National University.
Ferrero-Waldner visited Seoul on April 19-20, 2006.The Commissioner said: "Mutual understanding and respect are the keys to any partnership. As our relationship with ROK deepens, it is important that we get to know each other better. I believe that the new European Centre here in Seoul will provide a vital resource for those who want to know more about Europe, and the unique European Union project. I hope you will enjoy finding out more about the EU and its 25 member states – and that our partnership will continue to flourish and grow."This EU Centre is hosted by one of the most prestigious higher education institutions in Korea, the Seoul National University (SNU). SNU will develop the project in collaboration with the Korean Institute for International Economic Policy (KIEP) with a view to becoming a national independent and informed voice in Korea on the European Union. The Centre is based on the principle that increased knowledge of Europe and of European integration in Korea is important to the EU's international role and its long-term economic, academic and cultural interests and relations with Korea. At the forefront of the Centre's strategy will be curriculum development and teaching about the European Union, organising international conference and public lectures and seminars, informing people in business, media and the professions about the EU and its significance for Korea, encouraging and supporting research works on EU-related matters and carrying out outreach activities to enhance a positive perception in Korea of the EU and the integration model it embodies. The Centre will receive European Community funding of nearly €800.000 over a 3 ½ year-period. This initiative is part of a wider network of Community funded Centres hosted at prominent universities which spreads across most of the key industrialized partners of the European Union such as the USA, Canada, Japan, Australia and New Zealand. In 2005 the Commission placed a particular emphasis on the consolidation and extension of this network in the Asia-Pacific. EU Centres will be encouraged to develop collaborative relationships and partnerships to facilitate the development of multi-national understanding and of research projects on issues and interests important to both their host country and the European Union. For more information, please contact Ms. Hayeon Park, Press & Information Officer (Tel. 3704-1716, mobile phone
010-3199-6008, e-mail: Hayeon.Park@cec.eu.int).
Meanwhile, EU Commissioner Benita Ferrero-Waldner visited the Republic of Korea (RoK) on 19-20 April, for meetings with President Roh Moo-hyun, Foreign Minister Ban Ki-Moon and Vice Minister for Unification Shin Eon-Sang. Discussions covered bilateral issues, and how to build on the already strong EU-South Korea trade and investment relationship; regional issues, including South-North Korea relations, the six party talks on North Korea, and developments in North East Asia; and international matters including Iran, Iraq, UN reform, progress in the Doha Development Agenda, avian flu, climate change and energy security. During her trip the Commissioner will also meet European and Korean business representatives and inaugurate an EU Study Centre in Seoul aimed at boosting awareness of the EU and the relationship between the Union and South Korea. On the eve of her trip, Commissioner Ferrero-Waldner commented: "This is my first visit to the Republic of Korea as EU External Relations Commissioner. ROK is a valued partner for the EU -– not only because of our substantial trading relationship, but because of the very important role the country plays in working for peace and stability in the region. While our relationship has deepened in recent years, I believe there is still a lot of unexplored potential. We need to work together to address outstanding regulatory and trade problems where they exist -– and also to expand our co operation on shared challenges ranging from avian flu, to climate change and energy security." EU South Korea relations are developing well under the Framework Agreement on Trade and Cooperation signed in 1996 and in recent years new areas of co operation have been launched, including the participation of ROK in ITER and the EU's satellite navigation system, Galileo. The Commissioner's visit will provide an opportunity to review progress in science & technology cooperation on which the EU and Korea recently initiated a bilateral agreement. The Commissioner looks forward to hearing the latest evaluation of the ROK of the 6 Party Talks process. The EU is not a participant in this process, but has made clear its readiness to contribute to a political solution to the problems arising from North Korea's nuclear weapons programme.The EU has been a participant in KEDO.and contributed substantial humanitarian aid to the DPRK. The Commissioner's visit will provide an opportunity to exchange views on relations with other major players in the region including China and Japan. She will confirm her commitment to pursuing a close dialogue with ROK on developments in the region,and stress her determination to intensify EU relations with Asia, particularly through the Asia Europe Meeting (ASEM). She will underline the growing importance of energy questions in discussions between the EU and ASEM, and make clear the EU's interest in acquiring observer status at the East Asia Summit. The EU is the number two destination for Korean exports and the largest foreign investor in the RoK; the RoK is the fourth largest export market for the EU. For more information, please contact
Ms. Hayeon Park, Press & Information Officer
Tel: 3704-1716 or e-mail
Hayeon.Park@cec.eu.int