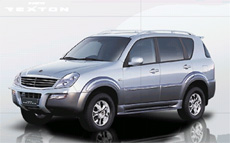 SsangYong's New Rexton
New York, March 3, 2004 — SsangYong Motor Company, a leading manufacturer in the SUV and RV segments in Korea, has won an International Stevie Award in The 2004 International Business Awards. The IBAs are the first global, all-encompassing business awards program honoring great performances in the workplace. SsangYong Motor Company won in the category of "Best Homepage," one of the IBA categories that recognize excellence in corporate web sites. Members of the Awards' Board of Distinguished Judges & Advisors and their staffs selected International Stevie winners from among the Finalists, which were determined by volunteer judges around
the world during two months of preliminary judging. Recipients of 67 International Stevie Award trophies were selected from among almost 500 nominations received from companies and individuals in more than 30 countries. Countries with at least one International Stevie winner each include Australia, Belgium, Brazil, Canada, the Czech Republic, Germany, India, South Korea, Norway, Peru, Portugal, Russia, Singapore, South Africa, Spain, Sweden, Thailand, the United Kingdom, and the U.S.A.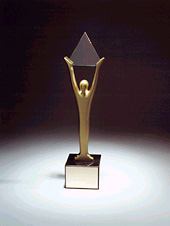 The Stevie Award
Nicknamed the Stevies for the Greek word "crowned," the awards will be presented to winners at an awards dinner on Monday, March 22 in the Sheraton New York Hotel & Towers in New York City. The dinner will benefit the Global Business Coalition Against HIV/AIDS, and will be broadcast live on radio in the U.S.A., and via the Internet worldwide, by the BusinessTalk Radio Network. Complete lists of 2004 International Stevie winners and other details are available at
Stevie Awards
.
About The StevieTM Awards
The SteviesTM were created to honor and generate public recognition of the efforts, accomplishments, and positive contributions of companies and business people worldwide. Beginning with the introduction of The American Business AwardsSM in 2002, and The
International Business AwardsSM in 2003, the organization's mission is to raise the profile of exemplary companies and individuals among the press, the business community, and the general public. The New York Post called the Stevies "the business world's own Oscar Awards." Honoring companies of all types and sizes and the people behind them, the Awards recognize outstanding leadership, innovation, perseverance, creativity, teamwork, and integrity through more than 40 categories. Sponsors of the 2004 International Business Awards include BusinessDay, the BusinessTalk Radio Network, Clickmedios, Financial
Times, Mundo Ejecutivo, Propaganda & Marketing, Selling Power Magazine, and Semana Economica.