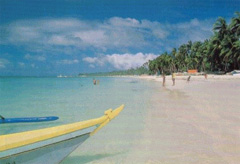 White Beach
When people ask me "Where can I go that has a great beach, sun, a good night life, lots of activities, and is safe, but not too far from Korea?" My one word answer is immediately... Boracay!Boracay is a tropical island that is only a one-hour flight from Manila. The island has more than 30 beaches, foremost of which is a four-kilometer stretch of pure white sand called White Beach. White Beach is widely considered by international travel publications to be among the world's best beaches.But this is only part of the story. Boracay has a special appeal for a foreigner's idea of relaxation. No cars, no fast food chains, no high rises and no crime.Despite it's rapid expansion of the last decade, Boracay is still primarily made up of nipa huts. "Nipa" refers to the style of thatched roof endemic to The Philippines. These cozy cottages are scattered about the island's beaches amid a decorative lineup of simple paraws, the Filipino outrigger, anchored along its shore. Wind sailing, para-sailing, scuba diving and daily boat rides to dozens of picturesque nooks, provide the adventurous with many options to fill their days.For the avid golfer, Boracay also has a very beautiful 18-hole Par 72 World-Class Golf Course which inspires another kind of challenge, assuring players of a stimulating golf experience as well as a tough test to one's skills. Master golfer and designer Graham V. Marsh himself designed the course.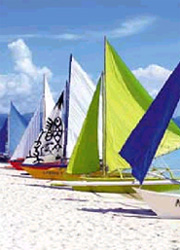 Boracay's 'paraws'
But there's more. An impressive array of international cuisine at rock bottom prices lures European, Australian, Japanese, Korean, and Chinese vacationers here annually. Take for example the "Mongolian Buffet" in which the customer chooses from a collection of noodles, meat, seafood, fresh fruits and vegetables, and dozens of sauces, places their choice in a bowl and hands it to the chef who stir fries your original mish mash creation and serves it up a few minutes later. Cost? 350 pesos or about 6,000 won. No sales tax either in Boracay, but a small tip is considered to be good manners.Accommodations range in price from 20,000 won to 200,000 won per day depending on your needs. I stayed at the "
Paradise Garden
," which is located on 2.5 acres on landscaped tropical jungle. Each cottage has bug free, air-conditioned rooms with cable TV, mini bar, King-size beds and a nice decorum. The resort boasts two swimming pools, an excellent restaurant and is situated next to Boracay's inexpensive and delightful market place. However, at 120 dollar per night (about 140,000 won), it was hardly attractive to the budget minded traveler.On the other end of the spectrum though, I found lovely motels for only 900 pesos a night (about W 20,000) complete with air-conditioning, a quaint poolside bar; nice, modern rooms and a convenient shuttle bus service to the beach (about 1 km walk) included in the price. The only problem with the budget places are they usually don't have phones, websites or any serious advertising to speak of. So if you need that sense of security of booking well in advance, then the price will climb considerably for that luxury.Getting there is the fun part. A land, sea, and air adventure is required to finally reach your cozy hideaway. Regular flights from Korea to Manila are operated by Korean Air, Asiana, Cebu Pacific Air (CEB), and Philippine Airlines. The advantages of Korean Air or Asiana are that you have morning departures which allow you enough time to transfer to the domestic carrier and arrive in Boracay on the same day.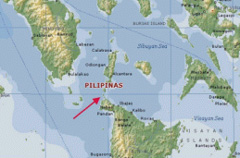 Location of Boracay
Otherwise, an evening departure will require you to spend a night in Manila. Philippine carriers though are usually cheaper in cost and on Philippine Airlines I have consistently upgraded to business class (round-trip) for the last seven years for a measly extra 200,000 won max! You're on vacation! Why not travel in style?Once the traveler has boarded their domestic flight, they must make their way to the port of Caticlan on the main island of Aklan. From Caticlan you must pay a small fee of 1,000 won for your "port terminal tax" and another 500 won for your 20-minute boat ride to Boracay. Your domestic flight will either entail a trip to Kalibo (Philippine Airlines), a city two hours from Caticlan in which you must hire a bus or car to drive you to Caticlan along a scenic mountain road, or else you can fly directly on a smaller plane (Asian Spirit or Seair) to Caticlan airport directly, located about 500 meters from the sea port. Generally the flights are around 60,000 won each way.Whatever route you choose, the whole trip is an adventure. The beach has never disappointed anyone and for someone who doesn't want to fly too far to find a good beach, Boracay is the best you can do. The friendly island will always welcome you with open arms and a smile as warm as the Boracay sun.