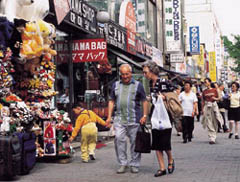 Its 1981. You are traveling across the Caspian Sea with the Uzbekistani Special Olympics team. You are sitting in the lounge bar where irritating Russian pop music grinds out over the primitive sound system. Cheesy, garish decor surrounds you and there is a stench of cigarettes, alcohol and vomit.Fast forward two decades to Club International, Itaewon, Seoul. Spot the difference? No, neither can I.Club International is truly a place that time forgot. The clientele are the worst kind of genetic garbage, left over amoebas that regrouped, interbred, and ended up here. All around are drooling fools, scumbags and dirtbirds.Mostly men, they wear garish outfits, urine coloured jewellery and too much brylcreem. The women are either hideous, whores or both. Drunk, leering men swarm around these specimens like flies to carrion.This sorry venue is just one of the many warped establishments that exist in a small area opposite the 7-11 and Hooker Hill. Bars like Rio, Hard Rain, Flexx Club and Queen Club all compete for business.The streets are jammed with African muscle boys, Pakistani factory operators, Russian thugs and occasionally, overweight and over lubricated Korean businessmen. It is a sorry and degrading mix of testosterone, alcohol and money.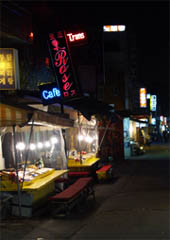 Fights occur regularly, usually between the different ethnic groups, conducted in broken English; most are stopped before they even start. Occasionally the police patrols intervene, but mostly they look on helplessly, a familiar role for one of the most ineffective and corrupt police forces in Asia.Caught in the middle of this brutal streetscape are the women. As so often in Korea, they are there purely to serve men. Hookers, dancers, waitresses; second-class citizens as a consequence of a male dominated society.Itaewon has a long history of foreign occupation. Japanese commander Kato Kiyomasa installed a supply base here when the Japanese invaded in 1592. After the Eulsa Treaty in 1905, the headquarters of the Japanese Army in Korea and the 20th Japanese Division settled down in this area.After the Japanese Army, the 8th US Army headquarters moved to Itaewon after the cease-fire in 1953.Since then, Itaewon has transformed itself from a place of pine trees and fruit farms to a sleazy ghetto. While the tourist brochures might like to proclaim Itaewon as one of the shopping capitals of Asia, the reality is somewhat different.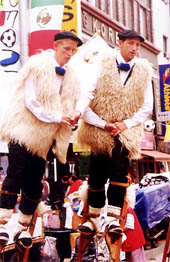 Itaewon Festival
The tacky knockoffs that are peddled here 365 days a year are hardly the main draw of the area. No, the main draw becomes apparent once the sun goes down and the area is transformed into a neon paradise. Itaewon is not a sophisticated place, as the needs of its clientele are not sophisticated. Meat. Alcohol. Nicotine. Music. Sex. The instincts that emerge here are primal and very, very basic. Luckily so is Itaewon. There are signs however that the area is changing. The US army curfew has caused problems for many of the retailers and businesses in the area. And with a total US military pullout from the area looking likely, Itaewon will have to change if it is to survive.More and more ethnic restaurants are springing up and thankfully long gone are the days when nachos were the most exotic food available. The night life is changing too. While the spit and sawdust bars hang on, with their country and western themes and cartoonish waitresses, a new breed of venue is opening up, places like Helios and NaNa Bar. Places with a chilled atmosphere, decent decor and not a dart board in sight. Whereas before these westerner meat markets were the sole preserve of white males and Korean women, nowadays clubs cant afford to be so choosy.More and more venues, chastened by the worsening economy and the US military curfew, are being forced to open up to all nationalities and races. Limelight, a relatively new club on the main strip, admits Koreans, westerners, blacks and other Asians.Itaewon is still Itaewon, however; so dont expect a classy night out. The juicy bars and hostess joints still outnumber the regular bars while even the regular bars and clubs are swarming with off duty hostesses at the weekends.But in truth, does anyone really want to see the old Itaewon disappear? Part of its appeal comes from its anarchic, sleaziness.There are countless night life zones all over Seoul, most of which are identikit vomit factories featuring the usual Jazz bars, punch bags and noraebangs. Most of these areas are about as classy as an outdoor toilet. So is Itaewon, but at least it doesn't pretend to be anything else. when the U.S. military pulls out of Yongsan in the next two years, heres hoping the spirit of Itaewon doesn't go with them.