"In pansori, who do you think plays a more important role: The singer or the drummer?" Dr. Min Byoung-chul, a staunched peace advocate poses this tricky yet honest-to-goodness question. Pansori is a traditional Korean opera performed since the old times to entertain the masses. It is also a form of satire used to ridicule the aristocratic yangban class.
Involved Questions
To answer this question may require some practical guess, and one could bet it's the singer - the star of the show since he or she is the one who vocalizes the long musical narrative. Or you probably lay down your two cents by saying both of them are of equal importance because one cannot run the show without the other. On the contrary, Dr. Min neither backs the idea that the singer is more important, nor that both are of equal importance. Instead, he attempts to convince the audience that the drummer plays a far more significant role.
He explains that while the singer renders the musical piece, no one could probably bolster the momentum of the singer's deliberation than the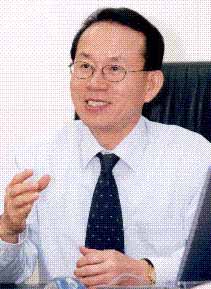 drummer who provides that much needed beat and rhythm coupled with a right timing to cheer and ballyhoo the singer. The drummer infuses energy that directs the mood and gestures of the singer resulting in a vicarious audience's response. Then he asks, "What do we have to learn from pansori?"
Interestingly, he says that it is only when one shuns himself from pride and self-absorption that one will be able to demonstrate grace, generosity, and benevolence to others. Pansori underscores the important role of the ordinary person-that one working behind the scenes, devoid of self-centeredness, so that teamwork and harmony can prosper. This is essentially true in any organization and society as a whole.
Borrowing the concept of democracy using the cliche; power resides in the people, by the people, and for the people, Dr. Min says that governments are but representatives of people. Ergo, in order for any government to be effective, elected officials must free themselves from egotism and greed and should focus primarily on the collective goal for the people.
Items of Human Concern
Dr. Min cringes at the label of a social psychologist, but he tries to delineate what has been bugging Korean society in particular and the people of all cultures in general; insecurity, jealousy, envy, and various kinds of inhibitions from being truthful which hinders growth and collective success.
Why do Koreans decline from demonstrating open admiration? In Western cultures, it is easier to say to any one, "Oh, you did a fantastic job! "or "You look great today! " Dr. Min observes that Koreans rarely do this with sincerity and openness, if they do at all.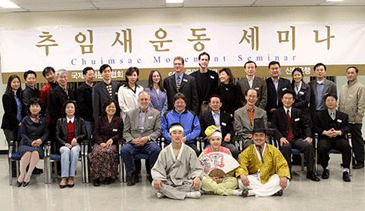 The author of famous cross-cultural book, "Ugly Koreans, Ugly Americans," and a professor at Chung-ang University, Dr. Min says most Koreans still fear to confront their true feelings. There is a high degree of inhibitions from appreciating the success of other people and that the typical crab mentality still plagues this nation of supposedly talented people.
A litmus test of a person's self-confidence and trust to others could be demonstrated in the work place. When the boss calls out one and leaves out the other, the one who was not called out develops suspicious of her or his own inadequacy and starts to harbor resentment towards the other colleague. This malady hampers good rapport as it paralyzes team work. Why such feeling of insecurity so widespread?

Philippine Tourism Secretary Joseph Durano (right) pledges to take part in"Chuimsae Movement" when he meets wth Dr. Min-Byung-chul on June 8 ,2006 in Seoul. At left is Ms. Maricon Basco-Ebron , regional manager, Asia Pacific Travel Trade Sales & Promotions and head of Team Korea.
Dr. Min avoids getting into the root cause. He scraps cultural excuses like Confucianism or social hierarchy since negative feelings are shared among people across cultures, albeit in various degrees. He simply underscores that Koreans need to learn the lesson from pansori.
Getting into the core of the issue, the International English and Culture Association (IECA) launched the Chuimsae Peace Movement in November 29, 2005. Spearheaded by Dr. Min himself, along with various representatives from the academe, non-governmental organizations, and civic groups, the movement attempts to demolish strongholds of envy, jealousy, and insecurity among Koreans by giving participants an opportunity to vocalize their feelings and thoughts on what they think can hamper harmony among peoples.
Meaning of Chuimsae
Chuimsae, derived from pansori, is a campaign that seeks to teach youth humility with confidence, grace, encouragement for others, and team work. IECA has already drafted the Chuimsae master plan. In fact, the target participants are not only Koreans but other neighbors from North East Asia, including those from China, Japan, Russia, and even those from far and wide who are willing to cooperate in bringing world peace and harmony.
A timely step, along with the era of peace and prosperity advocated by Pres. Roh Moo-hyun in his Participatory Government and the Six-Party Talks to bring lasting peace not only in the Korean Peninsula but throughout the entire North East Asia, Chuimsae Movement tries to integrate Asian youth and other peoples in this grand campaign.
Mr. Carl Dusthimer, Director of Education of Gyeonggi English Village at Paju expressed support for Dr. Min's prescription on how to bring about world peace. Joining the movement as the vice-president, he believes that youth have to be engaged in enlightening discussions. Mr. Dusthimer said Chuimsae is a unique strategy. He noted that "unlike government initiatives, I think the Chuimsae movement is more 'grassroots' in nature. Thus, as a bottom-up movement it has the potential to be more effective." He concluded by saying, "I would like for Chuimsae to be a support system that allows the future leaders of Asia to shine and work towards achieving peace."Without elaborating, Mr. Dusthimer himself is a figure to reckon with as far as bringing peace to Korea is concerned. The Gyeonggi English Village at Paju is an English immersion village giving Korean students a mock overseas experience without leaving Korea. Disputing the term "elitist" to describe English, he said. "English, which presently is the de facto international language, is simply the most effective way to bridge gaps in language and culture among participants from many diverse backgrounds."
A spin off of the Peaceful Global Village Through English, IECE has been galvanizing dialogues and forums. In July last year, for instance, the association held the 2005 Beijing International University Students English Forum wherein various international students took part in the deliberation of the theme; How Can We Establish Peace in Northeast Asia?
Why do nations rage against nations? Dr. Min believes that it is because of lack of communication and understanding. By bringing all these youth in one venue, he envisions that the forum will bridge the gap caused by miscommunication. Chuimsae Peace Movement is far-reaching in scale and proportion. By 2010, its target is to gather one million people worldwide to convene and come into agreement to commit to love, reconciliation, and peace. By 2015, it aims to corner a whopping number of 10 million people worldwide. An extensive project, IECA is tapping all possible avenues to raise funds, solicit diplomatic support, secure professional resources, and galvanize sustained awareness and promotional campaigns. Funds could be raised in various means- road shows and pansori concerts, project specific corporate sponsorships, and sale of branded souvenirs and gifts.
Seeking Professional Support
The campaign will also tap professional support from public relations professionals, writers, designers, event planners, web designers, pansori performers, concert directors, lecturers, and other experts. People of the caliber of Nelson Mandela, Jimmy Carter, Ted Turner, and Kim Dae-jung. World peace ambassadors will be the guests as well. And what's more? There will be local and international movie actors and entertainers that will blaze the trail, along with sports icons, arts and culture performers, and other famous personalities.
The Global Chuimsae Kits will involve Chuimsae essay-writing contests and forums; 100 thoughts, talks, and behaviors on Chuimsae; and 10 thoughts what can Chuimsae do. Modules include Chuimsae pansori concerts; essay contest; special lecture series; celebration of Chuimsae Day, Chuimsae Week, and Chuimsae Month; and Chuimsae games.
Ultimately, the campaign is expected to appeal to all people from around the world. They will come will for "World Peace Day" to stimulate various global peace summits, including World Children Summit for Peace, World Youth Summit for Peace, and World Fighter Summit for Peace. Chuimsae Peace Movement could surpass the energy exhibited by other peace movements.
It is a gargantuan task; yet, Chuimsae is all set to fire up the wave of peace and harmony. Dr. Min is sure that this movement can educate both the youth and older people. He believes that peace is not an elusive dream if only individuals can learn the core values of selfless devotion exemplified by the philosophical example of pansori- a Korean thing, yet with a universal value. Through pansori, audience will come to learn that every singer's astounding success lies in the hands of a gracious and faithful drummer.
About Dr. Min Byoung-chul
Dr. Byoung-chul Min is one of Korea's best-known intercultural educators in the field of English language education. Dr. Min is currently a professor at Chung-ang University and the chairman of the BCM Educational Group. For many years, he had his own English instructional TV programs on major Korean television networks. He has a doctorate in education with an emphasis on teaching English as a Second/Foreign Language from Northern Illinois University.As the founder and chairman of a non-profit organization called International English & Culture Association, Inc., Dr. Min has been pursuing an international advocacy movement that calls for peace and prosperity in the global village through continuously making opportunities for communicating with friends throughout the world in the global standard language of English.