Park Geun-hye is being attacked by an assailant during an outdoor campaigning in Seoul on May 21, 2006.
Park Geun-hye, chairwoman of South Korea's major opposition Grand National Party, suffered a wound to her face on May 20, 2006 during campaigning for the upcoming local elections in Seoul when two assailants in their early 50s attacked her with a knife.The incident took place around 7:25 p.m. in front of Hyundai Department Store in western Seoul near Yonsei University during an outdoor campaigning for Seoul mayoral candidate Oh Se-hoon running on the Grand National Party ticket.She was immediately taken to Yonsei University Hospital nearby for emergency treatment.Park, the oldest daughter of former dictator Park Chung-hee, is one of the leading possible candidates for the next presidential election in 2007.The two men, identified only by their surnames, Ji and Park, was in custody of the Seodaemun Police Station. Ji, allegedly slashed the right side of her face with a utility knife.Kim Hyeon-jong, a doctor on duty at Yonsei University's Severance Hospital, said that Park had an approximately 10-centimeter cut to the face from ear to jawline and is in a stable condition after two hours of surgical operations.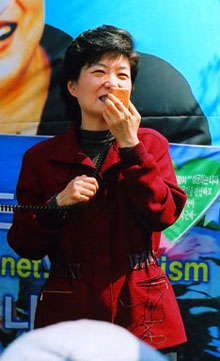 Park Geun-hye, chairwoman of main opposition Grand National Party
Major TV networks earlier reported quoting police officers at the scene that two were heavily intoxicated .
Rep. Kim Jung-hoon of the GNP said, however, the suspects were not under influence of alcohol when they attacked Park.
After blood test, the police later said that one of the assailants responsible for attacking Park with a knife was proven to be free from alcohol or other drug influence.Police said Ji approached Park as if to shake her hand, but instead took out his box cutter to attack her. His accomplice then punched her in the face.The office of President Roh Moo-hyun and both ruling and other opposition parties immediately criticized Saturday's assault on opposition leader Park as an "unpardonable incident" and called for a thorough investigation.Foreign news agencies reported that a possible candidate for next year's Korean presidential election was attacked during campaign.Reuters said that Park Geun-hye, head of the Grand National Party and daughter of former president Park Chung-hee who was assassinated in 1979, was hurried to a nearby hospital and underwent surgery.
She received several dozens stitches on her right cheek and she will probably be discharged on Sunday, Reuters quoted Grand National Party spokesman Lee as having saidSouth Koreans will vote on May 31 to elect heads of provincial governments and provincial council members including Seoul city mayor.