Ruins of the Roman relics in Tunisia
Tunisia is a North African country bordered by the Mediterranean Sea, Libya and Algeria. It has a healthy GDP per person that does not have oil production as a cornerstone of its economy. That in itself makes it unique in todays energy starved world.Tunisia has a diverse economy with important agricultural, mining, energy, tourism, and manufacturing sectors. Real growth averaged 5 percent in the 1990s while inflation was held in check. Tunisia has an associatiation agreement with the European Union ( EU) entered into force on March 1, 1998.This is the first such agreement between the EU and south Mediterranean countries. Under the agreement Tunisia has gradually removed barriers to trade and investment from the EU.Economically, Tunisia appears to be purring on all cylinders.Historically, it is another story which as time goes on is unfolding. During Roman times Tunisia was then Carthage. Remember Hannibal. That was his home base. Carthage and Rome fought three different wars with Rome being the final victor. Carthage of course did not go down easily. Remember the scene in the movie Patton where George C. Scott playing Patton said " stop the jeep I smell battlefield."He then proceeded to tell the story of the Carthagian women and children even refusing to surrender. It is all true.Over time that area morphed into Tunisia. In the 1800's France occupied Tunisia until the latters independance March 20, 1956.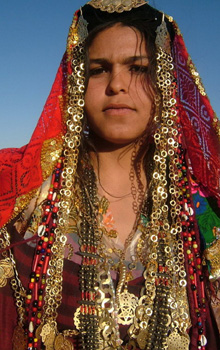 A Tunisian woman in traditional costume in the festival Saharan Ksour of Tataouine
Tunisia has a strong sports tradition and this year is in the world cup of soccer. Of course every Tunisian will have there eyes riveted to the TV when there team plays.A few Saturdays ago I had an opportunity to attend a party at a Tunisian couples home. I had never done this in my whole life. In fact I never knowingly had talked to a Tunisian. What ensued from this get together was quite enlightening.The hospitality was graceous. Had the Seoul public system operated later, most of us would have gone home at a later time. The host couple were married about three years ago and have been in Seoul a little less then that. As Tunisian foreigners in the city they have to deal with issues similar to mine. ie Where can you buy this, where can you buy that? Is there a place where you can workout?The conversation was fast and loose. It seemed like everybody was hanging on to each others words. There were no pretensions. The Tunisian wine that was served was excellent and I am not a wine expert. I just know a good thing when I eat it, drink it, see it or feel it. In addition to the wine we had very lean lamb. It was so tender you could cut it with a fork.Later in the evening we saw various videos pertaining to the couples wedding. Two things stood out. What I noticed with the women on one video is that so many of them looked like they were out of the "Tales of Arabian Nights." They were all in modern dress and yes they were that attractive.The other issue was the mens stag. Here all the women were there along with a soccer club flag. The groom was a fan of that club and that club just won a major game. So it was major party time. For those from the west you can see it is different from a western grooms stag.As Arabs of Tunisia they do have a major concern which I want to relay. I am sure we all have heard the phrase "racial profiling." Since 9/11 it has a different meaning for many Arabs. This couple as most Arabs don't want to be generalized in that way. As responsible world citizens I am glad they got that concern off there chest and I am more then willing to let others know about it.