Global Views
Prague Summer
By Ronan Thomas
London Correspondent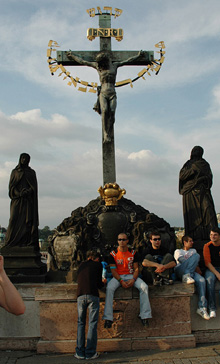 Young people on Charles Bridge
The centre-right's narrow victory in the Czech Republic's messy June 2-3 parliamentary poll was all about the failure of left/right coalitions. Centre-right Civic Democrat (ODS) candidate Mirek Topolanek took 35.4 % of the vote. Social Democrat (CSSD) Prime Minister Jiri Paroubek, who led in coalition with the ODS, came second with 32.3 %. Mr Topolanek is now obliged to build a coalition with minority parties – the Christian and Democratic Union (KDU-CSL) and the Czech Green party (SZ) – but conservatives look set to hold both posts of president and prime minister. Hopes are now high in the Czech Republic – EU member since May 2004 - that she can boost her economic competitiveness and reduce business corruption.Since 1989 the Czech Republic has moved rapidly. The Prague Spring is moving into Summer. Newly-independent after her 'Velvet Revolution' and led by former dissident Vaclav Havel, the former Czechoslovakia (CSSR) did not last long. Over the next fourteen years President Havel managed independence from neighbour Slovakia creating the Czech Republic in the 'Velvet Divorce' of 1993. NATO membership followed in 1999 and, by his retirement in February 2003, Havel's legacy was secure. Initially wary of embracing the EU, Havel then handed over to Vaclav Klaus, ODS prime minister in 1992-1997. President Klaus maintained the coalition with the CSSD – extant since 1998 - and oversaw the Republic's accession, along with nine other states, to the EU in 2004. But this left/right coalition proved decidedly shaky, attended by electoral failure and the whiff of scandal. Last week it collapsed and no German-style 'Grand Coalition' to replace it looks likely. Two CSSD prime ministers had resigned in quick succession since 2003. The first to go was Vladimir Spidla in July 2004 after abysmal results in European elections. Next was Stanislav Gross, forced from office in April 2005 after controversial property deals in Prague. Since then, Mr Paroubek wrestled with public spending reforms to qualify for euro zone membership by 2010 – an optimistic prospect at best.That this squabbling coalition managed to survive so long was due in part to the relatively strong performance of the Czech economy. The Czech Republic has benefited from strong automotive export performance, attracting the moniker 'The Detroit of the East.' The days when car-maker Skoda was an international joke are over. Generous tax breaks and a revolution in Czech business practices have attracted heavy-duty overseas investment. The old Sudetenland region – over which Adolf Hitler fabricated the Munich crisis of 1938 - is now a renaissance in car production. In 2002 car-makers Toyota and Peugeot Citroen created a huge joint venture in Bohemia, followed this year by South Korea's Hyundai, now building a $1.2 bn European manufacturing plant in Moravia. The company hopes to build 300,000 cars per year by 2009. Other Asian investments abound: there are now over 150 Japanese companies in the Czech Republic. Add to this a booming tourist industry with Prague as the centrepiece and there are plenty of reasons for Czechs to smile. Czechs enjoy one of the highest standards of living in Eastern Europe. Average monthly wages have risen to $855 and GDP growth figures for end 2005 stand at 6.9% - an historic high. The Czech Republic now has an economy worth $133 billion. This year she eclipsed struggling Portugal in gross income per capita (73% of the EU-25 average versus Portugal's 71%). Unemployment remains at 8%, just below the EU average. There is some grit in the engine. The picture is soured by corruption and bribery. A problem shared in post-communist Eastern Europe, it festers away in Czech life Recent opinion polls for Czech television suggest a third of Czechs have paid bribes: a majority believe corruption is the main issue facing their country.And despite the success in attracting Asian investment, Czech business is acutely aware that the traditional cost advantages of Eastern Europe are threatened from lower cost labour, notably China. Poland is already outsourcing production to China and Czechs will face similar pressures. The election campaign saw some colourful moments, unusual by Czech political standards. In April, Mr Paroubek sent a pair of duelling pistols and swords to Mr Topolanek, challenging him to a live TV debate. Just last month Czech voters were treated to the unedifying spectacle of the CSSD health minister brawling with a rival at a press conference for dentists.Mr Topolanek promised anti-corruption measures, healthcare, pensions and tax reforms. A key proposal remains a 15% flat tax. Flat taxes are boosting the competitiveness of other eastern European countries, particularly the Baltic States and neighbouring Slovakia and have been under serious consideration in Poland. Mr Topolanek wants similar competitiveness for Czechs. For his part, Mr Paroubek argued that the flat tax is unworkable and proposed measures to boost the economy, employment and public spending on health and education. Mr Topolanek is still not entirely out of the woods. He still faces the challenge of creating a workable coalition. Depressingly, the Communist Party of Bohemia and Moravia (KSCM) was returned to parliament with 12.8% of the vote and remains in talks with the CSSD. Nevertheless, economic and political prospects for the Czech Republic are looking up. As they return to Europe's centre stage, Czechs have consigned the grim days of the CSSR to an unpleasant memory. For this and for their country's return to summer the heroic legacy of Vaclav Havel lives on.

Related Articles
Orange Divorce Partners to Reconcile?
Five More Years of Dictatorship
A Dose of Thatcherism for Portugal?
Finland's President Faces Run-off
Last Orders for Britain's Licensing Laws
UK Awaits Bombing Investigation
Lech Kaczynski Elected Poland's President
Reform Postponed in Germany
Echoes of Tsushima Can Still Be Heard



Mr. Ronan Thomas serves as London correspondent for The Seoul Times. He has reported on global affairs from US, East Asia, Russia since 1993. His articles have appeared in such respected publications as the Washington Times, Asia Times Online, and the American Spectator. He graduated in 1989 with a master's degree in Int'l Relations from Cambridge University.