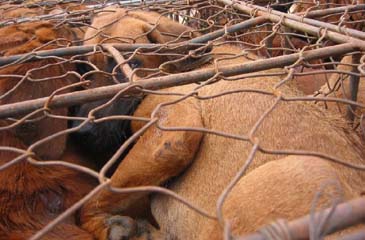 Puppies are squeezed into tiny cages with no room to move in in Moran Market in Seongnam east of Seoul. The dogs are just waiting to be butchered to be consumed as delicacies for the local people. Moran Market is notorious for being the largest dog meat market in Seoul.
Dear Editor:I read your article
"Dogs Adored While Being Eaten in Seoul"
with great interest, the practice of eating dogs in Korea is declining. I refuse to purchase products from Korea until this practice is totally eliminated. Why does the Korean government allow this barbaric situation to continue? There is no animal more loyal than a dog! To think that beating and eating a dog can make you virile is totally crazy.
Sexuality comes from our largest sex organ — the human brain. Anyone doing this terrible crime must not have a brain. This is totally inacceptable and the government needs to stop this crime and crack down on these dog markets. As a dog owner, I have seen what dogs will consume (feces, etc): I would never eat dog meat. Please continue to follow up on this situation. Sincerely,
Shirley G. Sowden
3656 Chestnut St
Camp Hill, Pa 17011
(717) 737-8862