Taekwondo
Taekwondo is a Korean Martial Art of Self-Defense and also an Olympic Sport of one-to-one free sparring combat between two competitors, just like Judo, Boxing, Karate and Wrestling etc.Taekwondo competitions are classified by 8 weight categories for both Male and Female divisions. The techniques applied are punch and kick is permitted. Only punch is allowed on the trunk and the kick are for both the trunk and the face. Some part of the body and face are forbidden. Valid techniques for scoring points in competition include a variety of punching and kicking techniques. However, at the Olympic levels of competition, a correct judgement to distinguish the technique and skills of the opponent are the most important, on the basis of His or Her Taekwondo knowledge's. The ultimate goal of the Olympic Competition is to defeat the opponent. A good player must have his own calculation with certain techniques that are essential for achieving victory.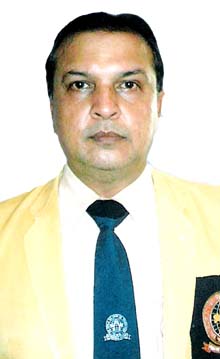 Olympic & World Championship's Referee Master: Jimmy R. Jagtiani,
8th Dan
As the Olympic slogan goes "FASTER" "HIGHER" and "STRONGER." Therefore the competition in Olympic is necessary for one to achieve a strong physical condition, flexibility, power, co-ordination, agility and reflexes.To be more skillful and to conquer the opponent in the field of "Fighting Techniques." I have some tip for you and to all the Taekwondo players, a unique method of offensive techniques i.e. " Direct Attack," "Indirect Attack," "Counter Attack" and "Continuous Attack" etc., which will help in the dream of World & Olympic competitions. The following four methods are: -
1. DIRECT ATTACK
2. INDIRECT ATTACK
3. COUNTER ATTACK
4. CONTINUOUS ATTACK 1. A Direct attach is a delivering attack first either by single or double techniques.
2. Indirect attack is a misleading the opponent attack by avoiding his motion and immediate attack.
3. Counter attack is a reverse attack.
4. Continuous attack is an attack with a combination kicks or kick with punches.1. DIRECT ATTACK:
There are four types of Direct Attacks according to the distance and stance of the opponent.a. IN-PLACE ATTACK
b. INCLINE ATTACK
c. FORWARD ATTACK
d. CLOSE-UP ATTACKThe illustrate (Pictures) below will show four types of Direct Attack as in a, b, c, & d which will be easier to understand. A) IN-PLACE ATTACK:
Where the distance of the opponent is nearby and is easy for applying kick.B) INCLINE ATTACK:
Where the distance of the opponent is slightly beyond the reach. Therefore the competitor must shift his body closure for easy attack.C) FORWARD ATTACK :
Where the distance of the opponent is far off. The competitor must slide his front foot or back foot in as he shifts his body weight forward to attack.D) CLOSE-UP ATTACK: Where the distance of both the players is too close and the competitor have to move back to create space for easy attack. 2. INDIRECT ATTACK:
There are three types of indirect attack: -
a. FEINTING
b. AVOIDING OR BLOCKING
c. FOOTWORKA) FEINTING:
Make an opening body, motion with feint and then attack according to the opponent's reaction.B) AVOIDING/BLOCKING:
avoiding the opponent's attack or blocking the opponent's attacking or movement and follow with the counter-attack.C) FOOTWORK:
Move & keep making distance and stance of the opponent, accordingly initiate with footwork and attack.
3. COUNTER ATTACK
There are two types of Counter attacks
a. DIRECT COUNTER ATTACK
b. INDIRECT COUNTER ATTACKA) DIRECT COUNTER ATTACK:
Counter the opponent's attack from the place and direction where you are, speed, active and courage are important.B) INDIRECT COUNTER ATTACK:
Move against the opponents' attack or block against the opponent's attack and deliver counter attack immediately.4. CONTINUOUS ATTACK:
There are four types of Continuous Attack:
a. DOUBLE ATTACK
b. TRUNK & FACE KICK
c. PUNCHING & KICKING
d. COMBINATION KICKS A) DOUBLE ATTACK:
Kick both the legs, simultaneously to the trunk or the face. B) TRUNK AND FACE KICK:
A kick to the trunk and continue with the same leg to the face or the alternative leg to the trunk or the face according to the balance.C) PUNCHING AND KICKING:
In closed stance, the attacker executes a
punch to the trunk follow with any special kick to the trunk or face.D) COMBINATION KICKS:
A combination kicks is comprised of variety of techniques such as front kick together with roundhouse kick, back kick along with ace kick and kicks simultaneously. For more information can contact Master Jimmy R. Jagtiani e-mail: jimmy_jagtiani@yahoo.co.in or jimmy_jagtiani@rediffmail.co.in
Grand Master Jimmy R. Jagtiani is founder of Taekwondo in India. The hooder of Taekwondo eighth's dan serves as international master instructor and referee of Olympic and World Championship.